Tempow Makes Any Smartphone Smarter with Multi-Device Bluetooth Software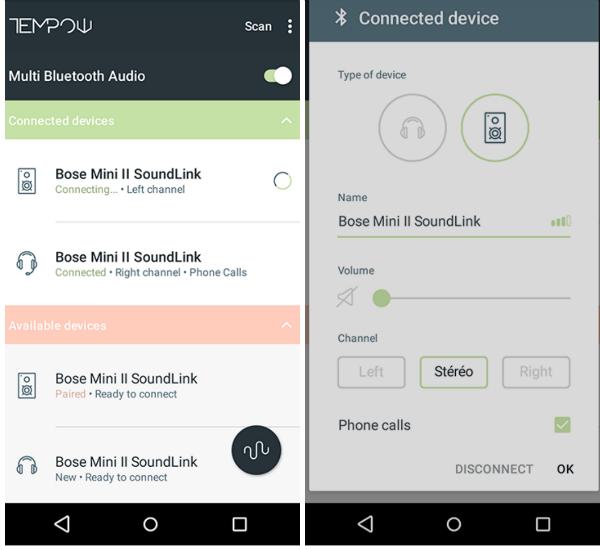 Ah, the freedom and flexibility of wireless Bluetooth speakers. Some companies let you connect several of their speakers together to create a whole-home solution. However, one company has developed a way to potentially connect any and all Bluetooth speakers together, speakers from any company, as well as Bluetooth headphones. Your jogging group can all run to the beat of the same drum. Tempow, a French tech company is making this possible.
So what does Tempow do? The Bluetooth A2DP-compliant audio profile is launched on the phone, and it connects to external players or headphones the same way you normally connect to a single Bluetooth device. All available players come up on the screen, and the volume/blend of speakers is easily adjusted, as is overall volume. Speakers can be set up as left/right stereo pairs, or even left/center/right for surround applications. Take note, Sonos, you're not the only game in town!
Tempow was initially working only as an app, but has realized it needs to be a built-in software solution. Currently, the Tempow Audio Profile (TAP) is only available on the Motorola Moto X4, but more Android and Linux phones will feature Tempow soon. In fact, Tempow has a signup link on their website so people can request support for their phone manufacturer.
Currently, the system will work with up to four devices without any degradation in signal quality, but it is expected that more will become supported in the future. There isn't any lag between the speakers, so there are no sync or phase problems. Range is the typical 10-meters supported by Bluetooth. In addition, the company claims no added battery drain while running the protocol. It isn't tied to a specific playback source, so any source on your phone can be streamed to multiple devices.
It's great that more companies are taking the initiative to help make Bluetooth speakers better, more convenient and more functional. I would love to see this just so I can share my music over headphones with a friend while we run. Until this, I could always tell when he had a faster song playing than I did. Musical peace and harmony, all from a simple software solution.