Technics, Panasonic Roll Out Holiday Headphones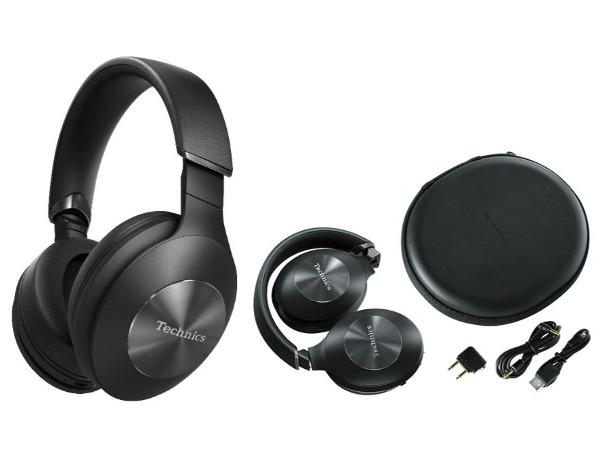 Technics has announced that the EAH-F70N headphones it previewed last January at CES 2019 are now shipping.
Meanwhile, sister brand Panasonic has introduced $250 wireless noise-cancelling headphones and a wireless model that lists for $180.
The Technics EAH-F70N over-ear headphones ($430) support aptX HD-enabled Bluetooth and Sony's high-resolution LDAC audio codec, which enables Bluetooth streaming at 24 bits/96 KHz, and provide three levels of noise cancellation plus an "ambient sound enhancer" mode so you can hear what's going on around you without removing the headphones.
Built around 1.5-inch composite drivers designed for optimal airflow, the headphones swivel and fold for easy storage in the supplied carrying case and incorporate a ball-joint that enables the earcups to adjust to any ear for long-term comfort.
A playback sensor automatically turns the headphones on when they are placed on your head and off when they are removed and audio assist compatibility lets listeners who use smartphone voice assistants make calls and select music without having to touch the phone. The battery is rated to last up to 20 hours when fully charged, which takes 4 hours, but has a 15-minute quick-charge mode that provides 2 hours of run time.
Except for the playback sensor and voice assist, Panasonic's new RP-HD805N wireless noise-cancelling headphones ($250) have all of the features mentioned above for the Technics EAH-F70N but use multi-layer film drivers designed to "improve audio quality while eliminating extraneous vibrations." They, too are an over-ear design. Available in black, silver, or brown.
The RP-HD305B wireless headphones ($180) incorporate 1.5-inch drivers, support aptX-enabled Bluetooth, and provide "bass enhancer" and "clear voice" listening modes. The headphones are an on-ear design and weigh only 5 ounces. Rated battery life is 24 hours with a quick-charge option.
For more information, visit technics.com and na.panasonic.com.