SVS SCS-02(M) Speaker System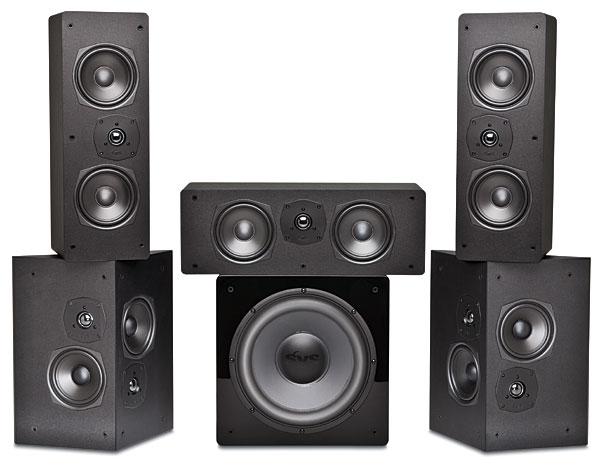 Price
: $1,706
At A Glance
: Listening fatigue immunity • Extremely solid build • Factory-direct value
SVS Sound designs its products from the bottom up. The company got its start as a subwoofer manufacturer, fascinating point-one-obsessed audiophiles with unusual (and potent) cylinder-shaped models. Check out the company's Website at svsound.com under products and you'll find the subwoofer category listed above speakers and systems. If you want to add an SVS sub to an existing system, the Website's Merlin engine lets you key in the make and model of your non-SVS speakers to obtain recommendations on compatible SVS subs. Merlin will even offer suggestions for subwoofer crossovers in both surround and stereo systems.
Despite its longer history and strength in subs, SVS shouldn't be typecast as a sub-only company. It also makes some pretty good speakers. Thanks to factory-direct distribution, its products are an exceptional value, especially considering how solidly made they are and how they perform. This company stands behind its products: The SVS Bill of Rights includes a 45-day return policy, 60-day guaranteed prices, 90-day defective-product exchange, one-year trade-in policy, five-year unconditional warranty, and free shipping.
A Tale of Two Series
The S-Series is one of two speaker lines from SVS, along with the more expensive M-Series. The M-Series is the only one to include a tower, along with center and stand-mount models. In contrast, the S-Series includes an LCR that SVS calls a monitor, plus center, stand-mount, and bipole surround models. There was a tower in the original S-Series, but it got axed in this second-generation line because the LCR/monitor was outselling it. Does SVS see the lines as two halves of a continuous train of thought, with the mixing-and-matching potential that implies? Due to iffy timbre matching, the answer is no. Instead, SVS simply assumes those who want towers will gravitate toward the higher-priced line, while those who want stand-mounts will prefer the lower-priced one. Form factor leads to price point, or vice versa. This review covers the SCS-02(M) LCR/monitor, SCS-02 center, SSS-02 bipole surround, and SB12-NSD sub.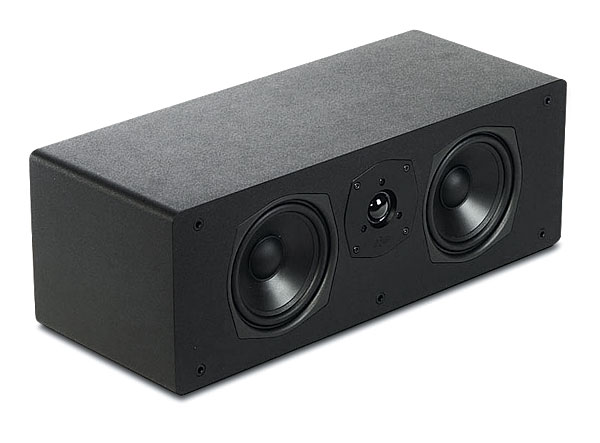 The SCS-02(M) LCR/monitor and SCS-02 center are identical in dimensions, weight, and driver array, differing only in the position of the grille badge and the vertical-positioning TiltBase supplied with the center. Build quality is substantial. Enclosures, though Spartan looking, have elegantly rounded machined edges, no visible seams, and a textured black vinyl finish that produces a strong tactile response—you could practically strike a kitchen match on one of these things. They are fairly inert, a helpful trait in a speaker that aspires to uncolored bass response down to the subwoofer crossover. Tough perforated metal grilles are attached to chrome mounting pins. For wall mounting, you have your choice of OmniMount 20 compatible threaded insert or keyhole mount.
On the flush baffles of both models are a 1-inch BlackSilk soft dome tweeter and a pair of 6-inch Softcap polypropylene-coned woofers. Both drivers are custom designed and exclusive to the S-Series. The tweeter includes ferrofluid cooling for claimed improvements in power handling, heat dissipation, reliability, and resonance suppression. The manufacturer adds, "It's rare to see ferrofluid employed at this price point," but I've not seen industry statistics to back that up. The Softcap woofer includes a soft dust cap—hence the name—in an effort to suppress resonance and improve midrange response. The crossover in this second-generation product has been substantially improved over the first. It features air-core inductors and what the manufacturer describes as top-grade capacitors.
The spec sheet mentions a THX-style acoustic alignment. This refers to the way in which the sealed enclosure's natural acoustic rolloff around 80 hertz complements the bass management of A/V receivers. Set your receiver to an 80-Hz subwoofer crossover and the combined result is a 24-dB/octave rolloff, half acoustic, half electronic. "The result," SVS notes, "is a phase-correct, 24-dB/octave, high-pass/low-pass crossover between the speakers and subwoofer—just as the original home THX standard intended."
The SSS-02 surround has a similar tweeter and woofer in duplicate, mounted on adjacent baffles at a 45-degree angle. It is a bipole speaker with two sets of drivers operating acoustically in phase. Some speakers of this design can be switched to run in dipole mode, providing more diffuse surround effects. However, this speaker is strictly bipole. In any event, a correctly mounted bipole will never aim either of its driver arrays directly at the listener, so it still provides much more diffuse surround effects than a conventional monopole.
SVS took a less-is-more approach to the SB12-NSD subwoofer, fitting its 12-inch, front-firing, aluminum-coned driver into a cube of just 14 gloss-black inches. Like the other three speakers, this one comes in a sealed enclosure, totally eliminating the issue of port noise. In lieu of a honking bass reflex port, this sub works its low frequency magic with DSP-driven equalization and limiting, getting the best out of its indomitable 400-watt Class D amp. Going over the specs, I couldn't resist asking about the "low creep rubber surround." Was this a Radiohead reference? It just means the performance of the surround will remain consistent over the life of the woofer, keeping electro-acoustic performance parameters up to original spec.
Associated equipment included a Rotel RSX-1550 surround receiver and Oppo BDP-83 SE universal disc player. Except where noted, all demos took advantage of Blu-ray's wealth of programming and lossless DTS-HD Master Audio.