SVS Prime Satellite 5.1 Speaker System Review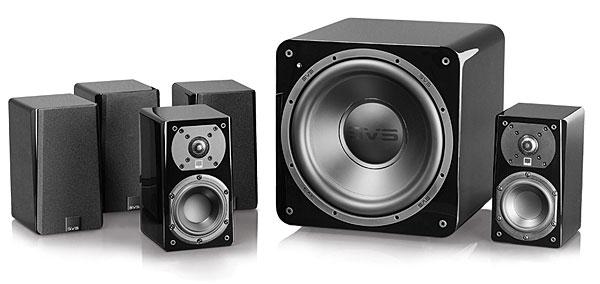 PRICE
$1,000
AT A GLANCE
Plus
Honest, accurate, full-range sound
Painless sub/sat blending
Cheap!
Minus
Won't match ultimate volume level of larger, more costly systems
THE VERDICT
If your criterion is un-hyped reproduction, SVS's Prime Satellite 5.1 system is as good as it gets for $1,000.
Good-sounding small speakers no longer impress me. After all, these days, pretty much anybody with a laptop and an Internet connection can design a small two-way that's reasonably neutral. The tools are all online (many of them share/freeware), fine-performing drivers ranging from cheap 'n' cheerful to exotic 'n' expensive are readily available with complete Thiele-Small parameters, and MDF and veneer are plentiful down at Lowe's. You don't even need to know Ohm's law; fluency in Windows or OSX and some basic woodworking skills are probably more useful.
But a small two-way that's great-sounding, neutral, and reedonkulously cheap? That's another story.
I was already plenty familiar with SVS, the heartland-based direct-to-consumer speaker house that got its start in subwoofers. Hell, my own studio's long-term sub is an SVS PC12Plus tube (wicked big, wicked fugly, wicked low and loud), and I raved about the company's maiden full-range designs, the Ultra series, when they bowed a couple of years back. So SVS's new Prime series has been a subject of considerable anticipation, especially given the interval between the two debuts.
The Primes consist of four models: a multi-way tower, larger bookshelf and smaller satellite two-ways, and a center-channel speaker that's suprisingly affordable ($350) for a three-way design. Populist value-hound that I am, I requested the lineup's cheapest option: a quintet of the smaller monitors, the SVS Prime Satellite, supported by a pre-existing subwoofer model, the 12-inch, 300-watt SB-1000. SVS packages all this together as the Prime Satellite 5.1 system, for $1,000 (well, $999 and 99 cents). With free shipping. And a 45-day (equally free-shipped) return privilege.
The compact Prime Satellite itself is about the size of a half-gallon milk carton, incorporating an impressively high-quality-looking 1-inch aluminum-dome tweeter and a "4.5-inch" woofer—which is what we used to call a 4-inch driver, back when we measured surround diameter, not screw-to-screw mounting-flange dimensions. Sigh. A poke around inside the rear-ported cabinet revealed some surprisingly hefty crossover components and solid enclosure construction, which is nicely finished in gloss black. (Black ash vinyl is the other option.)
The Prime Satellites are equipped with keyhole mounts for wall-hanging, but since the speakers are rear-ported and the keyholes step out less than a half-inch, I can't really recommend wall-mounting short of using an extended bracket that holds the speakers further out. They're also furnished with solid multi-way binding-post inputs, whereas some speakers in this range make do with spring terminals. I mounted the left/right Prime Sats on my usual stands, flanking my 52-inch Samsung TV but behind the outer edges of my acoustically transparent Seymour Screen Excellence screen, when deployed. The center Satellite went (in its normal, vertical position, of course) on a low stand just below the glass screen's bottom edge, and the surrounds were on high shelves flanking my listening spot; as usual with direct-radiating surrounds, I angled them well back to splash some sound along the walls for a more diffuse ambient presentation, my strong preference for film sound.
The SB-1000, mercifully light for a 12-incher (27 pounds), went in my established subwoofer location to the right of the right-front speaker. The sub includes a rather complete set of facilities: In addition to line-level inputs and outputs, there are controls for crossover frequency, level, and continuously variable phase; there are even speaker-level inputs on full-sized multi-way posts—pretty rich for a $600 12-inch subwoofer (or $500 in black ash). (SVS also offers a ported equivalent, the PB-1000, in a larger cabinet for $500.)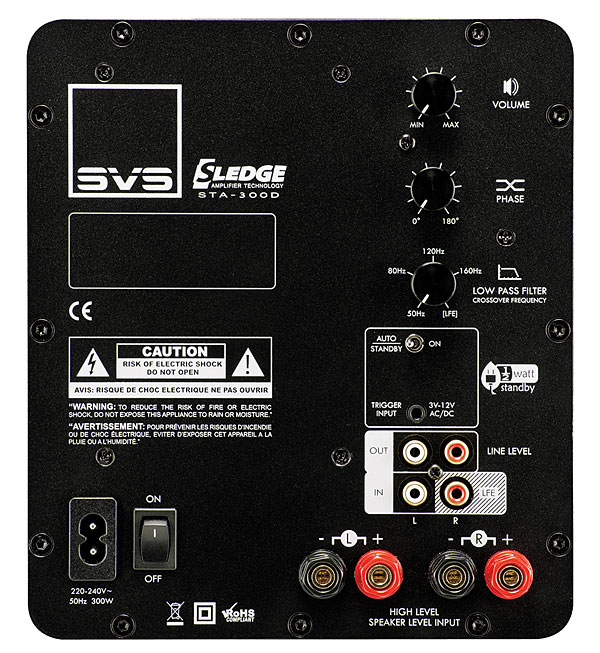 Pint-Sized Fun
Balancing up the assemblage was gratifyingly quick and easy. SVS rates the Prime Satellites for a –3-decibel point of 69 hertz, so I set my preamp/processor's crossovers to 80 Hz all around, balanced things up by meter with fine-tuning by ear, and proceeded to auditioning.
I began as always with the left- and right-front speakers alone, running full-range via the pre/pro's Direct listening mode. What I heard was a very honest-sounding tonal balance with even, essentially un-exaggerated treble and modest bass. This substantially refrained from the "woofy" character that can arise from a slight overexuberance of woofer output, a common gambit among designers of ultra-compact speakers in order to deliver an impression of deeper bass. Instead, the little SVS kept a well-equilibrated balance, at the price of a decided lack of authority in the sub-100-Hz regions. That said, the Satellites' vocal openness and what I judged to be a notable absence of mid-octaves colorations made me eager to compare the SVS models to my everyday speakers, three-way Energy Veritas stand monitors that, if not long discontinued, would surely cost eight times or more the Sats' absurdly modest price. (For the record, I feel that reviewers who abjure level-matched comparisons run a serious risk of missing key characteristics of any speaker's performance.)