Survey: About Half of 4K TV Owners Don't Watch 4K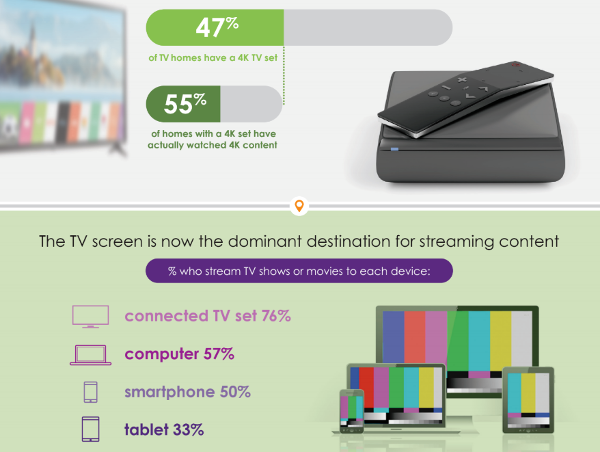 Here's a remarkable statistic that we doubt applies to the typical Sound & Vision reader: Almost half of American homes (47%) have a 4K/Ultra HD TV yet 45% of those households have not watched any 4K content on that TV.
News that a core capability of 4K TVs is being woefully underutilized comes from Portsmouth, NH-based Hub Entertainment Research, which conducted an online survey of 5,131 U.S. consumers for its latest study, "Entertainment in the Connected Home."
The finding is all the more curious when you consider that 76% of those surveyed reported streaming movies or TV shows to their TV. The study found that streaming is also popular on computers (57%), smartphones (50%) and, to a lesser extent, tablets (33%).
More than two thirds of those surveyed (68%) also reported having at least one smart TV with built-in internet connectivity and almost half of that group (44%) said the use of that TV for streaming has replaced another streaming device (such as a Roku or Fire TV Stick).
In other findings, almost four in 10 (37%) survey respondents reported owning a smart speaker and of that group most (83%) said they use the speaker for entertainment — mostly music (50%). Only 14 percent reported using their smart speaker to find TV shows.
Even though the internet is king when it comes to researching and buying all kinds of products, four in ten (42%) survey respondents who plan to buy a new TV in the next 12 months said they would still buy a TV in person at a store, while 22% said they would make the purchase online and pick the TV up at the store. About three in 10 respondents (27%) said they would buy online and opt for home delivery.
Click here to participate in a Sound & Vision survey.