Survey: 45% of U.S. Households Have a Smart TV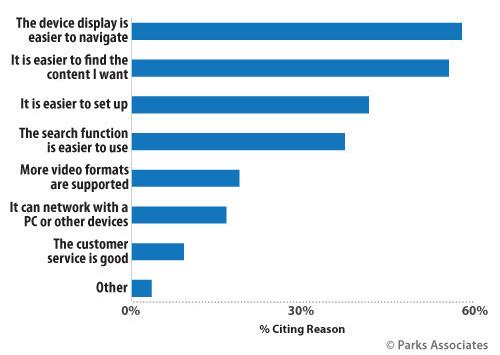 Almost half (45 percent) of U.S. broadband households have a smart TV, making it the most commonly used platform for streaming video content among this group, according to a new Market Snapshot from Dallas-based research firm Parks Associates.
Parks said the high prevalence of smart TVs finds makers of TVs and streaming media players shifting strategies to focus on the user experience.
"Parks Associates' holiday data find 11 percent of U.S. broadband households have a strong intention to purchase a 4K/Ultra HD TV this holiday season, but overall, device sales of flat-panel TVs have flattened out," said Jennifer Kent, Director of research quality and product development. "As a result, we are seeing new partnerships among device manufacturers focused on ways to improve or refresh the UI [user interface] of the smart TV, to make the device easy to use and a single point of content in the living room."
Examples include Samsung's recent move to integrate Amazon Music into its smart TVs, one of the first third-party non-Alexa devices in the U.S. to stream Amazon Prime Music and Amazon Music Unlimited. The leading TV brand also announced an app for YouTube on its 2016 and 2017 models. Philips has also partnered with Roku to launch a line of smart TVs that use Roku's platform, which simplifies content navigation.
Parks latest research also shows that consumer demand is pushing voice control into the connected entertainment area. More than 50 percent of U.S. broadband households find voice control appealing for entertainment and smart home devices, the firm said, noting that voice control for all devices, including TVs, security systems, and appliances also score well among consumers.
"Voice recognition and control are enabling entertainment equipment manufacturers to improve the user experience," said Dina Abdelrazik, Parks research analyst. "An emphasis on a voice-enabled UX [user experience] will be a key trend in connected CE for 2018. In 2016, U.S. consumers bought an estimated 14 million voice-controlled smart speakers with personal assistants, and companies such as Roku, TiVo, and Comcast have debuted voice-enabled remote controls. We expect to see more voice innovations in streaming services and connected platforms at CES.
CES 2018 opens in Las Vegas on January 9. Sound & Vision's show coverage starts on Sunday, January 7.
As streaming becomes more common in households everywhere, new data from financial services company Raymond James shows that 31 percent of Internet users polled in November cited a streaming service such as Netflix or Hulu as their primary source of video content, up from 24 percent a year ago and only a few percent behind the 35 percent of survey respondents who named cable as their primary video source.