Suicide Squad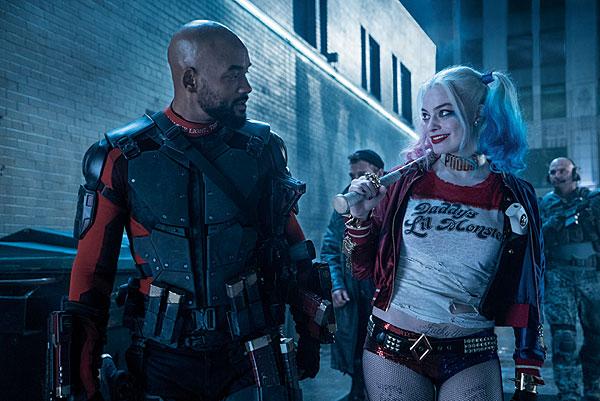 Sadly, the screenplay is a mess, especially in the first act when writer/director David Ayer spends too much time on the back story of each member of the Task Force and doesn't let the characters develop on their own. It feels forced and disjointed, and frankly there are too many characters involved and the plot doesn't have very much depth. Thankfully, Margot Robbie's portrayal of Harley Quinn is fantastic, and she almost saves the film on her own due to her character's bizarre personality, which lightens the mood quite a bit.
The video encode is a also mess and doesn't deliver the goods. Blacks are severely crushed in many scenes, and the detail from the upscaled 2K master is barely an improvement over the Blu-ray. Furthermore, the color palette is dark and bland, and there's virtually no color improvement versus the compressed color space on the 1080p disc—just the opposite of how it should be.
Much like Robbie, the Dolby Atmos track almost saves the day. As one would expect, the soundtrack features plenty of dynamic explo- sions and gunshots and plenty of overhead effects, especially with the use of helicopters as the crew heads toward the final battle with the bad guys. While I like explosions as much as the next guy, the highlight for me was the outstanding soundtrack featuring a plethora of rock/pop tunes that accompany the introductions of the various characters.
The UHD disc only includes the Theatrical Cut of the film, while the included Blu-ray is the Extended Edition. All of the supplements are on the Blu-ray and include seven featurettes, a gag real, and a couple of trailers. Rounding things out is a UV Digital Copy of the film.
Blu-Ray
Studio: Warner Bros., 2016
Aspect Ratio: 2.40:1
Audio Format: Dolby Atmos / TrueHD 7.1 core
Length: 123 mins.
MPAA Rating: PG-13
Director: David Ayer
Starring: Will Smith, Jared Leto, Margot Robbie
What if Superman hadn't been a good guy? Could the government do anything about it? After the events in Batman v Superman, members of the U.S. government are nervous that aliens and metahumans could wreak havoc upon the Earth at their whim and there would be nothing the human race could do about it. With this in mind, a covert government agent named Amanda Waller hatches a plan to use incarcerated supervillains to form her "Task Force X" in order to combat evil forces in the world. To control them, she has explosive devices implanted in their necks that will detonate if they decide to not follow orders. As circumstances have it, her team is needed shortly after it's formed to battle an ancient villain named Incubus who has invaded Midway City.