Stunning Stereo Remix of Sgt Pepper Coming Soon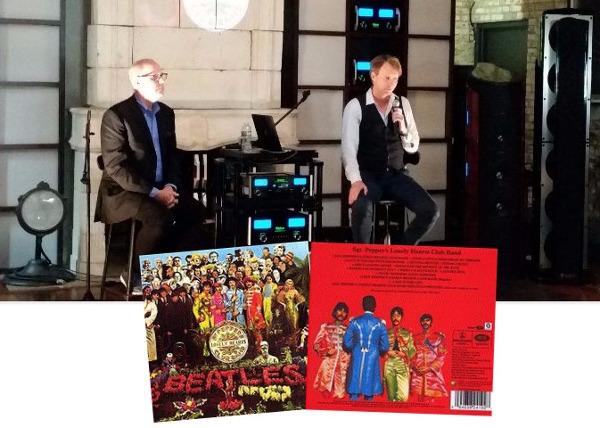 Beatles fans will soon have the opportunity to rediscover
Sgt. Pepper's Lonely Hearts Club Band
as they've never heard it before.
Giles Martin, son of the Beatles' legendary producer and mentor, the late Sir George Martin, was in New York Friday, April 28 to preview a stunning, ground-up remix of the album widely consider to be the Beatles' finest work as the 50th anniversary of its release approaches.
For Martin, who presided over the remix with engineer Sam Okell, the project was about "paying homage to my dad, (original engineer) Geoff Emerick, and the band" but also "getting the feel of the original mono recording and making it stereo." Proper stereo.
Noting that the band was present only during the mono mix of the album, Martin called the original stereo mix "a kind of throwaway." Even John Lennon once said, "You haven't heard Sgt. Pepper until you've heard the mono."
The album—played in its entirety over a towering pair of McIntosh Reference XRT2K speakers, powered by MC1.12KW 1,200-watt monoblocks fed by an MX160 processor and D1100 DAC—was revelatory with immense dynamic range, palpable bass, remarkable presence, and a cohesiveness that just doesn't exist on the original stereo mix fans know.
I closed my eyes and it was as if the Beatles were in the room—a sensation Martin himself said he experienced at times while at the mixing console during the months-long project.
Now for the nagging question: Is it possible to make an iconic work better? Martin proves it is, indeed, possible. His personal experience—he worked on the Love soundtrack for the Cirque du Soleil theatrical production in 2006—artistic sensibilities, and painstaking use of technology old and new present The Beatles' awe-inspiring performances and his father's groundbreaking studio wizardry in a fresh new light that makes it easy to forget that Sgt. Pepper was recorded half a century ago.
The 40-minute listening session was filled with goosebump-inducing moments. George Harrison's defining guitar work in "Fixing a Hole" is freed from its lonely hard-right position in the mix, Ringo Starr's pièce de résistance vocals and Paul McCartney's brilliant bass playing shine on a bigger-than-you've-heard soundstage on "With a Little Help from My Friends," on and on. Everything just sounds better.
Martin said the re-issue, slated for release May 26, will include never-before-heard alternate takes of the songs we all know and played a few fascinating outtakes. One transported listeners inside the studio with the Beatles as they experimented with an alternate choral ending for "A Day in the Life."
Bravo, Mr. Martin.
Watch for more on this, including Mike Mettler's interview with Giles Martin, which we'll post on June 1, the day Sgt Pepper's Lonely Hearts Club Band was released.