Remembering Sir George Martin: Producer Way Beyond Compare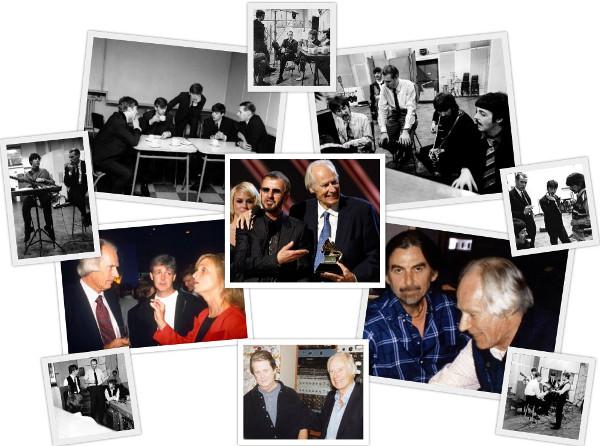 Sir George Martin passed away at the age of 90 in Wiltshire, England on March 8, 2016. Best known for his indelible, enduring, and daringly innovative studio work with The Beatles from 1962–70, Martin also produced a wide swath of artists including Peter Sellers, Spike Milligan, Cilla Black, Gerry and The Pacemakers, Billy J. Kramer and The Dakotas, Shirley Bassey, Ella Fitzgerald, The Bee Gees, The Mahavishnu Orchestra, Billy Preston, America, Jeff Beck, Ultravox, and Cheap Trick. (The list could indeed go on and on and on...)
Perhaps ELO mastermind Jeff Lynne (and onetime latter-day Beatles producer himself) said it best: "His productions were brilliant. He created his own sound." I reached out to a number of musicians and producers to get their impressions of Sir George's legacy from behind the board, as a trusted collaborator, and as someone who forever changed the way we listen to pop and rock music. Amen and fare thee well, Sir George. Good night, sleep tight. Now the sun turns out its light. Dream sweet dreams for me.
Steve Berkowitz (mastering supervisor and tape researcher for The Beatles in Mono vinyl box set): George Martin produced the records that changed the world — and, for the most part, they changed the world in mono, and this is the way that people heard them. Since there isn't a better idea than that, what we did for the mono box set was to try and replicate the records in the way that George Martin and The Beatles intended for them to sound, and did sound. The record is the document. That's the Mona Lisa. It's not the sketches, it's not the studies, it's not what you think it might be. The record is it. It's what they made, it's what they approved, and that was the goal.
The union of those four guys, Martin the producer, those engineers, and the way their brains worked together and how they accepted one another — they invented this particular sound. In the past, everyone would say, "You can't make that sound! It's feeding back! You can't make that noise!" But they did.
I had an emotional and psychological moment listening to the original master tapes of "Yesterday" [from 1965's Help!] while I was sitting at the board in Abbey Road. I looked out the window, and there's the roof, and the strings come in and I go (whispers), "Wow." You can hear the slight misplaying, some of the wrong-fretting of the strings. The brilliance of George Martin and the engineers had in placing the mikes on the strings, and adding that in — and how beautiful the strings are in space. I can't say it's my favorite, but I'm struck each time I hear "Yesterday."
Sean Magee (Abbey Road mastering engineer): With George Martin, there's an amazing period where it goes from making and manufacturing "product" to the art and craft of producing. It's a true demonstration of the skill they had in those days to get the sound as clean and as wide-sounding as they did on "Yesterday," considering it's mono. We're used to stereo being wide and everything, and that's fitted in a nice narrow rack. When you get to later albums like [1967's] Sgt. Pepper, the amount of sound fit in there yet still having it sound as dense and high quality — it's quite something.
Narada Michael Walden (drummer for The Mahavishnu Orchestra, Robert Fripp, and Jeff Beck; producer for Whitney Houston, Steve Winwood, Ray Charles, and George Benson): I always had the fire of aspiration. I knew I would be a hot drummer because I always worked hard at it, and I always wanted to write songs and sing, but to be a producer — no. if I'm honest about it, that was something that came after I watched George Martin. I watched him work on these albums [points to The Mahavishnu Orchestra's Apocalypse (1974) and Jeff Beck's Wired (1976)], and I also watched Ken Scott. I watched how he miked drums and put the towels in there, like he did on [1968's] The White Album. They made it look so easy! I thought to myself, "Yeah, OK. Got it." So when the time came for me to produce records, I wanted to help people out like they did.
Dewey Bunnell (guitarist/vocalist for America, singer and songwriter of Martin-produced tracks like "Tin Man"): When George's name came up, we had just produced our third album [1973's Hat Trick] ourselves and we thought, "Gee, this is a lot of work." There's more involved than just going in there and saying, "This sounds good." So we shot for the stars. George Martin was coming into town, so we thought, "Let's start there." We hit paydirt, because he was very receptive to it.
We got along really well. The fact that we had started in England with a British-based sensibility of humor, weather, music, and food may have helped. We hit it off really well as friends. When we would go out to dinner or hang out or whatever, we'd ask him who he thought was the best, and he'd almost always say Brian Wilson was the best producer, the best writer, the whole nine yards.
We did a series of albums together [1974's Holiday, 1975's Hearts, 1976 Hideaway, 1977's Harbor, and 1977's Live], and George always made them interesting. We'd record at different locations. He liked to bounce around and try different things. He was coming out of his own shell to some degree, because working as a producer at EMI in London in those days was practically the white gloves approach. He was the producer and lo and behold, yes, those were The Beatles, but he was just a technician, technically, at the time. In retrospect, we know he was much more than that.
Gerry Beckley (also a guitarist/vocalist for America, singer and songwriter of Martin-produced tracks like "Sister Golden Hair"): We did the third one [1973's Hat Trick] on our own, just us 19- and 20-year-olds as record producers. And then, within another album [1974's Holiday], there's George. Clearly, there are noticeable differences in approach, but what we were doing was enough to anchor everything from the center.
Hearts (1975) was the second album we had done with George Martin, and that triggers so many memories in us. Obviously, it's about as brightly a highlight as you're going to have. We were very fortunate. A song like [Abbey Road's] "Because" is an incredible four-part tune; a beautiful tune. To me, that's the kind of example that runs so deep.
Lawrence Gowan (keyboardist/vocalist on Styx's spot-on 2005 cover of "I Am the Walrus" who recorded his 1985 solo album Strange Animal at Startling Studios at Tittenhurst Park in England, when Ringo Starr owned it): George Martin made such a tremendous contribution to the music of our lives. Although his name is intrinsically tied to The Beatles' music, it is equally notable to recognize that he followed his own musical path to the fullest. It is a beautiful coincidence of fate that his path ran parallel to theirs, but he enriched the entire palette of rock music with his characteristically strident approach to orchestration. Martin expanded great songs into even greater sound experiences. I love his own compositions, particularly the "The Pepperland Suite," from the Yellow Submarine soundtrack (1968).
The versatility he showed depending on whose songs he was giving the "Martin" treatment is incredible. There's such a vast expanse of styles from which to choose, but to narrow the focus, consider his sweeping range between the Revolver (1966) and Sgt. Pepper (1967) records. Listen to how used a string section to lift the pathos of [Revolver's] "Eleanor Rigby" with Paul McCartney as compared to the mystic flavor he evokes from another string section on [Sgt. Pepper's] "Within You Without You" with George Harrison. They're entirely different, and yet both bear the unmistakable Martin stamp. Then there's the John Lennon masterpieces of daring arrangement and sonic experimentation he helped bring to life on [Sgt. Pepper's] "Being for the Benefit of Mr. Kite" and [Revolver's] "Tomorrow Never Knows." The list goes on and on, and to each he gave his unique and amazing touch.
Tommy Shaw (Styx guitarist/vocalist): Seeing the news of George Martin's passing literally took my breath away. His absence feels like a personal loss. His masterful guidance, experience, and discipline took The Beatles and their incredible contributions to heights that will more than likely be unattainable by any other mere mortals for generations to come. Thank you, Sir George, for being there to shepherd their raw talent through the lens of your great musical mind in their most creative, sea-changing days.
Ricky Phillips (bassist for the Babys, Coverdale Page, Montrose, and Styx): Although they're my favorite band, truth be told, The Beatles would not have had the legs of such a storied career without George Martin. He recognized amazing young talent and nurtured it to a place that will never be equaled. What he did with Jeff Beck on Blow by Blow (1975) was beyond amazing, and it will always be my favorite instrumental record. He had a gift, and it made all those around him shine.
Paul Gilbert (solo vocalist/guitarist extraordinaire, guitarist for Mr. Big): The music he made is what made me want to be a musician. That's what I grew up with. I was always curious about his contribution, because The Beatles didn't go to a music conservatory; they were self-taught and they weren't readers or studiers, but their music is really sophisticated. I always had that impression that the extra bit of sophistication had to do with what George brought to the mix. What he did is absolutely infused into my DNA, and I get emotional thinking about not only what he contributed to me, but to the world.
Gary Tanin (Milwaukee-based producer/engineer who's worked with the likes of Genesis and Phil Collins touring guitarist Daryl Stuermer, former BoDeans vocalist Sam Llanas, and former Utopia keyboardist/synth player Roger Powell): I cannot say this as elegantly as others may, however, modern record production began with George Martin. He became an equal part of every Beatles record he produced, and was my inspiration for developing my own fascination and passionate desire for the art. Though I had never met my hero, he has been the basis for comparison and excellence in this recording artform.
Micah Sheveloff (CE marketing and PR maven who's also an ace pianist, vocalist, and composer): In fairness, I can't say that I possess a ton of relevant knowledge pertaining to George Martin's specific contributions to songs or records in The Beatles' extensive catalog other than myself being a passionate Beatles disciple — with one great exception: the iconic piano solo in the bridge of [Rubber Soul's] "In My Life" (ranked 23rd on Rolling Stone's "The 500 Greatest Songs of All Time," as well as fifth on their list of The Beatles' 100 Greatest Songs). The solo is just simply elegant, starting a winding melodic journey on A above middle C and painting itself with trills along the way, repeating then exiting with a playful glissando. One almost gets the impression that George was gleeful to be playing the piano part; it just smacks of such free-form artistic pleasure. As a young man, I would play the solo over and over again. I guess I felt like it brought me closer to The Beatles in some way. "In My Life" is truly one of the all-time great pop tracks. Every single time I hear that song, I am sad when it ends.
Author's Note: I will add more impressions about Sir George as I get them to the longer-form version of this story on my own site, soundbard.com.