Stereomood: Internet Radio for Every Mood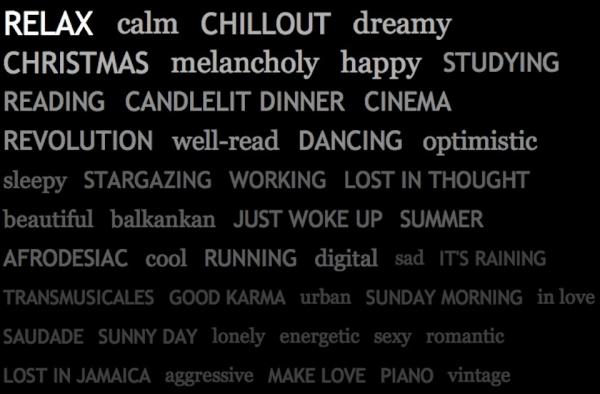 Seems like a new way to listen to music over the Internet pops up everyday. Pandora might have a lock on the market, Slacker has the coolest name (and real-live DJs behind the scenes), everyone's talking about Spotify and MOG, but there's another website that does something most others don't. Stereomood designs playlists based on your mood or activity. Yup - music to suit your every mood.
With an international playlist, Stereomood has a list of about 50 moods and activities right on their homepage. Their methods are a bit obscure, but appear to be based on simple tags. Simply click on your mood at the moment and sit back and wallow in the music that's perfect for how you're feeling, or what you're doing - moods are in lowercase, activities in all caps. While other websites categorize music based mainly on genre, this one sorts them by how they make you feel. The music ranges from small indie bands to big-name artists; Louis Armstrong and Moby end up on the same playlists as global artists you might not have heard of. This lets you hear an international selection of artists while maintaining the same mood and feel.
Once you register, for free, you can create a personal playlist in a more traditional way - by artist, album, or keyword. Not liking a suggested track? Stereomood lets you ban tracks so they don't show up in your list or you can click the "ilikeit" (heart shaped) icon so that a track will show up more frequently in your lists. Each playlist can be customized and you can tag songs to add them to other playlists, so the accuracy of the database improves as more people use it. All songs can be purchased through Amazon or iTunes if you hear something you would like to keep. You can also scrobble through your last.fm account.
Now, while clicking on a mood is great, the next generation needs to go one step further. If the new Kinect can detect facial expressions, why can't your computer's webcam do the same? A smile on your face? The optimistic music list. Tears streaming down your face? The lonely or sad list. Mouth full of chocolate chip cookies? The running list. Oh. Did that just make you mad? The absolutely mad channel is just for you.