Steiger Dynamics LEET Home Theater PC Page 2
What iTunes can't do is high-resolution audio. My favorite program for that is also my recommended option for a non-iTunes media player: MediaMonkey. It will play high-res audio files and has a bunch of other cool features. A great thing about the Steiger LEET being a real PC is that you can try as many of these media managers as you want and find your favorite (or not, and just use WMC).
A/V Quality
As far as Blu-ray, 3D, and the lossless audio formats go, they looked and sounded the same coming from the Steiger as from a standalone Blu-ray player. The Steiger, using the PowerDVD software-based processing and the Nvidia GTX 690 video card that was in my system, passed our standard video processing tests and is able to output 1080p/24 and 3D. However, Nvidia no longer sells that video card, Steiger says, and by the time you read this, it will be replaced in their high-end models with the GTX Titan.
That's probably good, because beyond the tests, I found the image quality on the GTX 690 card good but not great. I watched some high-def Amazon and Hulu Plus streaming content, and it looked the same as it did on my Roku and my Apple TV streamers. But standard-definition content, like the incredible documentary series Long Way Round, looked a little soft. Scaling performance from DVDs was also mediocre, without as much increased apparent detail as is possible with current-generation Blu-ray players. Deinterlacing performance wasn't spectacular either, with more jaggies visible on diagonal lines than I've seen via other gear. Further- more, the GTX 690 also clipped above-white and below-black information from Blu-ray—not a huge deal, but a decent BD player might give you that data (for the rare Blu-rays that have video information up there). Again, a different video card could give you different results, but we can't say if the Titan performs any better in this regard.
You can, technically, use an HTPC as a DVR. The Steiger has a Ceton InfiniTV tuner card option. While there are those who love this idea and hate paying the cable company for a mediocre box with limited storage, the fact is, for most people, an HTPC is never going to be as easy to use as a separate DVR. If you want to cut the cord, I'd recommend one of the inexpensive TiVos instead.
If you haven't bought a PC lately, HT or otherwise, you might also be wondering about the soundcard. Well, our Steiger sample didn't have one. Most new PCs don't. Since the advent of HDMI, the digital audio usually gets sent out to your sound system as bitstream from either a separate graphics card or the one integrated with the CPU; the Steiger will output up to a 7.1-channel Dolby TrueHD or DTS-HD Master Audio lossless bitstream via HDMI or its DisplayPort output. It'll also output up to 5.1-channel analog directly from the motherboard. Computer audiophiles seeking higher quality can order a dedicated sound card or simply connect a dedicated USB DAC.
Gaming
Of course, the other reason to have an HTPC is for gaming. I could do an entire article proselytizing the virtues of PC gaming over console gaming (oh wait, I already have...check it out here), but the short version is: There's a far wider variety of games available for PC than for console.
With games, the video card plays the most important role, followed by the CPU and RAM. Since these are all variables in the specific options you pick from Steiger, I'll say that with this LEET rig, even Battlefield 4 and Guild Wars 2, with all the options maxed, played smooth as silk at 1080p.
4K
Despite all the hype and hoopla surrounding the new-gen consoles, Sony's PS4 and Microsoft's Xbox One, they're pretty mediocre when it comes to hardware. Sure, they're an improvement over their immediate predecessors, but they're not the leap that the PS3 and the Xbox 360 were from their predecessors. For example, neither console can do 4K games. True, only a tiny fraction of you reading this have an UltraHD 4K display, but 4K is the inevitable future, and these consoles will last well into that über-resolution era. In order to do 3840 x 2160 gaming right now, you need a fairly beefy computer.
Hey, wait. I have a beefy computer. I also have a 4K display. I connected them and ran BF4 and GW2 at 3840 x 2160. The added detail was awesome, though perhaps not the jump you might expect. The level of detail is still limited to what the game engine provides; there's just finer lines and fewer jagged edges. Pretty sweet, though. The Steiger slowed down a bit with BF4's settings at Ultra, but that's not surprising (and highly dependent on what video card you spec). It was still perfectly playable.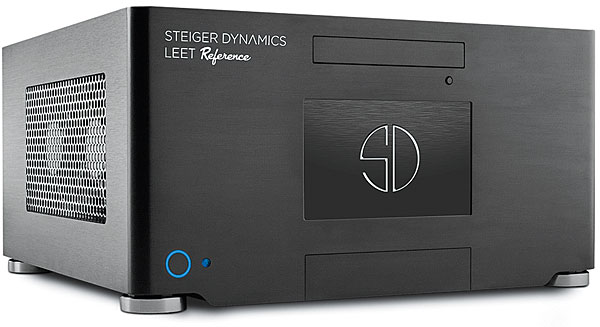 Right now, 3840 x 2160 is limited by the connection (HDMI 1.4a) to 30 frames per second (fps). Not terrible, but not as smooth as you'd get with a higher frame rate. To do higher rates, you need a different connection. DisplayPort is a PC-centric option that has the bandwidth, but almost no consumer TV/projectors have DisplayPort. Since that's what we're talking about here, a home theater PC, that leaves us with one alternative: HDMI 2.0. Your current equipment is likely HDMI 1.4. But the rollout of 2.0 allows 2160p content at up to 60 fps, which is more like what you're used to seeing from the consoles (and computers) at 1080p. Of course, to get HDMI 2.0 may require an upgrade of the video card (not to mention your receiver and display); at press time, Steiger was not expecting the next generation of HDMI 2.0-compliant sound cards to be available till late in the year, though DisplayPort-to-HDMI 2.0 converters might come sooner. Since you're likely to upgrade your video card at least once over the life span of an HTPC anyway, I don't see this as much of a limitation right now for most people.
Bottom Line
I don't think HTPCs will ever be mainstream. Even considering how easy it is to use and live with the Steiger LEET, I can still see a pushback from non-computer people. For me, though, the Steiger is stronger: Bootup is fast, all my content is in one place, and it's significantly quieter than my PS3.
Of course, there's the price. Steiger Dynamics is definitely in the luxury end of the HTPC market, and the fully loaded system I reviewed here is the top of the line. Steiger's more affordable Maven series can get you in the game for less, though at the sacrifice of some features like the front-panel display. But even with the LEET, it's easy to see where the money goes with the build quality and the incredible case. Indeed, the most frustrating thing about evaluating the Steiger is that it has ruined my own HTPC for me. As quiet as it is powerful, I will miss it when it goes back.