The Transformer T10 Patio Theater Is a Sight to Behold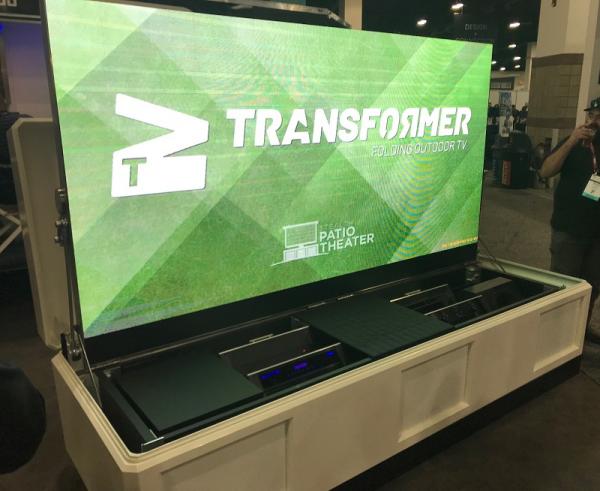 It's no news that many folks want higher performing outdoor entertainment solutions as they expand living and entertaining spaces beyond the four walls of their homes. And as the party moves outside, it's no longer enough to just have some rock speakers sprinkled around your pool area for guests to enjoy some background music. No. Now people expect full-blown media systems to entertain them as they relax by the pool or sun themselves on the deck of their yacht while watching the big game or some other event. Fortunately for them, the latest outdoor theater system from Stealth Acoustics goes from nothing to something awesome in less than a minute.
The Transformer T10 Patio Theater is a revolutionary outdoor theater system that remains hidden when not in use, with all electronics folded away into a weatherized, custom fiberglass enclosure designed to fit discreetly on a yacht or home deck. Tucked inside the enclosure are all of the electronics required to drive a full-blown outdoor experience, including a Marantz preamp, Control4 processor and controller, Pakedge networking gear, and the Stealth Acoustics amps needed to drive the system's built-in LCR speakers and subwoofers. All you have to do to enjoy a movie in the great outdoors is provide a source and plug-in the power.
Beyond the electronics is the foldable 120-inch 16:9 LED-backlit LCD screen with enough brightness to be visible in the sunniest of conditions. When it's showtime, the screen unfolds and rises silently from its custom enclosure thanks to a smooth, automated lifting mechanism. The whole process takes less than a minute and is automation magic to behold.
The Transformer can be a fixed or mobile solution, however at 1,600 pounds you better get a few buddies (and someone that can drive a forklift) to come over and help you move it around. When not in use — or when there's inclement weather on your yacht — everything remains completely hidden from view and protected from the elements. Even more impressive is that the system comes with a host of spare parts, including replacement LED tiles that have been color matched to the panel for rapid replacement.
If you're looking for a way to make your next pool party the talk of the town, the Stealth Acoustics Transformer T10 can be yours for just $120,000.