Sony XW5000ES 4K HDR Laser Projector Review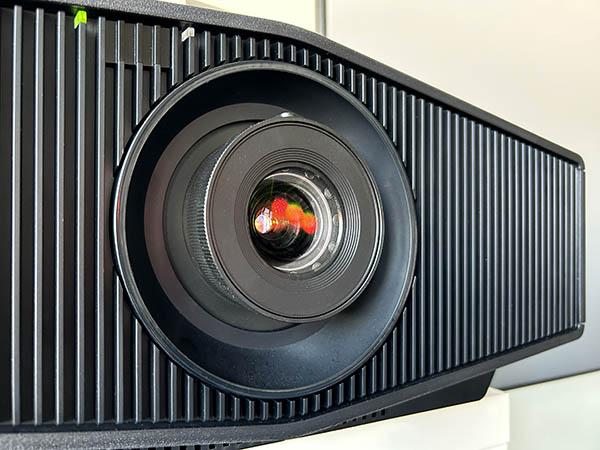 PRICE
$6,000
AT A GLANCE
Plus
Accurate colors
Laser light source
2,000 ANSI lumens
Native 4K
X1 Ultimate for Projector processor
Attractive price
Minus
Manual lens adjustment
Lens could be sharper
Does not cover DCI/P3 gamut
No 3D support
Lacks HDMI 2.1
THE VERDICT
Sony changed up the recipe for its most affordable native 4K home theater projector. The laser light source is a huge plus, as is the X1 Ultimate for Projector processor, but the new lens has limitations compared to the model it replaces.
Long live home theater! That's the first thought that came to mind after I set up Sony's latest and most affordable native 4K projector. When compared to its predecessor, the VPL-VW325ES, this new projector's main feature upgrades are better video processing, higher brightness, and a much longer light source lifespan. The projector's laser light source has a 20,000 hour rating, which is a significant improvement over traditional bulb-based projectors—the 325ES bulb was rated at 6,000 hours.
The XW5000ES is an interesting animal. Sony clearly had to make some concessions in order to hit the $6,000 price point, including a downgrade to the lens design from motorized to manual, and with less zoom. But as long as the its throw ratio works for your setup, the new model more than makes up for the lens with brightness now rated at 2,000 ANSI lumens, 500 more lumens than the VW325ES.
As I examine the features and specifications of this projector, I am surprised by how much technology it has in common with Sony's considerably more expensive 6000ES and 7000ES models. Although the 6000ES and 7000ES models have a motorized lens that produces sharper images, if you don't need these features the savings on the 5000ES model is substantial. The 5000ES model has the same 3-chip SXRD LCoS imagers and X1 Ultimate for Projector processor as the more expensive models, but is less than half the cost of the 2,500-lumen 6000ES ($12,000) and about one fifth the cost of the 3,200-lumen 7000ES ($28,000).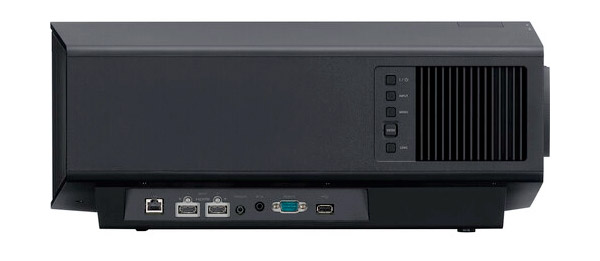 Features and Setup
This projector is optimized for home theater use and is equipped with a long-throw lens, laser-phosphor light source, and an SXRD LCoS (liquid crystal on silicone) 3-chip imager offering native 4K resolution. While it is designed to perform at its best in a dedicated home theater, it can also be used in an AV system located in a living room or family room as long as there's a way to control the ambient light during the day. But make no mistake, you are wasting money on a home theater projector if you don't give it a darkened space to operate in.
Setting up this projector will be familiar to anyone who has used Sony projectors in the past, and it is straightforward enough for those who have not. Unlike some other projectors, this one does not have smart features or streaming apps to configure. Instead, there is a user menu where you can select the optimal settings for your viewing situation. In my case, I am using the projector in a living room located in a loft. The room has a 140-inch, 1.0 gain, 16:9 ratio painted screen, and the projector sits on a shelf on the back wall, 20 feet away. Typically, I watch movies at night with the lights dimmed or fully off. While my windows have shades that enable me to use the projector for sports during the day, the room does not get dark enough to watch movies during daylight hours.
Sony offers exceptional color accuracy right from the start, mitigating the need to seek out a professional calibration for the XW5000ES. However, for those who desire to achieve near-perfect color neutrality and optimize their viewing experience to match their screen and room conditions, a professional with specialized knowledge, software, and a capable meter is still the way to go. The projector comes equipped with both advanced settings for professionals to maximize performance, as well as user-friendly adjustments for amateur enthusiasts to easily achieve stunning picture quality.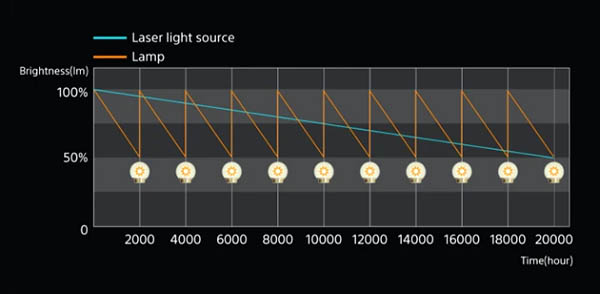 After thorough testing, I found utilizing the Bright Cinema mode and the D75 color balance resulted in a visually neutral and perceptually color accurate picture that held up with a wide variety of content, be it movies or sports or animated shows, all while offering a smidgen more brightness and contrast versus D65/6500K. Key point: human eyes quickly adapt to small variations in color temperature. As long as there is no color cast the image will look natural.