Sony XBR-65X930D LCD Ultra HDTV Review
PRICE
$3,000
AT A GLANCE
Plus
Impressive edge-lit local dimming
Respectable off-axis viewing
Bright, punchy HDR
Minus
Often redundant menus
Tight remote control layout
THE VERDICT
Full-array local dimming remains the gold standard for LCD Ultra HDTVs, but Sony has now upped the ante with the best edge-lit set we've seen.
The last time I reviewed one of Sony's 4K sets, it had large speaker enclosures attached permanently to the sides of the screen, with a separate "subwoofer" firing out the back. This made for an inconveniently wide design, and with the introduction of Sony's new 2016 models, those audio "wings" are now history.
The result is a more mundane-sounding internal audio system. But this report, of course, is primarily about video. If you're shopping for a new Sony TV that's equipped with the company's latest and greatest high-end video features, head for the designs with a 9 in the middle of the model number and a D at the end. The XBR-X930D sets, in 55- and 65-inch sizes, are one step down from the 75-inch XBR-X940D—the company's flagship. The latter gives you full-array local dimming at a $6,500 MSRP. The XBR-X930D sets are edge-lit—and more affordable.
Features
Sony is proud of how thin these new TVs are, but photos showing a screen roughly as slim as a smartphone are misleading. The electronics to drive the panel have to fit somewhere, so while the top half of each set is as thin as advertised, the bottom half is about 1.5 inches thick (without the stand). But that's still very slim. The set's outboard power supply (100V-240V to 24V) helps reduce its bulk.
Slim Backlight Drive is Sony's lat- est version of edge-lit local dimming. A newly designed grid array diffuses the edge lighting uniformly across the back of the screen. This is said to offer performance, including high dynamic range (HDR), that's competitive with full-array local dimming.
The edge lighting of the 65-inch XBR-65X930D reviewed here uses Sony's updated Triluminos color technology. Sony used quantum dots in 2013 to achieve wide color gamut, marketed under the same Triluminos trademark. But they have since evolved past that into a new, unspec- ified color technology for 2016 that provides even more colors than was possible in their earlier sets.
Sony's HDR feature is called X-tended Dynamic Range Pro, another trademark carried over from prior years when HDR content didn't exist and it was used to achieve brighter highlights on standard dynamic range material. It's now compatible with the HDR10 format used exclusively on all Ultra HD Blu-rays released to date, but not with Dolby Vision. As of this writing, sources using Dolby Vision HDR are limited to internet streaming services.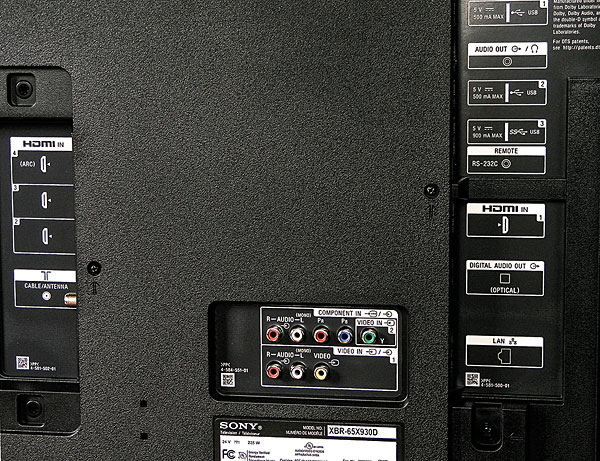 The XBR-65X930D is equipped with four HDMI 2.0a inputs and is HDCP 2.2 compliant. It can decode both of the codecs currently used for 4K: HEVC and (to a lesser extent, as used on some internet 4K material) VP9. According to Sony, the TV can pass a 10-bit source from its inputs to its 10-bit panel without compromise en route.
The set has a full range of adjust- ments. There are 11 (!) Picture modes; I used Cinema pro for all non-UHD/non-HDR sources and HDR Video for HDR. The TV retains your preferred settings for both modes and auto- matically switches between them, depending on the source.
In a practice from eons past, Sony has habitually used the term Picture to refer to the control that the rest of the video world calls Contrast. No longer. They now call it Contrast. Appropriately, they've also changed the name of the Brightness control to "Black level." Still, the designation Brightness is like the cat that came back. Sony has abandoned the perfectly clear term Backlight and now calls their backlight adjustment… wait for it… Brightness!

The set offers conventional 2-step (Bias and Gain) color calibration (white balance) adjustments, as well as 10-step adjustments (which are called Color Gamma Adjustment Points). As usual for Sony, there's no user-accessible color management system. Other controls include Color space—Auto, sRGB/BT. 709, DCI (P3), and BT. 2020—and Sony's now-ubiquitous Reality Creation, which is used for scaling/detail enhancement.
The control for X-tended Dynamic Range Pro is locked on High in the HDR video Picture mode. Using the unlocked control with non-HDR material produced harshness on highlights, ranging from subtle in the Low setting to ugly in High. For non-HDR programming (particularly films), I left it off.
Sony's smart TV features are based on Google's Android TV operating system. They're exceptionally thorough, but I preferred streaming from my Samsung UBD-K8500 Ultra HD Blu-ray player (Sound & Vision, June 2016, and soundandvision.com). The Samsung offered fewer options but all that I needed, and it was less intimidating and quicker to navigate. Of course, if you don't have a 4K Blu-ray player with smart TV capabilities or a 4K media player (such as the Roku 4), you'll need the Sony's onboard platform for streaming Ultra HD/HDR content.
The TV can (of course) display and/or play music, videos, and photos stored on your computer or home network. It can also mirror the screen of a mobile phone, tablet, or com- puter. Furthermore, you can interface Logitech's Harmony Hub with the set's Android TV for various forms of home automation (not tested).
My only issues with Sony's multi- function remote were the lack of backlighting and the close proximity of some of the buttons. The tightness of the down navigation and Discover buttons, in particular, caused me considerable aggravation. The remote incorporates voice activation, which worked surprisingly well. For example, when I asked for historical films, I was offered a wide range of movies, documentaries, and YouTube videos (such as "10 Least Accurate Historical Films").
The set's menus froze up several times and wouldn't respond imme- diately to the remote. I restored operation fairly quickly by pushing random buttons (such as Discover, Home, and Back), either alone or in no particular sequence. But this was the first time I'd ever experienced such an issue with a TV remote.
Full HD
The Sony passed our entire spec- trum of video tests sourced from 1080p and 480i, upconverted to the set's native 4K (3840 x 2160), with only a slight and inconsequential rolloff in the highest horizontal chroma-resolution burst. The Toslink digital audio output also provides full multichannel Dolby Digital and DTS from an HDMI source like a cable box or Blu-ray player. Many sets offer only two-channel stereo from their Toslink output, but if you use this Sony's optical out to feed a soundbar with onboard Dolby or DTS decoding, you'll be assured of getting the bar's best performance with Dolby and DTS soundtracks.