Sony XBR-65X900F LCD Ultra HDTV Review Page 2
Based on Google's Android TV, Sony's Smart TV platform provides all of the most popular streaming apps. With Chrome- cast built-in, the X900F can also play music, videos, and photos over your home network, and it has Miracast to mirror material displayed on a tablet, phone, or computer screen. While the set offers voice-recognition, its capabilities are extremely limited unless you sign up for a Google account and Borg yourself into the Google ecosystem.

Performance
The Sony passed all of our standard-and high-definition video processing tests. But though it displayed a 4K/ 60Hz/4:2:0/HDR signal from a pattern generator and from Billy Lynn's Long Halftime Walk, the only disc available in that format, in both cases the source was limited to 8-bit display.
The X900F's audio performance is adequate, though unlikely to cure any itch you might have for an outboard sound system or a good soundbar. (The set's splayed legs are designed to permit a Sony soundbar to fit between them.) When fed multichannel DTS or Dolby Digital soundtracks, the X900F only outputs 2.1 channel stereo audio from its optical digital jack, however.
Some of the X900F's important settings can't be configured separately for HDR and SDR in the same Picture Mode. Sony contends that once you've established the best settings for these controls in SDR (particularly Advanced Color Temperature) they will be correct
for HDR. I didn't find that to be the case, though the differences, while measurable, were subtle. The only way to gain full control of all settings for both SDR and HDR is to choose different picture modes for each format. For that reason, I used Cinema Home for SDR, Cinema Pro for HDR, and manually switched between them.
I spent over a week watching both Blu-ray discs and streamed SDR material on the X900F before attempting a calibration. The only changes I made from the SDR default settings were to turn MotionFlow off and reduce the Brightness (backlight) control from its out-of-box level of 40 where it produced an insane peak SDR brightness level of 108 foot-lamberts (370 nits) down to 10, which produced just over 42 ft-L (144 nits).
There's little that needs to be said about Sony's superb video processing. Upconversion of non-UHD sources to the X900F's 3840 x 2160-pixel panel looked equal in most respects to a true 4K source on a 65-inch set at a typical viewing distance.
I'm sure it's only a matter of time before Titanic is available on 4K Ultra HD Blu-ray with HDR. In the meantime, I have the regular Titanic Blu-ray, which looked excellent on the Sony. But a Blu-ray of the 2012 miniseries Titanic: Blood and Steel, a slow and soapy but beautifully shot portrayal of the actual building of the Titanic ship, looked even better, and was as good as any HD/SDR source I watched on the X900F. Viewed on the Sony, the show's level of detail was impossible to criticize, and its subdued but natural color rendition never disappointed me.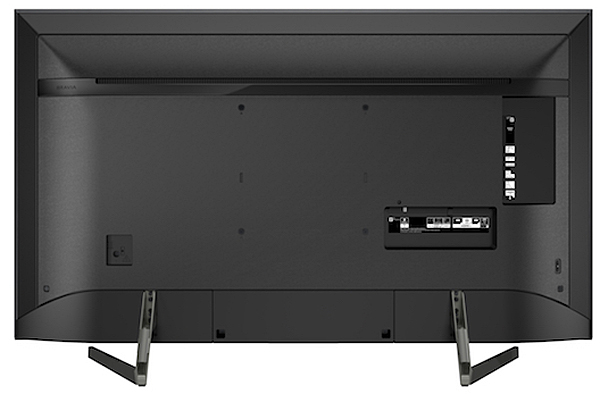 Animation, of course, is known for vivid color, and one of my favorites animated movies, How to Train Your Dragon, is a prime example. I'm hoping for a future release of this title on Ultra HD Blu-ray, though viewing the beautifully rendered regular Blu-ray version on the X900F didn't leave me wanting for more.
Any downsides to the X900F? Yes, its picture looks progressively more washed-out the further you move away from the center sweet spot. Beyond 20-25 degrees and all bets are off. But this came as no surprise since a narrow viewing window is common to most LCD sets.
HDR Performance
It's likely that many buyers of a mid-priced set such as this won't consider spending up to 15% of its price (perhaps more) to get it fully calibrated. But even before making a color calibration, the X900F looked superb with its Cinema Pro picture mode and default HDR settings selected. I watched material as varied as Passengers and Guardians of the Galaxy Vol.2 on Ultra HD Blu-ray and The Man in the High Castle and Lost in Space via streaming. From resolution to color to HDR, I was not left wanting for more.
After calibration, the hits continued. Despicable Me 3 looked crisp and detailed, with more vivid, compelling color than I'd seen before from this title. The Great Wall was also awash with saturated reds, blues, and greens in both bright and dark scenes, and the Sony's HDR performance was clearly more vivid than what I've experienced with OLED TVs. But that's not surprising since the peak brightness available to display bright highlights on the X900F is roughly 50 percent higher than even the best OLEDs can manage.
The Sony deviates from the standard HDR gamma (EOTF) by being darker across much of the brightness range than the EOTF calls for. But in actual use I didn't find this to be an issue. In fact, the Sony was less prone to the peak white clipping sometimes visible with HDR on consumer sets with HDR sources.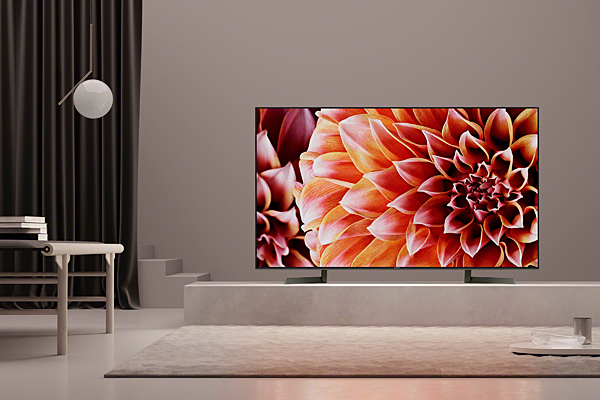 As noted earlier, the X900F's FALD backlight employs a limited number of zones compared with some of its (often more expensive) LCD competition. This has consequences. Here's one example: When bright areas in the picture are adjacent to the black letterbox bars on widescreen films, those bars become slightly lighter. Also,
they're usually a very dark gray with most material rather than the totally black bars you get with an OLED. The X900F also has noticeable blooming, particularly when bright objects appear against a solid black back- ground. And because highlights are significantly brighter in HDR, both of those issues are more visible in HDR mode.
The X900F's screen fades to total black when displaying a totally black, full-screen image. And on uniformly dim scenes with only a few highlights, the Sony offers superb shadow detail without any obvious black crush. Star fields stand out against the darkness of space as long as there are no large, bright areas (such as a planet) in the same shot. An acid test for shadow detail, the entire last act of Harry Potter and the Deathly Hallows Part 2 has never looked better on any set I've tested, OLED models included, than it did on the X900F.
Conclusion
I'll admit to being an OLED fan. But Sony's XBR-65X900F comes very close to that technology in important ways. The Sony's backlight-related blooming and off-center uniformity issues are something you don't see with OLED, and it can't match OLED's consistent black depth. But the X900F arguably exceeds OLED when it comes to near-black shadow detail. It also equals OLED technology when it comes to color and resolution and exceeds it with punchier HDR highlights. Combine those benefits with a price roughly a third lower than OLED for comparable screen sizes and you have an LCD Ultra HDTV well worth serious consideration, even for an OLED fan like me.