Sony VPL-VZ1000ES SXRD 4K Ultra-Short-Throw Projector Review Test Bench
Test Bench
Full-On/Full-Off Contrast Ratio: 4,100 :1 Pre-calibration measurements were made with the Sony's Cinema Film 1 preset active. Post-calibration measurements were made in User mode. All measurements were made at center screen on the Screen Innovations Short Throw (ST) screen using the second and better-performing of our two projector samples.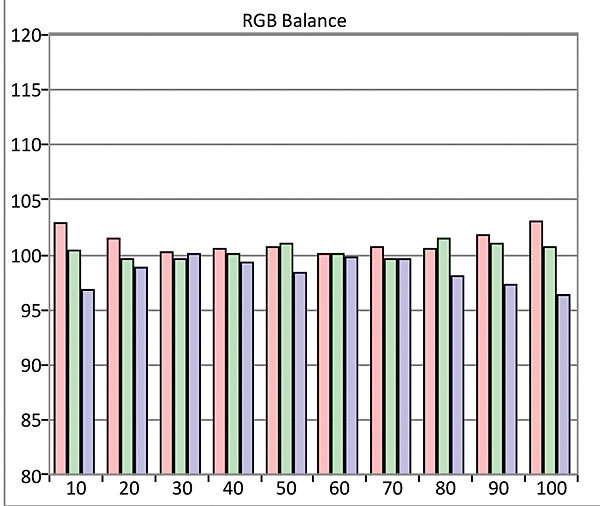 Maximum standard dynamic range contrast ratio was achieved with the Laser Light output set to 75 and Dynamic Control set to Full in the projector's Cinema Black Pro submenu. With this configuration, the Sony's black level measured 0.006 ft-L and peak white 24.6 ft-L for a contrast ratio of 4,100:1. Contrast ratio with Dynamic Control turned off was 1,619:1. Maximum light output was measured at 28.7 ft-L at the default settings in Bright TV mode.
During HDR tests using a Murideo Six-G pattern generator and CalMAN 2016 calibration software, the VPL-VZ1000ES managed 102.6 nits light output on a 10% window pattern, 107.3 nits on a 25% pattern, and 101 nits on a 100% pattern. The projector's measured P3/DCI color gamut coverage when using the same workflow was 90.4%.
Before calibration, the Sony's default D65 color temperature preset in Cinema Film 1 mode displayed very good tracking, with the Delta E averaging out to 2.5. Calibration in the User mode lowered that average to 1.8, with a high of 4.8 at 100 percent brightness. (Delta E is a figure of merit that indicates how closely a display adheres to the Rec. 709 HD color standard. Experts generally agree that levels below 3 are visibly indistinguishable from perfect color tracking.)
With the Cinema Film 1 mode's default settings active, the Sony's measured color points were mostly accurate, with the Delta E averaging out to 3.5. Post-calibration using the CMS , the Delta E for color points averaged out to 2.0.
With the default Gamma 7 preset active, gamma in the Cinema Film 1 mode averaged 1.9. Post-calibration, gamma tracked the 2.2 target for most of its range with a high of 2.3 at 80 IRE.

Picture uniformity was poor, with white full-field test patterns showing uneven brightness and color shifts on two separate test samples. Viewed from off axis, the SI screen/Sony projector combination showed very good brightness uniformity compared with head-on viewing, which reflects the screen performance. A degree of light spray could also be seen when viewing in dark room conditions. The Sony performed mostly well on our suite of HD video processing tests. Clipping, Luma, and Chroma resolution all checked out fine, as did 2:2 pulldown patterns. But it only marginally passed our 2:3 pulldown tests.—AG