Sony VPL-VW995ES LCOS Projector Review Page 3
I highly recommend using the projector's Contrast Enhancer function if you're going to rely on its built-in tone mapping when viewing HDR content. This feature does clip black and white slightly but also modulates the gamma to provide a much punchier-looking image that's more like what you typically see with a flat-panel TV. I found that the High setting provided the best overall subjective performance, but viewers can obviously season to taste.
Performance
Anyone who knows me knows I can go on and on about measurements and how projector A compares to projector B based on numbers, but I also love just sitting back and marveling at the image quality that modern day projectors deliver. Having a projector like the VW995ES to view 4K/HDR on Ultra HD Blu-ray, streaming apps, and games with was nothing short of a delight.
Everyday use of the projector was a delight. The remote is large, backlit and easy to navigate and direct access to the picture modes and lens positions made it easy to watch things exactly the way I wanted to. Sony's projectors have always been known for their chassis design and quiet operation and the VW995ES was no exception. The character of noise was slightly different than what I heard with the VW885ES, but both were equally unobtrusive during operation, even at full laser output. If I really listened for fan noise I could make it out in the quietest passages of movies, but it was never an issue that took me out of the moment.
Another common complaint I have with projectors is the amount of time it takes to synch when a change in the video signal is detected, which results in a blank screen as it locks on to the new format. The Sony clocked in around 6-10 seconds (more often near 6), making it one of the faster designs I've used.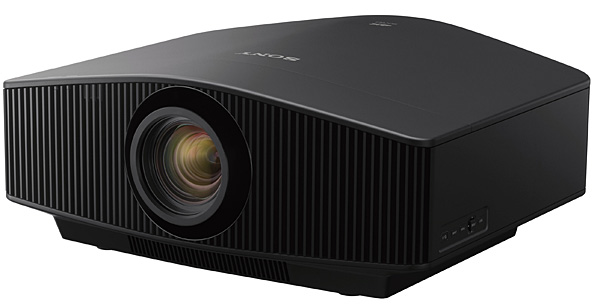 When I reviewed JVC's RS4500 a few years ago, I commented on how its laser light engine coupled with a reference-quality lens delivered an image that needs to be seen to be believed. It was truly like looking at a massive flat panel TV with tack-like sharpness down to the pixel level, and a sense of image stability that's rare for projection. The Sony VW995ES is the closest another projector has come to recreating that experience for me. Sony is known for digital image "enhancements" including its popular Reality Creation, but I honestly found that these were rarely, if ever, needed to deliver sensational images on the new projector.
I spent the bulk of my time watching Ultra HD movies, either spun on an Oppo UDP-205 disc player (output in Source Direct mode) or streamed with an Apple TV 4K. Ultra HD Blu-ray delivered the better experience by far, but it's also amazing to see how far 4K streaming has come in the last few years. Sure, you see occasional compression noise, especially in darker scenes, but even the fussiest videophile would probably be happy with the image quality I was getting on my 11-foot-wide screen.
The VW995ES really shined when viewing some of the latest Ultra HD Blu-ray releases such as the surprisingly fun The Meg. This disc, one of my go-to options for evaluating HDR performance, presents an extremely bright image in every respect and quickly demonstrates how one HDR tone mapping setting will not work for all content. (I had to crank the projector's Contrast HDR setting way, way down to prevent white clipping on this title.) Engaging the Contrast Enhancer setting brought life back to the image, which now showed richly saturated colors and detailed highlights that created a convincing HDR effect. Since Sony's very limited HDR settings don't provide enough range to adjust the tone map to compensate for lower light output or less-than-optimal viewing environments, the Contrast Enhancer function is the only solution I found to help with the occasional dark or drab movie image. As with all HDR-capable projectors I've reviewed to date, best overall HDR performance is achieved by adding an outboard device that handles the tone mapping like Panasonic's DP-UB820 Ultra HD Blu-ray player, or the excellent Lumagen Radiance Pro video processor.
Sony's Equalizer 2 was also an enjoyable ride—and a great example of how state-of-the-art projectors with outstanding optics can reveal the good and the bad in video content. The movie looks like it was shot with several different cameras of varying quality and even includes stock footage fill-ins for some shots. This can be jarring for someone like me who really focuses on image quality, but even my wife, a more casual viewer, commented on it. For example, one scene in Crazy Rich Asians was clearly shot with something like a GoPro rather than a high-quality digital cinema camera. It's this kind of precision that the VW995ES delivered with aplomb.
HDR gaming was something I experienced for the first time with Sony's projector. Using an Xbox One X system, I tried out a few HDR games including the latest Tomb Raider and an old "remastered" favorite with the Crash Bandicoot Trilogy. (A full article about HDR gaming is currently in the works for Sound & Vision.) I saw an appreciable increase in dynamic range and color fidelity when playing games on the VW995ES. And while I'm not exactly a competitive gamer, I also had no problems with image lag or response time even with the projector's Low Latency mode turned off.
Sony's Motion Control settings are the same as what I encountered when I reviewed the VW885ES. I generally prefer to leave these off. The lowest setting still delivered a bit too much "soap opera" effect, although the black frame insertion mode wasn't too bad for increasing motion resolution without the same drawbacks. I find these options to be a "season to taste" kind of thing.
Conclusion
I really enjoyed my time with the Sony's VPL-VW995ES. But while I appreciate the new features and refinements that this new model brings, and only found a few issues to complain about, it does make for a difficult value proposition. Given this projector's light output limitations, $35,000 is a really high price. That said, if the brightness that it does deliver is good enough for your home theater setup, you'd be hard-pressed to find a projector that performs as well as the VW995ES. It definitely ranks among the best projectors I've used and easily rates a Top Pick.