Sony VPL-VW95ES 3D SXRD Projector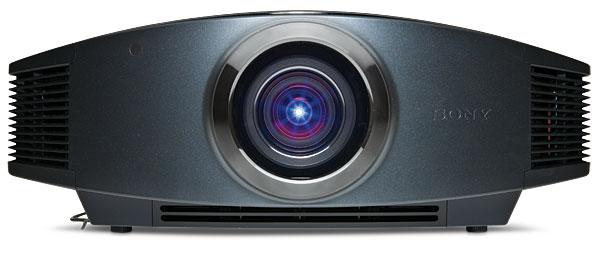 Price
: $7,999
At A Glance:
Outstanding out-of-the-box accuracy • Whisper quiet • Punchy 3D images
The performance we've been seeing from the projector world as of late has just been astounding. Sony has been right there at the top of the heap, too, earning our Top Pick for the last three projectors we've reviewed. The company continues to push new boundaries with its recently reviewed flagship 4K projector, the VPL-VW1000ES, and price/performance boundaries with its superb VPL-HW30ES. Last year Tom Norton was pleased as punch with Sony's first 3D projector, the VPL-VW90ES, and I've been lucky enough to follow it up with its latest high-end effort, the VPL-VW95ES. Sony claims improvements in 3D performance and value. With a price point that falls $2,000 less than last year's model, the company's definitely made good on the value part. But can a lower-priced high-end model really outperform last year's Top Pick? Let's find out.
Quiet Efficiency
Sony has always had an elegant design with its high-end ES projector offerings. While most projectors I review tend to be boxy and rather Spartan, Sony always has sleek cabinets with gorgeous lines and great paint jobs. The VPL-VW95ES is no exception. It is identical in looks to last year's VPL-VW90ES and gives off a great first impression with its flaked blue paint job and sexy curves. The lens is hidden behind a recessed cover that opens quietly when you power on the projector. And quiet seems to be the big word when it comes to the VPL-VW95ES; I've never experienced a quieter projector. It doesn't matter if you're running in high lamp or low lamp mode—the VPL-VW95ES is whisper quiet and never intrudes on the home theater experience.
The VPL-VW95ES continues Sony's use of its proprietary SXRD (Silicon X-tal Reflective Display) technology, which is its recipe of LCOS (Liquid Crystal on Silicon). We're pretty big fans of the technology, which is very similar to the D-ILA designs from JVC. In comparison, we've seen higher native contrast ratios from JVC with its LCOS designs, but Sony tends to have better motion resolution. Honestly, I don't think you can lose either way you go, but both camps have their strengths. You'll have to determine which one best fits your tastes.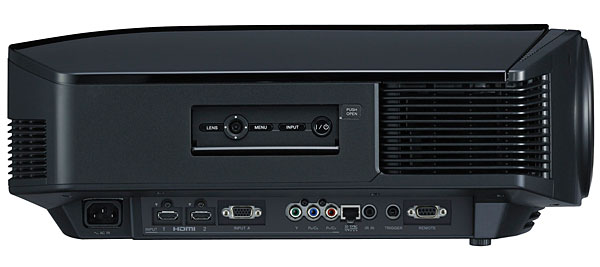 The lens on this year's model is the same 1.6x throw we saw last year. Sony includes powered focus, zoom, and lens shift that can be maneuvered from the projector's side-mounted controls or the remote. Response and accuracy of the controls were quite good, and I was pleased to see Sony include the option to use its built-in test patterns or an external source. Sony has also included some lens memory options for different aspect ratios. This gives you the chance to explore different aspect ratio screens without the need for an anamorphic lens or additional scaling. Just set the zoom, lens shift, and focus for your applicable screen and save it to memory. The VPL-VW95ES allows for up to five different memories.
In the past we've been really impressed with Sony's sharp lens quality. This model's up-close pixel focus and focus uniformity across the screen weren't quite as good as I was expecting from a projector at its price point, but ultimately the VPL-VW95ES did deliver a very sharp image from the normal seating position. Sony includes the same number of user preset video options as before, which gives you some flexibility as to how you want to see images. Some are tailored for films, while others are obviously meant for ultrabright images with oversaturated color. But fear not, perfectionists, Sony has managed to deliver the most accurate calibration I've ever seen for out-of-the box performance. When I selected the Cinema 1 preset and set color space to Normal, the VPL-VW95ES delivered a nearly perfect Rec. 709 color gamut. I've never measured a projector this close, and other than some mild touch-up work on the grayscale, the Sony didn't really need any calibration at all.
The VPL-VW95ES includes a few color temperature options; Low 1 provides the most accurate result across the board. The presets can't be adjusted (except in service mode, Sony says). But there are also tweakable custom modes that use the presets as their starting point. Custom 3 correlates to Low 1; when I used it, I managed to dial in a respectable grayscale from end to end. This was by far the easiest calibration I've done on a projector in recent memory, and the out-of-box performance is so good, I almost question the need for the investment for all but the pickiest videophile. The VPL-VW95ES does include Real Color Processing (RCP), Sony's color management system, but considering its out-of-box performance, there was no need to even use it. During this review, I had the opportunity to test out two different samples of the VPL-VW95ES. Both were very easy to calibrate, although the second one's black floor was very biased toward red. While contrast measurements proved about the same on both, visually the red dominance hurt black performance with extremely low average picture level (APL) material. With most content, this wasn't an issue. But I noticed it with ultra-dark material.
One of the biggest differences between Sony's projector line and the popular JVC offerings is how the companies approach contrast. JVC has long touted its extremely high native contrast ratios and how it doesn't rely on a dynamic iris to achieve them. While JVC does employ an iris system to achieve its highest contrast ratios, its execution lacks the dynamic nature of Sony's Cinema Black system. Honestly, I think this is a mistake. Native contrast is always a good thing, but adding a dynamic iris (especially one that can be defeated like Sony's) will only improve on the contrast performance of the projector if implemented correctly. Having a high native contrast makes it even easier to do it right since you won't have to be quite as aggressive with the dynamic implementation to get high contrast numbers. Sony's dynamic system is one of the best I've seen, and throughout my review, I never spotted any issues with image pumping or clipping. Black uniformity could have been a bit better—I noticed some light corners on the upper-left and lower-right sides of the image with a full black screen. But this never encroached on the viewing experience with normal material.
Sony offers a considerable number of gamma presets, but I found Gamma Correction Off to be the best selection for a linear 2.2 gamma. Considering the contrast performance of the VPL-VW95ES, a higher gamma of 2.3 is worth looking at if you have a dark viewing environment. The contrast performance of the VPL-VW95ES fell somewhat short of what I expected from this year's model, and we actually measured a drop in contrast compared with last year's model. This may have been contributed to by the high red levels at the projector's black floor.