Sony VPL-VW885ES LCOS Projector Review Test Bench
Test Bench
Full-On/Full-Off Contrast Ratio: Infinite (Dynamic), 15,000:1 (Native)
Measurements were taken in various conditions, with most taken in the Reference preset and with the laser at 80%. The gamma correction preset was selected as 2.4. All calibration was done with the dynamic laser disabled, and the contrast ratio measurements were done with various settings for dynamic dimming, as noted. All viewing and measurements were done on a 140-inch-diagonal, 2.35:1 Stewart Filmscreen StudioTek 100 screen (1.0 gain).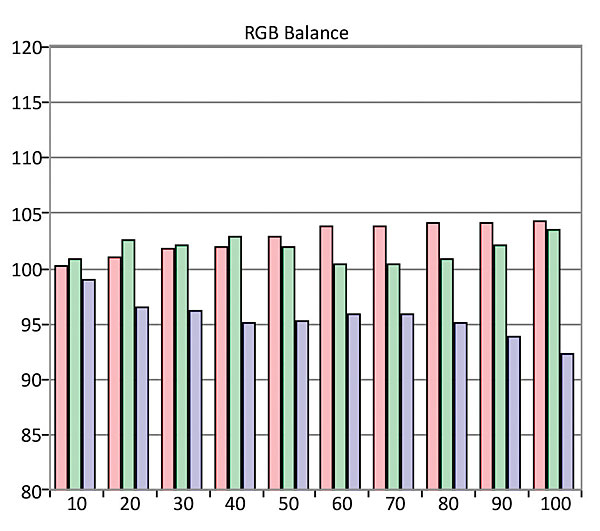 The full-on/-off contrast was measured with a Minolta T-10 meter at 12 inches away from the lens face. The highest native contrast ratio (dynamic laser disabled) was obtained with the projector at 100 laser power. This produced a contrast ratio of approximately 15,000:1. Using the dynamic laser in Full mode resulted in an infinite contrast ratio, as the laser turns fully off. In Limited dynamic laser mode, the peak contrast ratio was 20,000:1. As noted in the review, these dynamic modes were essentially ineffective with real program material. For my viewing, I used the projector at 80 laser power for standard dynamic range. This produced a native contrast ratio of about 14,000:1 and 16 ft-L on my screen. (Note that user setup plays a significant role in what type of contrast performance you can expect to see from this or any other projector.)
The RGB tables were captured from a calibration workflow in CalMAN from Portrait Displays. RGB color points and grayscale tracking out of the box were very good and on par with previous Sony projectors I've tested, with a peak Delta E of 5. (Delta E of 3 or under is considered reference and imperceptible to the human eye.) Minor tweaks to the grayscale and gamma controls resulted in a peak Delta E of 3. Gamma averaged 2.42 with the projector set to 2.4 and Rec. 1886 as my target gamma in CalMAN.

The color gamut in the Rec. 709 profile was nearly spot on, with no value exceeding a Delta E of 3. Peak error after calibration was less than 2 Delta E, which is excellent performance for any display. Luminance and saturation values throughout the inner gamut were also very accurate.—KRD