Sony VPL-VW885ES LCOS Projector Review Page 2
A dynamic laser should work conceptually like a dynamic iris in attempting to lower the light output (while gamma is simultaneously modified to keep highlights pre-served), but it should ideally be able to respond faster to the signal and provide greater range than a mechanical iris system. However, the dynamic dimming feature on the VPL-VW885ES didn't behave this way and delivered nearly imperceptible contrast enhancement with regular onscreen images in either of its two active settings. The Limited mode provided just a small but imperceptible bump in contrast, boosting the measurement to about 20,000:1 (from the native 15,000:1 starting point). I assumed the Full mode would significantly enhance this, but with this setting I discovered that the dynamic system would only react to 100 percent black signals, which would cause it to shut down the laser completely for a full onscreen blackout. Signal content that was even one notch above black would cause the laser to re-engage and the image to come back on, in rapid, jarring fashion, at more or less the previous high level. This behavior allowed for dark transitions between scenes and a contrast measurement of infinite but no actual contrast enhancement with real program material. I confirmed these results by conducting measurements at image levels just above black, and the numbers showed no difference between the modes when it came to measurable contrast (again, the image would dim somewhat, but even this was barely perceptible).

This is a surprising shortcoming for such a high-end Sony projector and a departure from the dynamic contrast performance we've become accustomed to with their other designs. Admittedly, dynamically modulating a laser's light output has been challenging for other manufacturers as well, particularly in that first step out of black. I complained of similar jarring artifacts with the Epson LS10000 when I tested it (at a cost then of $8,000), though its dynamic system worked gradually through the range so it wasn't quite as obvious and still provided benefit to low-light scenes in content. The JVC DLA-RS4500 ($35,000) is the best I've seen in this regard, with transitions in and out of black showing almost no artifacts at all, but even that projector had similar problems when it was first reviewed and was only improved later via firmware update. Hopefully this is something that Sony can also address with future updates to the projector.
The rest of the setup and calibration for standard dynamic range went pretty smoothly. The Rec. 709 color mode was nearly spot on, with only minor adjustment needed in the menu, and grayscale and gamma needed only a small bit of work to get things dialed in nicely. Care should be taken, however, when setting grayscale and gamma, as you could unintentionally lower the overall contrast performance if you take away light to get the best possible grayscale. I saw contrast measurements drop by as much as 50 percent when I wasn't carefully monitoring the effect of these settings. I would suggest a professional calibration to ensure the best performance.
HDR tuning was another animal entirely. As we've covered at length here at Sound & Vision, HDR for projectors is not nearly as mature as it is for flat-panel TVs. There is no formal standard, and the limited light output of projectors generally means that each manufacturer has concocted its own secret sauce for applying the more aggressive tone mapping required to make HDR look right on your big screen. Sony's approach is a bit simplistic compared with other recent designs I've used and reviewed. When the projector detects an incoming HDR signal, it changes its color mode to Rec. 2020 and applies its HDR EOTF over what-ever picture mode is active. A new contrast adjustment is shown (labeled as HDR), which, Sony says, adjusts the brightness level of midtones to add some extra punch to the image. In practice, it also affects the clipping point for peak white, so care needs to be taken to avoid turning it up too high and creating clipping artifacts with HDR content. For HDR10 playback, there are two different modes available: HDR10 and HDR Reference. Sony's manual says the HDR10 mode should be used with titles mastered with a peak value of 1,000 nits or higher, and HDR Reference is for titles that are 1,000 nits or lower.
Critically, black levels and shadow detail were an issue with HDR playback. The optimal brightness (black-level) setting required for HDR in this projector is different from the setting required for standard dynamic range material. But the brightness control is shared for any given picture mode. This results in black crush and a loss of shadow detail in darker content. As a workaround for this lack of control, I set up another picture mode just for HDR using the User picture mode option and selected that one when watching HDR content. We've seen other manufacturers' projectors automatically go into a dedicated HDR picture mode (allowing for full picture setup options exclusive to HDR playback) when they detect an HDR signal. The lack of this functionality results in somewhat cumbersome operation on the Sony if you want to fully optimize it for HDR signals.
Sony's Rec. 2020 color mode does not use a filter to extend the usable color the way some other high-end designs do, but it does cover about 90 percent of the color range that most Ultra HD titles are being authored in today (P3 gamut within the Rec. 2020 container). We've seen full P3 coverage from projectors well below this price point, though you typically lose a bit of light output when a filter is employed to accomplish this. Still, it's nice to have the option for it for those who have brightness to spare in their viewing environment.
Of course, we're still in the early days of HDR with projectors, but I hope that Sony will start to offer a more user-friendly and full-featured HDR implementation. HDR playback should have its own picture mode with adjustability for not only the basic settings like contrast and brightness, but also the gamma/tone mapping, which I'll talk more about in my viewing comments. I would also expect an option for full gamut coverage of at least P3, especially when Sony has shown they can accomplish it with their previous and current designs at this price point.
Viewing
As a technical reviewer, it's my job to be critical in my evaluations, and projectors have generally gotten so good across all price points that I've found I have to be even more hypercritical than in years past to make clear the sometimes subtle differences in design and performance among competing models. That holds even more true when evaluating a projector at this price given the already staggering performance we see today from the best examples in the sub-$10,000 market.
That said, Sony has always delivered breathtaking imagery from their projector line, and the VPL-VW885ES follows suit. I had the opportunity to use it for several weeks with a wide range of content delivered from streaming sources, Blu-ray, and of course, UHD 4K Blu-ray. While my 4K UHD library is growing at a rather alarming rate, I still watch a lot of standard Blu-rays in my theater. For this evaluation, I paired the VPL-VW885ES with my reference Oppo UDP-205 UHD Blu-ray player and made sure the Oppo was in its Source Direct mode so that any video processing in the player was bypassed, allowing me to check how the Sony handled the scaling and image processing duties.
Since the VPL-VW885ES already has processing engaged with any content fed in (due to the internal panel alignment settings I mentioned earlier), evaluating its scaling performance was more difficult than normal. Every resolution pattern I looked at had obvious artifacts that would not only discolor the patterns but create interference patterns. Using Sony's Reality Creation feature in its default settings to sharpen things up resulted in some image ringing (artificial edge enhancement) and subtle harshness while watching normal program content, but turning them down to their minimal settings resolved most of the ringing and overly processed look and left the image nicely detailed. Turning Reality Creation fully off actually made the image softer, which is not something I'm used to seeing when it comes to picture enhancement features. So, this is actually one of the few times you'll see me encourage the use of a picture enhancement mode.
Thus tuned, I watched quite a few staple films that I always look at for projector reviews, including Oblivion and Casino Royale. Oblivion looked spectacular, with excellent fine object detail and depth and fantastic shadow detail. This is still a go-to title on Blu-ray for showing just how good the format can look. Black levels suffered slightly in some of the most demanding scenes, and without a suitably well-performing dynamic contrast system to help with these darker scenes, they even fell short of what I've seen from previous Sony designs.
Daniel Craig's debut as James Bond in Casino Royale was a lot of fun on the Sony and reminded me how good this older Bond movie could look. At times the 1080p Blu-ray image took on a nearly native 4K quality, though I thought the VPL-VW885ES had some issues handling the film's grain, giving it a more digital look reminiscent of compression noise. Color rendition was excellent, though, making for eye-catching experiences in some of the film's tropical locales.
Streaming sources are becoming more common in homes and home theaters everywhere, so I thought I'd see how the latest would hold up on the bigger screen via the Sony. Using one of the new 4K Apple TV boxes, I was able to sample a vast selection of 4K content from both iTunes and Netflix. I was surprised at how good the quality of these streaming components and the content itself has become, especially with darker scenes that were notorious in the past for showing compression issues. I would venture that most viewers would have a tough time telling apart the 4K HDR streams I was watching via iTunes from their UHD Blu-ray counterparts. The Apple TV's constant shifting of frame rates and formats showcased the Sony's excellent HDMI ports, which were substantially faster at locking onto the various changes in resolution and dynamic range than I've seen with my reference JVC DLA-RS4500 projector (and other JVC designs). This really takes the frustration out of viewing these types of sources that change output frequently.
Certainly, the highlight of my time with the VPL-VW885ES was watching movies on Ultra HD Blu-ray. This format is indeed the pinnacle of content on the market today, and more and more titles continue to be released. Watching them on a native 4K display device always results in the best image resolution you can get from projection. Some of the latest pixel-shifting designs on the market have done wonders to narrow the gap, but native 4K designs always provide better rendition of back-ground detail and the finer instances of small object detail that pop up from time to time. This is clearly evident with fine-lined objects, such as text in an image.
Watching 4K Blu-ray also gave me a chance to see how Sony's execution of HDR tone mapping compared with the rest of the HDR projectors that I've seen to date. I already commented on the lack of controls for tuning HDR, but what about the quality of their tone mapping? This basically refers to the projector's ability to retain and render accurate colors and convincing highlights in the remapping of the HDR source content to the projector's more limited brightness capabilities.
Generally, I would place this projector's default tone mapping as about average, falling in line with what I've seen from most other recently released HDR projectors. Overall image contrast fell a bit short with HDR, and shadow detail was lacking (a trait I've seen with all HDR projectors on the market today). This can give the image a slightly darker look and flatten out the image compared with better tone mapping solutions I've seen both in outboard video processors and in some flat-panel TVs with greater light output. The HDR Contrast control can help here, though as mentioned before, it must be set carefully to avoid clipping artifacts in the image.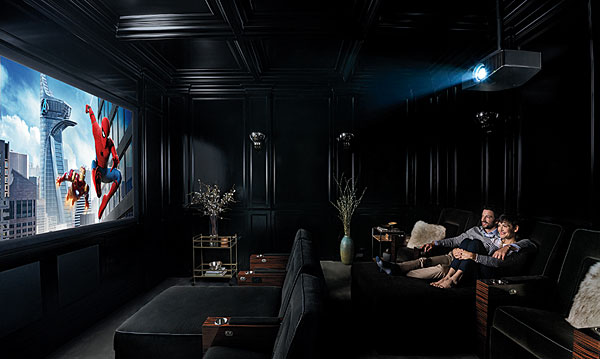 Setting up a dedicated mode for HDR using the User preset, as mentioned earlier, definitely allowed me to dial in the brightness and contrast controls for the best possible results. But with the limitations in tone mapping and vagaries in the mastering of content, I still found myself reaching for the remote a fair amount to fine-tune on a title-by-title basis. Colors were vibrant, with plenty of punch, but a loss of saturation in greens and reds was noticeable versus projectors I've seen with full P3 coverage.
Unfortunately, the drawbacks in the Sony's dynamic contrast performance were obvious at times, especially with darker material like John Wick: Chapter 2 and the recent release of Stephen King's It. The latter has a lot of dark sequences, which looked slightly muted and washed out at times. Brighter scenes looked better, with a reasonable amount of pop, but I know that more could be done to give the image the look that HDR advertises. Still, the VPL-VW885ES performed in line with most of the other projectors I've seen when it comes to HDR, and it may be a while before we start seeing bigger strides in this area.
One of the noticeable highlights for this projector was its Motionflow settings, which allow you to add frame interpolation to the image in various degrees. I'm typically not a fan of these modes, but I found Sony's implementation to be one of the best I've seen. There are also options for pure unprocessed handling of 24p content, but in their lower settings, the frame interpolation modes allowed for visible improvements in motion resolution with little to no soap-opera effect. Motionflow can be applied to any input resolution, so the benefit wasn't limited to only HD content (as we've seen on Sony's lower-end models). If this is a feature that you look for with displays, the Sony performed noticeably better in this regard than the JVC DLA-RS4500 and was even a touch better than most other projectors I've tried.
Conclusion
At $25,000, the VPL-VW885ES demands a critical review reflective of its performance alongside competitive models from Sony's own lineup as well as other brands. Typically, projectors at this price point are designed to meet the needs of larger home theater screen installs, which require much higher light output and higher-quality lenses to retain fine sharpness across the expanse of the screen. While the VPL-VW885ES's light output is on par with previous Sony designs at this price point, the lens it shares with the rest of Sony's lower-priced line represents a step down from Sony's past projectors at this level (as well as the still-current VPL-VW1100ES at slightly higher cost). The addition of a lamp-free laser light engine is obviously a big selling point, and in fairness I should note that alongside the JVC RS4500, the only other true native 4K consumer home theater projector with a laser engine (aside from Sony's ultra-short-throw model), the VPL-VW885ES costs 40 percent less and has a considerably smaller and lighter chassis for installations where that's a factor. Still, the significant premium attached to the laser here needs to be weighed heavily when there are less expensive lamp-driven models in the Sony line featuring the same lens, same native 4K SXRD panels, and (in most models) a dynamic iris that may deliver better contrast than the VPL-VW885ES in its present day form. This all brings into question the value proposition for this projector.
Given their nature, I believe most of the shortcomings that I identified in this review could be addressed by Sony with firmware updates, and I hope they will do so. Still, at the end of the day, even with these caveats and technical concerns, it must be said that this remains a great projector capable of spectacular images—and one that could be fantastic if a few of these quibbles are addressed. Either way, those seeking a cutting-edge, lamp-less solution for large-screen applications should find plenty to marvel about in its picture.