Sony STR-DN1050 AV Receiver Page 2
Opened Up
The STR-DN1050 is the top model in this series of Sony receivers, with a decidedly balanced sound. While it has a family resemblance to my vague memories of the STR-DN1040's warm tone, the top end strikes me as more open, detailed, even airy—and that's not a word often applied to $600 receivers. It also seemed to have more juice than I'd expect in a modestly priced receiver—at least, I seemed to be running the volume knob lower than I would normally have to with similarly priced products in order to achieve appropriate output for movies, and the dynamics were superb.

The Lord of the Rings trilogy remains my idea of the perfect surround demo material, combining tsunamis of high-decibel effects with great visuals and an epic story that never pales. The Return of the King (DVD, DTS) is as remarkable for its quiet effects as for its noisy ones. I love the moment when Pippin sings on demand for the delusional steward of Gondor as the siege of Minas Tirith rages outside. The Sony encompassed both the frail voice and the bombastic battle that followed. The avalanche of skulls in the cave of the dead and the thundering feet of attacking mastodons didn't faze the receiver; it maintained the integrity of the soundfield, and the sheer force of these effects was impressive. But the echoing female voice that accompanies Gandalf and the eagles in their search for Frodo and Sam was just as effective, more moving. There was little sense of strain as the receiver dominated the speakers.
The Philadelphia Experiment (Blu-ray, Dolby TrueHD) showed the receiver adroitly splitting bass-making duties with the subwoofer. In a repetitive bass line, the crossover was hard to discern. The same was true of the space-time rumble effect. This is how 5.1-channel sound is supposed to work, with the speakers and sub joining to produce a seamless whole. But that can happen only if the receiver can deliver power to the woofers in the main speakers as masterfully as the sub can control its own driver. The Sony and my Paradigm Seismic 110 were a great team.
I hear new things every time I try the 2013 DTS Demo Disc with different equipment. The pursuing fires of The Hunger Games got things off to a roaring beginning as the receiver stringently controlled the rampaging flame effects, with their massive starts, whooshing articulation, and abrupt stops. But the highlight was another forest scene, the chase in Sherlock Holmes: A Game of Shadows. The Sony's dynamic abilities enabled me to access the soundtrack's complexity in a newly intense way, integrating the music, gunshots, bullet and shell trajectories, and splintering tree trunks.
Old, New, Borrowed
I bought Deep Purple's Made in Japan on the advice of a high school classmate, which would make my copy of the double LP set about 40 years old. Fanatically cleaning my records with a Discwasher was an investment that has paid off later in life. I switched the room-correcting DCAC off and on. It improved imaging slightly but tampered very little with my room's midrange character, and do-no-harm is always a good thing. Switching to pure analog mode—which disabled both room correction and the subwoofer—I was surprised at the weight the STR-DN1050's amp gave the bass guitar and kick drum. Sony's design team in Tokyo is known to tweak receivers while listening with B&W Matrix 801 speakers, a tougher load than most receiver buyers will ever use. It shows. This thing is a dynamic marvel.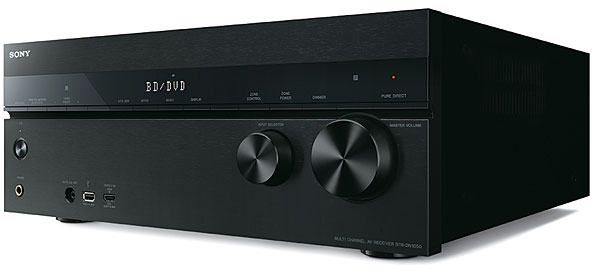 Janos Starker's Mercury Living Presence recording of cello concertos by Schumann, Lalo, and Saint-Saëns (with Antal Dorati and Stanislaw Skrowaczewski conducting the London Symphony Orchestra) arrived on three-channel SACD. The three channels were originally mixed down to stereo, but it's great to hear all three going at once. The cello was precisely, even lovingly, imaged (perhaps love was in the ear of the beholder) against an orchestra in which strings were not only strongly outlined but also thoroughly filled in; most receivers do one or the other, but it's a joy to come across a model that does both. The front-row perspective favored by legendary recording co-director Wilma Cozart Fine (who was once told: "Women don't run sessions. Women don't edit tapes") was mesmerizing. This demo represented everything I hope and pray for when I listen to high resolution audio.
The Bill Evans Trio's Complete Village Vanguard Recordings, 1961 were from CDs ripped to Apple Lossless. I played just one track from my laptop into a high-performance Meridian USB DAC to get a handle on the sound, then switched to an iPad streaming AirPlay and Bluetooth. All three were quite close, suggesting that you won't lose too much by switching to either kind of wireless connection. With AirPlay, the onscreen video display showed "AirPlay," track, artist, and album; with Bluetooth, just "Mark's iPad." The Sony's bass prowess, already firmly established with heavy metal, extended to the more subtle pleasures of Scott LaFaro's string bass, making it "solid and grippy," according to my notes. The bandleader's piano was decidedly un-grippy, and a lesser receiver might have let it go bland—but the Sony caressed its Debussy-like gossamer beauty and the soft shimmer of Paul Motian's cymbals.
The Sony STR-DN1050 is the best receiver I've ever heard selling for $600, and I've heard quite a few. Saying a lower-priced product performs like a higher priced one can be wishful thinking, and I rarely trot out those tired old clichés—punching above its weight, champagne performance on a beer budget, blah blah blah. But there's no way around it: This receiver has dynamics reminiscent of something much more expensive, perhaps even twice its price, along with a fine-tuned tonal balance that benefits anything you might listen to. A high-end-of-the-low-end champion, it is now my top recommendation at this price.