Sony STR-DN1050 AV Receiver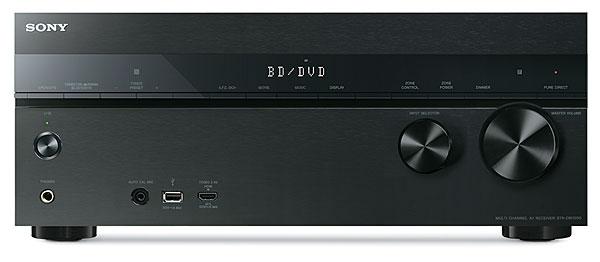 PRICE
$600
AT A GLANCE
Plus
Wi-Fi, AirPlay, and
Bluetooth built in
Balanced and dynamic sound
Minus
No HDCP 2.2 for future UHD Content
Front-panel buttons are tough to see
Single-position room correction
THE VERDICT
Sony updates its triple-threat Wi-Fi, AirPlay, and Bluetooth AVR with more balanced sound, and it's about the best we've heard at this price.
Have you ever had a feeling of déjà vu? Have you ever had a feeling of déjà vu? Sometimes I get that feeling when I review receivers across multiple generations. Sometimes I get that feeling when I review receivers across multiple generations. Oh, all right, I'll stop. Oh, all right…but having reviewed the Sony STR-DN1020 in 2011, the STR-DN1030 in 2012, and the STR-DN1040 in 2013, I am well situated to pass judgment on the STR-DN1050 in 2014.
And it's worth the attention. Sony has been on a roll, fiercely focusing attention on its mass-market receiver line, trying to make it sound as good as possible while incorporating every feasible form of wireless connectivity. That's no easy task because there's always a tension between features and sound quality—due not only to the cost of parts but also, in this case, to the signal-polluting effects of digital wireless technologies on analog amplifier guts.
Sony's designers have their work cut out for them. They have responded with a thicker top casing and stronger joints, improved power transformer and other components, and localized analog power supplies to keep electromagnetic radiation away from amplifier circuits (among other things). These enhancements usually cost money. However, Sony's designers have also found ingenious ways to improve quality without spending a dime—like varying the size and spacing of vents on the underside of the chassis to control resonance.
Triple Wireless
Sony has two receiver lines: the high-end ES and a more mass-market line. In the latter, the STR-DN1050 is one of four new models, along with the similarly featured but less powerful STR-DN850 ($499) and the lower-end STR-DH750 ($349) and STR-DN550 ($279). The 1050 and 850 both feature triple wireless connectivity, including Wi-Fi, AirPlay, and Bluetooth—all of it baked in, with no awkward extra-cost accessories. The 1050 has the added benefit of a DSD-capable high-resolution digital-to-analog converter for high-res audio files. As with the 850, its DAC also supports up to 192/24 PCM.
Sony's front panel has a few distinctive traits. One is the daringly asymmetrical look, with placement of both volume and source-select knobs on the right side. The row of buttons crossing the front panel is unusually skinny. While this gives the fascia an elegantly uncluttered appearance, it also makes the buttons virtually invisible; I needed a flashlight to see them. They include useful things like Bluetooth pairing and front-panel dimming along with the usual listening-mode and zone controls.
The graphical user interface is superbly well organized and visually appealing, the opening screen featuring five large vertical panels labeled Watch, Listen, Custom Preset, Sound Effects, and Settings. You'll be using that more often than the front panel—along with the intelligently simplified remote, with buttons reduced from 65 to 34 (but no more Sony TV control). The SongPal control app is available for Android and iOS devices.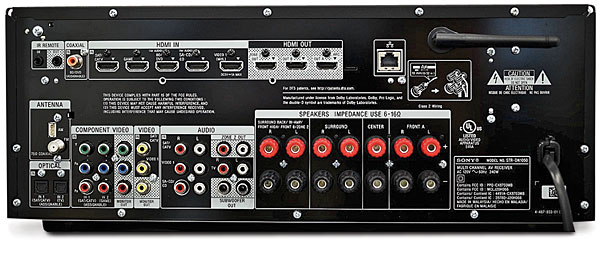 The back panel's most notable occupant is a built-in Wi-Fi antenna, which enables DLNA media sharing as well as AirPlay. Bluetooth capability incorporates NFC (near field communication), so you can bump your mobile device against the receiver to pair them. Supported Internet radio services include the newly added Spotify, plus Pandora, TuneIn, and Sony's own Music Unlimited.
The back panel also has three HDMI outputs—one for a second display in the main zone, one for video in Zone 2. That's a number rarely seen, and never seen at this price point. The half-dozen HDMI inputs are all HDMI 2.0 compliant, but, notably, they lack the HDCP 2.2 digital rights management (DRM) compliance that may be necessary in the future to pass all UHD content from new 4K streamers or disc players. (The Sony is not alone among 2014 AVRs in having one but not the other, but the impact of this will depend on your future display plans and whether you expect to use your AVR as your video switcher for an Ultra HDTV.) The HDMI ports do include two MHL-capable jacks for Android smartphone streaming—one more than I've seen elsewhere—and of course the USB input is iOS-savvy. Sony doesn't provide multichannel analog ins or outs, only stereo, but there are connections for two subwoofers (albeit for a single sub channel).
Auto setup uses Sony's proprietary DCAC (Digital Cinema Auto Calibration). It starts by prompting you through component connections before inaugurating the speaker setup process with some jaunty musical tones. Unlike most other room correction systems, Sony's measures from only one position; I'd prefer to see at least three to cover every position on a sofa. DCAC allows a choice of four EQ modes—Full Flat, Engineer, Front Reference, and off—which you can change later on the fly. I chose Full Flat, opting this time for neutrality, though in the past I've found Engineer an interesting alternative because it emulates Sony's listening-room standard.
Phase correction is switchable on or off. I left it on, considering it part of the room correction system. There's also a Digital Legato Linear enhancement for lossy audio files. I switched it off, along with the Dynamic Range Compressor.
Associated equipment included five Paradigm Reference Studio 20 v.4 speakers, Paradigm Seismic 110 sub, Oppo BDP-83SE universal disc player, iPad 2 for AirPlay and Bluetooth streaming, Meridian Director USB DAC running with Foobar 2000 on a Lenovo Win 7 laptop, Micro Seiki BL-21 turntable, Shure V15MxVR/N97XE cartridge, and Onix OA 21s integrated amp serving as phono preamp.