Sony STR-DA4600ES A/V Receiver Page 2
Martin Scorsese's Shutter Island exiles Leonardo DiCaprio, as a federal investigator, to a remote island where Ben Kingsley enigmatically administers a prison-cum-mental-hospital. It's overlong and increasingly tiresome, despite intermittently brilliant visuals, including a gun-in-hand back-perspective shot that must have been a tribute to the final frames of Hitchcock's Spellbound. The DTS-HD Master Audio soundtrack is consistently gripping—so good, it might have come from a different movie. The Sony smartly mined it for atmosphere and beauty, from the sawing basses of doom that loom like foghorns over the opening ferry scene, to the Mahler piano quartet that serenades a chat with the psychiatrists, to the loud popping gunshots of a firing-squad flashback. With no low-volume listening mode engaged, the guns were fearsome. In response, I dropped the volume from the –10-decibel setting I'd been using up to this point to –15 dB (on a scale of –93 to +23 dB). Dialogue was still reasonably clear. Please note that I virtually never listen to anything at reference level, due to my middling room size, short speaker distances, tender ears, and nearby neighbors.
After.Life stars the always compelling Liam Neeson as a mortician who speaks to his subjects (and they speak back). The excellent supporting cast includes Christina Ricci (on the porcelain table) and Justin Long (the Mac guy, still nervously in the land of the living). The relatively civilized horror soundtrack, in uncompressed PCM, played well for me just a few increments below the level marked 0, at least until the effects stepped up later in the movie.
Inside the Jewel Box
Lang Lang: Live in Vienna is available on BD, DVD, CD, LP, and MP3. Even on mere CDs (two of them), the Sony Masterworks recording was rich and satisfying. The venue probably helped—many people consider Vienna's Musikverein to be one of the world's best-sounding concert halls. I used the remote's Sound Field buttons to shift between two stereo-to-surround music modes, Dolby Pro Logic II and DTS Neo:6. There are two Sound Field buttons (plus and minus), which makes it possible to step forward or back in the cycle. This made it easier to compare modes, especially if they were adjacent.
In this case, too much of the beautiful hall reverb was pushed toward the surround channels. Rather than fiddle with underlying settings to reduce surround levels in DPLII and Neo:6, I reverted to stereo, which is rarely a bad choice for a stereo recording when the amp and speakers are up to snuff. Here, the choices were AFD Auto (with bass management) or 2-Channel Stereo (sub off). I preferred to keep the sub running. The pianist's command of dynamics, rhythm, and tone color were continually involving. Even the applause sounded gorgeous.
Robert Lockwood's Delta Crossroads is a multichannel SACD. The bluesman accompanies himself on 12-string guitar. If you associate that instrument with earnest folkies, you haven't heard Lockwood's muscular rhythm playing on the bottom strings and his spidery filigree on the top ones. The 5.1-channel mix kept the voice in all three front channels, a choice that will suit any system whether or not it has a matched center. Very smart. The AVR converted the incoming DSD signal to PCM, which is a surprising choice for Sony, inventor of the SACD format. It handled this high-resolution material by calling attention to the much different miking of the voice (close up) and guitar (more distant and slightly rolled off to reduce the 12-string jangling).
Armed Forces by Elvis Costello & the Attractions came in the original U.S. vinyl release. Although DPLII and Neo:6 fared well, they weren't nearly as effective as A. Direct, the pure analog input mode, which bypasses room correction and bass management. This time, it didn't matter that the sub went silent. There was just enough bass coming out of the source material, phono rig, and speakers to suit Bruce Thomas' swooping, awesomely melodic bass lines and Pete Thomas' busy tom-toms. Imaging wasn't quite as precisely focused without room correction—DCAC does a decent job in that regard—but the overall result made me nostalgic for the days when I blasted this LP with a 60-watt stereo receiver and a pair of speakers with big woofers.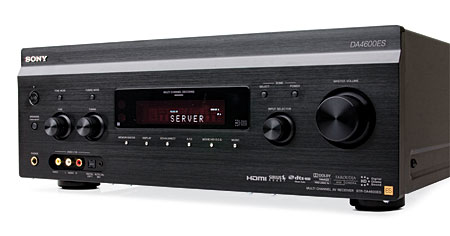 Once my serious disc-limited listening ended, the networked audio fun began. It took all of five seconds to get the Sony to recognize my router after I'd hit the right menu button. It wasn't hard to find (under Network). I then tumbled down SHOUTcast like Alice down the rabbit hole. So many Internet radio genres; where to begin? Hair Metal or Klezmer? If I wanted Latin music, should it be Latin Dance, Latin Jazz, Latin Pop, Latin Rap/Hip-Hop, or Latin Rock? Not all SHOUTcast genres were matched with stations when I checked on a weekday afternoon: Under S, Sermons/Services was vacant, as was Sexy. But it's just as well I had to send this AVR on its way. Otherwise, I might never have left my apartment again.
It wasn't as straightforward to access my PC's hard drive. Like DLNA A/V receivers in general, this one could access Internet radio from the router, but to get the computer's hard drive into the loop, I had to enable file and media sharing in the Windows Media Player. Once I did that, I was able to play D"Jan"Go, Jan Akkerman's sprightly tribute to Django Reinhardt, a $10 download from reverbnation.com.
The STR-DA4600ES A/V receiver embodies the Sony spirit, emphasizing the company's tendency to go it alone. The proprietary DCAC auto setup isn't bad, but at this price, Sony should have licensed at least one of the premium low-volume listening modes—Dolby Volume would have been the ideal choice in a product without THX certification or Audyssey setup. This AVR excels in networking smarts, with all of those Ethernet jacks, and the addition of DLNA functionality is never a bad move. I loved-loved-loved using SHOUTcast Internet radio. Sony has also given a lot of attention to the needs of custom installers and their clients with extensive control and multizone options. Finally, this is a good-sounding AVR that showed true musical finesse and positively thrived on high-resolution content. It's worthy of its lineage as an ES product.