Sony Designates TVs as 'Ready for PlayStation Five'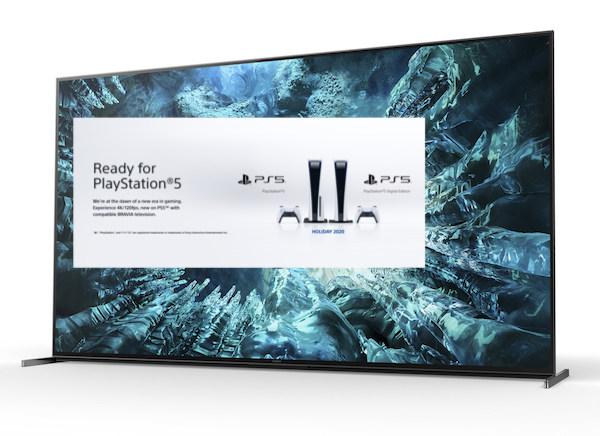 With Sony readying its long-awaited PlayStation 5, the company's TV and Interactive Entertainment divisions have teamed up to create a 'Ready for PlayStation Five' designation for specific 2020 TV models. According to the company's press release, the tagline will "make it easier for consumers to select the optimum TV in preparation for the highly anticipated launch of the PlayStation 5 (PS5), the next-generation game console releasing this holiday season."
The TVs to be branded as PS5-ready include Sony's X900H Series 4K and Z8H 8K LCD models. As Sound & Vision previously reported in our CES 2020 coverage, these models support gaming-oriented HDMI 2.1 features, specifically 4K/120Hz video input. Footnotes included in Sony's release state that "a future firmware update" will enable 4K/120fps display on the supported sets, along with display of 8K games from the PS5 on the Z8H 8K models.
Another feature that will make Sony TVs PS5-ready is a Game Mode to reduce latency—to a "very low 7.2ms" input lag on X900H Series models, per the company's release. (No similar specification is provided for the 8K sets.) Game Mode will also allow users to wake both the TV and PS5 simultaneously with the console's DualSense wireless controller. Both the 4K and 8K TVs further feature the company's Acoustic Multi-Audio technology, which enhances sound by providing the impression that effects and dialogue are emanating directly from the screen.
You may be wondering why all of Sony's new TVs for 2020 aren't 'Ready for PlayStation Five,' and that's certainly a good question. HDMI 2.1 features on the company's A8H OLED model that we recently reviewed, for instance, are limited to eARC. On the plus side, Sony's tagline clearly identifies which models have enhanced gaming capabilities so that PS5 buyers who also wish to upgrade their TV to a new Sony won't pull the trigger on the wrong set.
Sony's Z8H Series 8K TVs are available in 75-inch ($6,000) and 85-inch ($9,000) screen sizes. X900H Series 4K TVs are available in 55-, 65-, 75-, and 85-inch screen sizes at prices ranging from $1,000 to $2,800.
Click here to read Sony Electronics' 'Ready for PlayStation Five' release.
Related:
PlayStation 5: Your New Ultra HD Blu-ray Player?