Sony Bravia XBR-65A9G OLED Ultra HDTV Review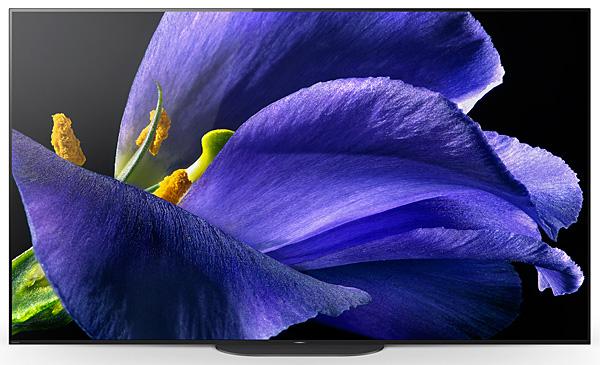 PRICE
$3,800
AT A GLANCE
Plus
Unsurpassed contrast
Superb color and resolution
Viewable from any angle
Minus
Complicated picture adjustments
Pricey
THE VERDICT
Sony's new XBR-65A9G OLED TV is undoubtedly pricey, but we'd be hard-pressed to name a flat-panel Ultra HD TV that provides better overall performance.
Sony's XBR-A9G, the latest OLED entry in the company's Master Series TV lineup, follows fast on the heels of its previous A9F. While the differences from that model are minor, the A9G's list of upgrades include a different (and arguably improved) stand, a better remote control, and a few performance tweaks. The A9G lineup also includes a 77-inch model, but the 65-inch XBR-65A9G is the featured attraction here.
Design and Features
Until 2019, Sony's OLEDs were designed to sit with their screens sloping gently backward, much like an easel. To provide stability, the back support incorporated a massive 14 pounds of ballast. But the stand was difficult to set up, and not all buyers were attracted to the sloped screen.
The new A9G doesn't lean backward, but instead sits on a much more conventional center- positioned stand. Setup and unpacking for a table mount proved a breeze for two people, taking less than 15 minutes. The cable routing is well-designed and can be concealed with several form-fitted plastic covers.

The A9G has four HDMI 2.0b inputs. While there's no upgrade path to full HDMI 2.1 (which would likely involve hardware changes), the set does offer one HDMI 2.1 feature: eARC (Enhanced Audio Return Channel) on HDMI 3. All of the HDMI inputs can support the full 18 Gbps bandwidth required to pass 4K/Ultra HD at 60 frames per second. However, when I played Billy Lynn's Long Halftime Walk, the only available 60fps movie on Ultra HD Blu-ray, it delivered 4K, HDR, and 60fps, but only in 8-bit color. The image didn't look compromised, however, and Ultra HD/HDR sources with lower frame rates, including virtually all 4K Ultra HD HDR Blu-ray movies (24fps), will play back at 10 bits for both HDR10 and Dolby Vision.
The Sony supports the HDR10, HLG, Dolby Vision, and HDR10+ high dynamic range formats and automatically switches between SDR and HDR while maintaining each mode's unique control settings. It automatically converts the static metadata of HDR10 and HLG into dynamic metadata (the conversion can't be defeated), passes Dolby Vision's dynamic metadata as-is, and substitutes the dynamic metadata inherent to HDR10+ with dynamic meta- data created by the set. (While static metadata uses the same HDR parameters for the entire program, dynamic metadata can operate as needed to optimize the HDR scene by scene or even frame by frame.)
Sony's Motionflow motion compensation processing offers three settings: Auto, Custom, and Off. Auto analyzes the incoming signal and automatically adjusts both Smoothness (interpolation) and Clearness (black frame insertion). Custom allows the user to manually adjust these parameters. While the "soap opera" effect created by Motionflow is less aggressive than what I see on most other sets, I still preferred to leave it off. Ditto for Sony's Reality Creation, though the latter's effects were so subtle that I never reached a firm preference for or against it.
Sony continues to use Google's Android TV as its smart TV platform, now in the Android 8 (Oreo) generation. Many of the set's onboard apps require that you sign up with Google to use them (something I refuse to do), but Netflix, YouTube, and Amazon Prime were readily available without formally submitting to the Google Data Collection Juggernaut.
The A9G can do all of the usual smart TV stuff such as play music, videos, and photos from your home network. Chromecast built-in is provided for streaming from a smartphone or other device, and the set can respond to limited vocal commands and searches using its built-in Google Assistant. The A9G is also compatible with the Alexa voice assistant for those in the Amazon camp.
Sony's Acoustic Surface audio technology makes use of actuators attached to the back of the OLED screen, literally vibrating it to produce sound. Sony's 2018 OLEDs used three actuators (L/C/R), but the 2019 models use two (L/R), with additional drivers radiating from the set's back to fill out the bottom end. While Sony calls these "subwoofers," my guess is that their response doesn't extend much below the lower midrange. (If they did go any lower, the effect would visibly shake the screen!) The "sub" drivers do fill out the mid- and upper-bass to provide a respectable overall balance, however.
One unique A9G feature is that the set's Acoustic Surface audio can be used as the center speaker in a conventional home theater setup. For this purpose, a set of speaker-level input terminals are located on the back panel for connection to the center channel output
of your AVR. But the Sony's built-in sound is definitely above-average on its own. While no match for even a modest outboard home theater system, it should still surprise and impress most TV buyers. The set's audio modes and adjustments also include a surround selection that's effective in spreading the perceived sound beyond the confines of the set itself. The effect is subtle, however and may well depend on your room and setup.
The remote control that comes with the A9G has an upscale look and feel. On the downside, it has no backlighting (a chronic issue with TV remotes), so finding the right button in the dark was often hit or miss.
Setup
Custom is the optimum Picture mode on the A9G for both SDR and HDR viewing. Dolby Vision offers two modes unique to it: Dark and Bright (also, Vivid, but don't go there). There's a select- able Netflix calibrated mode for Netflix sources, though it's little different from Dolby Vision Dark. Both 2-point and 10-point white balance controls are provided (Sony calls them Adv. color temperature), plus a full color management system (Sony calls this Per color adjustment).