Sonos Unveils First Portable Wireless Speaker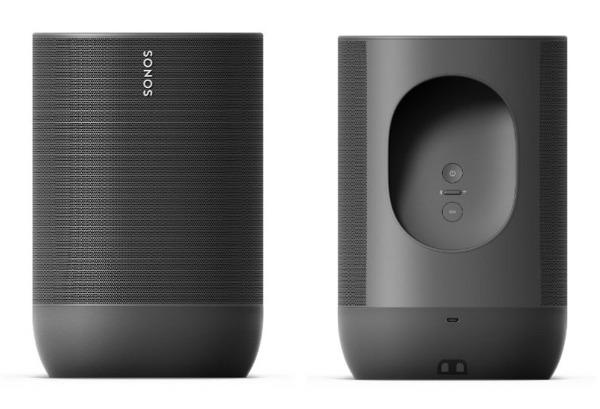 Following months of speculation about what it would be and when it would be available, Sonos today unveiled its first battery-powered portable speaker along with a simplified version of its popular Sonos One smart speaker and a successor to the original Sonos Connect called Port that brings any receiver or stereo system into the Sonos wireless ecosystem.
The Wi-Fi-based Sonos Move ($399) is a weather-resistant smart speaker that doubles as a voice assistant via Amazon Alexa and Google Assistant and incorporates the company's Trueplay tuning technology that automatically adapts the speaker to the acoustics of the environment it's in for the best possible sound.
Standing just under 10 inches tall, the speaker is a two-way design with a single tweeter and mid-woofer that has a built-in handle so it can be easily moved around inside and outside the home. It provides instant access to "more than 100 streaming services" and supports Apple's AirPlay 2 wireless platform as well as Bluetooth streaming — a first for Sonos.
The Move has a rated battery life of 10 hours and is designed to withstand being dropped or bumped and carries an IP56 ingress protection (IP) rating that means it's resistant to dust, dirt, moisture, and rain. The speaker is also built to withstand prolonged exposure to extreme temperatures and ultraviolet (UV) light.
The Move ships later this month and is available for pre-order now on sonos.com. It includes a charging base with a "suspend mode" that preserves battery power for up to five days when the speaker is not in use.
The new Sonos One SL ($179) is a streamlined version of the Top Pick-designated Sonos One smart speaker that eschews the Google Assistant and Amazon Alexa virtual assistants. It replaces the Play:1 will be available in black or white starting September 12.
The Sonos Port ($399), a non-descript black box measuring 1.6 x 5.4 x 5.4 inches, replaces the Sonos Connect and will be available in limited quantities starting September 12 with broad availability starting January 2020.
For more information, visit sonos.com.