Sonos One Wireless Smart Speaker Review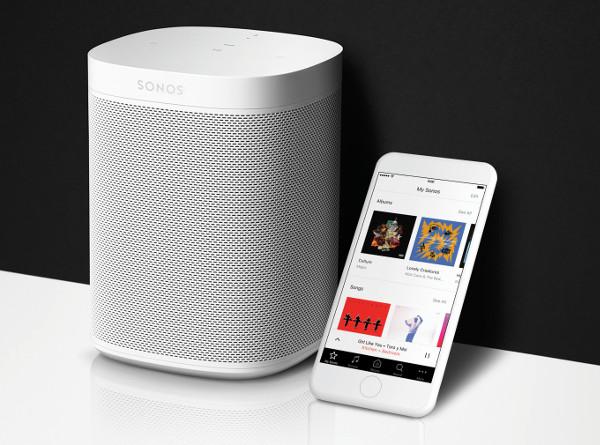 PRICE
$199
AT A GLANCE
Plus
Typical Sonos build and sound quality
Alexa voice control
Minus
No Bluetooth
No hi-res audio
THE VERDICT
Sonos was slow to deliver a voice-controlled smart speaker, but with integrated Alexa (and Google Assistant arriving soon) in what amounts to a redesigned Play:1, they've created a nearly irresistible, low-cost intro to their wireless ecosystem.
The full impact of the home-based voice-actuated assistant, invented first by Amazon in the guise of Alexa, then followed by Google and now Apple with its Siri-driven HomePod, has yet to be felt. The category has loosely evolved into what we are now calling the "smart speaker," though it is not the speaker, but the microphone (or mic array) in conjunction with a network connection that imbues these devices with their extraordinary power. Sure, the speaker plays music, perhaps the simplest of its voice-controlled functions and (according to a recent study by NPR/Edison Research, the activity a smart speaker is still most frequently used for). But the opportunity presented by an artificially intelligent device that can respond to human language and trigger any number of events in our environment possesses extraordinary potential for transforming our lives. The fact that the most sophisticated of these voice interfaces to date, Amazon Alexa and Google Assistant, are offered in open, licensed platforms and being constantly advanced and promoted by two of the world's richest tech giants, suggests that we are on the verge of an explosion of innovation. The best is yet to come.
In this context, the release of the Sonos One wireless smart speaker last October was much anticipated. Sonos, the leader by far in the wireless multiroom space, had been promising Alexa control of its popular ecosystem for more than a year, and showcased a few parlor tricks for journalists back in February 2017. In that demo, they used a $50 Amazon Dot to tell one of their speakers to play this or that, a small teaser to prove they were working on it and had taken some baby steps. What we didn't know at the time was that an entirely new voice-interface speaker was in the works.
That speaker, the subject of this review, is essentially a "smart" version of the company's popular $199 Play:1 entry-level speaker, itself a fine-sounding incentive to bring Sonos into the home and now reduced, at least promotionally, to $149. The One looks just like it and shares similar dimensions and shape, and Sonos execs at the launch said the intention from the start was to voice it just like the Play:1 and fit it to the same form factor while squeezing in the top-panel six-mic array and required electronics to give the One its smarts. The result, interestingly, is that virtually no parts were directly carried over from the Play:1 — short of a few pieces of hardware holding it together, it's an entirely new speaker.
For those unfamiliar with either model, the One is a stocky square column with rounded corners, not quite 5 inches wide or deep and just over 6 inches tall. In place of the top-mounted volume rocker and play/pause button found on every other Sonos speaker, the One sports a capacitive touch panel. At the 12 o'clock position is a little microphone icon which, when tapped, deactivates (or reactivates) the Alexa assistant. It's mated with a white LED. Sonos describes this as a security feature: The mics are powered directly by the same circuit as the LED; if the light is off, there is said to be no possibility of anyone surreptitiously listening-in to your space. Below the microphone button at the 9 o'clock and 3 o'clock positions are icons that look like double colons (i.e., ::). You can tap on these to adjust volume down or up, or swipe right or left to advance or back up the track selection in your playlist. In the center is a familiar play/pause icon to engage those functions. So you really get three options to control the speaker: touch controls, voice, or the Sonos app.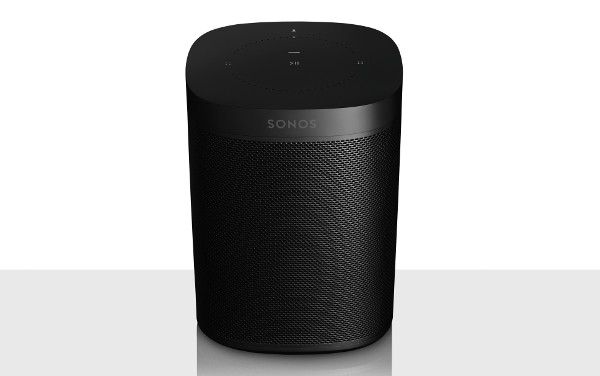 The One follows the Play:1 in also using a 3.5-inch aluminum cone woofer and 0.75-inch silk dome tweeter, though both drivers have been redesigned for the One to better handle the higher internal temperatures wrought by the additional processing required for voice control. These are driven by a pair of Class D amplifiers, whose power output (unspecified) remains unchanged from the Play:1. Around back is a reset/setup button, and an Ethernet port if a wired network connection is readily available or required for reliable operation (most people with capable Wi-Fi coverage won't need it). As with the Play:1, there are no additional inputs of any kind — no analog Aux, no Toslink optical, no Bluetooth for the quick streaming of your friend's latest playlist from his phone. Fortunately, the Sonos platform offers pretty much any popular music streaming service you've heard of, along with the ability to access your iTunes or other hard-drive-based digital music library. As with other Sonos speakers and devices, audio signals are limited to 16-bit/48 kHz, essentially CD-equivalent resolution. Like the Play:1, a pair of Ones can be mated as a stereo pair, or used as surround speakers for a Sonos Playbar soundbar or Playbase. You can also add a Sonos SUB subwoofer to lend low-end reinforcement to this or any other Sonos speaker system.
Setup
I tested the One in various locations around my home for a couple of months, using it and an ancillary Amazon Echo Dot to voice-direct music and news streams to other Sonos speakers around the house and generally put the Alexa/Sonos combo to the test. Separately, I set up the One in my studio to listen to CD-quality test tracks from Tidal streams and my digital music library in order to compare its audio quality directly with the Play:1.
Truth be told, setting up the One was not the quick and straightforward experience attendant to setting up any old Sonos speaker. It goes something like this:
1. Plug the speaker in, then log into your Sonos account (or set one up if one already doesn't exist).
2. Add the speaker to your Sonos network via the usual mechanism in the Sonos app, which this time involves pressing the button on the back of the speaker to confirm that the new speaker the app has automatically recognized is ready to be added, then naming the speaker with whatever room label you'd like to apply.
3. Hit the "Alexa" button on the just-added "Add Voice Control" page of the Sonos app. (Sometime in 2018, Sonos will add Google Assistant to the system's voice-control options. Sonos execs say they expect to support all of the popular voice platforms as the market develops.)
4. Connect your Amazon account to Sonos by logging into it from inside the Sonos app.
5. Switch over to the Amazon Alexa app, which you have already dutifully downloaded and tied into your Amazon account by providing your Amazon login credentials. This assumes you had an Amazon account to start with, or you'll be establishing that first.
6. Use the Alexa app to link your existing music service accounts to Alexa. Alexa currently supports voice control of Amazon Music, Spotify, Pandora, TuneIn, iHeart Radio, and Sirius XM. This doesn't mean that you can't play, say, Apple Music on your Sonos One if you've got an account there and have added it to your Sonos network. It just means that you'll have to use the Sonos app to call it up and navigate to it by finger. Only the Alexa supported services can be called into action by voice, though once you get any of the 80 or so Sonos music services running via the app, you can use voice to adjust the volume or track transport functions.
7. Use the Alexa app to select your default music service — the service Alexa will automatically go to if you just say "Alexa, play James Taylor" without specifying a service.