Riva Concert Wireless Smart Speaker Review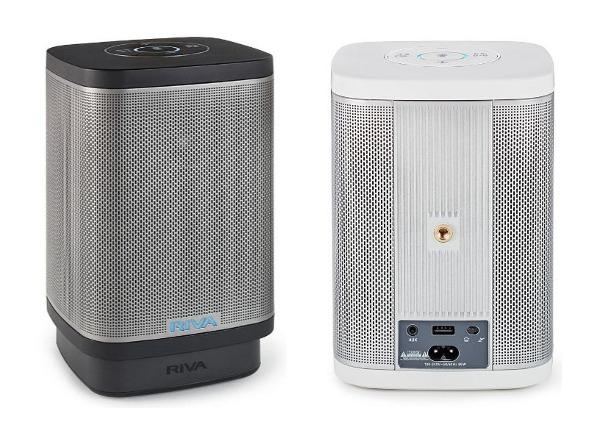 PRICE
$179
AT A GLANCE
Plus
Audio playback from connected USB drive
Portable with optional external battery
Solid bass performance
Minus
Narrow soundstage at close range
Treble could be more transparent
THE VERDICT
The Concert is an affordable, feature-packed smart speaker with natural, warm sound.
The first smart speakers were cute little gadgets; no one mistook them for serious audio playback devices. Soon, they started getting bigger and somewhat better, with more attention paid to sound quality. Riva, a company known for multi-room speakers, just introduced the Concert, a compact smart speaker that combines the convenience of voice control with sound that can be taken seriously. Finally, a smart speaker worth listening to.
The Concert ($179) isn't the first smart speaker to make a run at good sound quality—it competes there with the Sonos One and Apple's HomePod. However, the Concert has features such as high- res audio support and Bluetooth streaming that might make it a better option for your needs.
Features
Volume, playback, and input select controls are on the speaker's top, along with a microphone mute button to allow privacy from Alexa's always-curious ears. The Concert is splash-resistant, and its touch controls are water-resistant. Both USB and AUX inputs are located on the speaker's back. The USB input can be used to play music from a thumb drive, and it also can charge a phone or tablet. An "Away" mode switch lets you create a network directly with your phone for times when Wi-Fi isn't available. An optional battery pack ($50) makes this beauty portable, with up to 15 hours of playback time when fully charged.
The Concert features three full-range drivers and three passive bass radiators for stereo play-back with one pair each located on the speaker's left, right, and front. I hesitate to call it true stereo because Riva utilizes its proprietary Trillium technology that blends the left and right signals into the front- firing driver/passive radiator.
Performance
While the speaker's features are certainly interesting, the Concert's performance is what's most notable. For such a small package, I was honestly surprised at how full the bass was. The bottom of the bass range is missing, but lower mid-bass is solid and impactful. Listening to Portugal. The Man's song "Feel it Still," the bass guitar sounded sharp and punchy with good attack, though the lower synth octaves lacked power. In a small room, the bass response was well-balanced, but in a larger, more reverberant room, it was almost too boomy (said about no small smart speaker ever). Luckily, bass and treble are easily controlled via the Riva Voice app.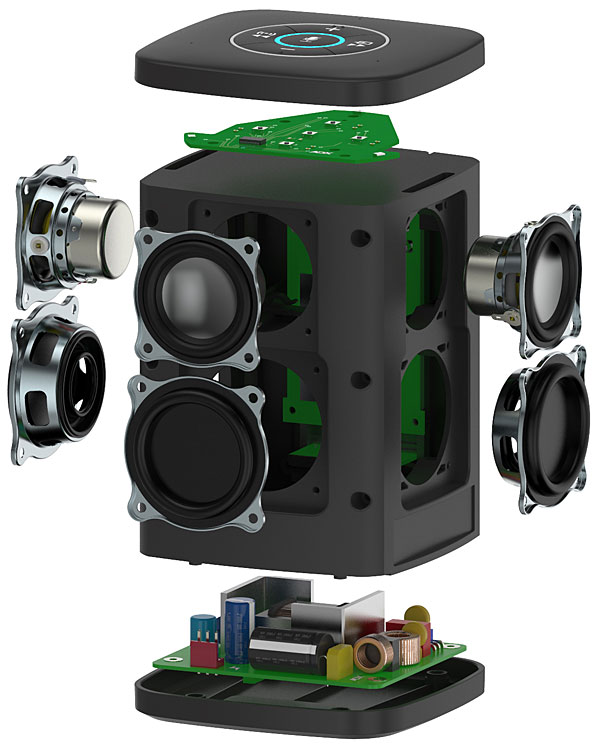 The Concert's treble response, once balanced with the bass, was better than many other smart speakers I've auditioned lately, but it does lack extreme high-end sparkle, giving it a "veiled" sound. However, the speaker deftly handled Sia's troublesome high notes in David Guetta's "Titanium" without the distortion that plagues many other speakers. In the end, I would happily sacrifice some exten- sion to ensure that the sound was consistently clean.
Stereo playback from a single point source is always problematic, and even with Riva's patented Trillium technology, I found that the Concert's stereo performance wasn't exceptional. Listening with the speaker close—in my case, across my desk— revealed a narrow soundstage. Moving it further away gave the sound much needed spaciousness. In an ideal world, users would be able to adjust left/right separation via software.
Otherwise, the Concert's sound was well-balanced at the extreme ends of its volume range. The bass tuning at the loudest levels was particularly impressive. Other smart speakers reduce bass at higher volumes to ensure the speaker hears its "wake" word, but the Concert has been tuned around this. Admittedly, I had to speak up to get it to hear "Alexa" with the volume maxed. To get around this, the Riva Voice app lets you control the Concert via your smartphone, so you don't have to shout to be heard.
The Concert can stream music using AirPlay, DLNA, and Bluetooth. Playback of up to 24bit/192kHz files is supported from a connected USB thumb drive, along with MP3, FLAC, ALAC, and WMA. While compatible with Spotify Connect and Amazon Music, Riva is working on Pandora and Deezer certifications. A recent update added Alexa calling and messaging.
Conclusion
Early smart, voice-controlled speakers were fun and entertaining, but it's about time that their makers started to take sound quality seriously. The Riva Concert offers sophisticated performance and certainly doesn't lack for features. It's about time that Alexa grew up.