Sonos Playbar Soundbar
Price
: $699
At A Glance
: Excellent sound quality for music and movies • Powerful optional subwoofer • Mixed surround-sound performance
Since its launch in 2005, the Sonos wireless music system has won accolades and an extensive fan base thanks to an early focus on tapping into the digital music libraries that consumers built after the iPod's launch in 2001, and an evolving graphic interface that, in today's version, brings the benefits of room, source, and track selection to intuitive touchscreen apps that run on smartphones and tablets.
For those unfamiliar, you start by plugging one Sonos component into your network router to create a bridge to the Internet and to your home PC or hard drive where your personal music is stored. It can be any component the company sells. Sonos offers several powered speaker systems (Play:5, Play:3, the SUB subwoofer) and two player modules that feed music into either an existing hi-fi system (the Connect) or into a pair of speakers (Connect: Amp). If none of these devices can be placed near a live Ethernet jack, you can plop the aptly named Bridge wireless adapter next to your router.
Once any single component is talking to the home network with a wired connection, all the other components work through SonosNet, Sonos' proprietary mesh wireless technology in which every device functions as both a transmitter and receiver. This means you can add rooms or listening zones (powered speakers or players) at increasing distance from the bridge component as long as each has another nearby Sonos device the signal can cascade through. Once it's all set up, every music source—whether it's your iTunes library on a NAS drive or one of several integrated Internet music streaming services—can be selected for any room in the system via the touchscreen iOS or Android apps, or by the Sonos desktop application for PC and Mac. You can stream the same thing to every room with no echo or noticeable latency, or send different streams to different zones at the same time.
Play It Again
With the introduction of the Playbar, Sonos has added yet another device to its ecosystem. You could think of it as a selfpowered speaker like the Play:3 or Play:5, and it'll function that way with all the usual Sonos music sources. But with this Trojan horse foray into the home theater space, Sonos has made a bold step to introduce its system to a much broader audience. It's a fascinating product, buoyed by clever engineering and some savvy compromises made for the sake of simplicity and operational elegance, not all of which I agree with. But you've got to admire the considerable thought that went into the details and the execution.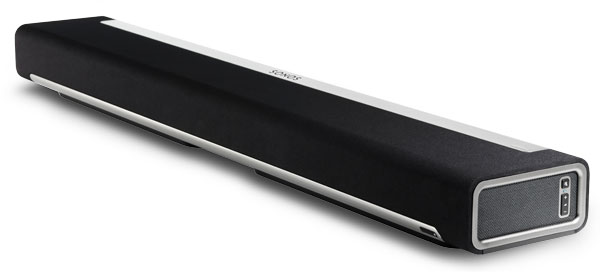 Priced at $699, Playbar is a sleek rectangular box that measures 35.5 inches wide. It offers several placement options made possible by the perfectly symmetric orientation of its drivers on angled baffles and the happy convenience of the all-caps SONOS logo spelling the same way forward, backward, and upside down. (Yes, I know—if this were Jeopardy!, the come-back would be "What is a palindrome?...I'll take 'What's Watt?' for a thousand, Alex."). You can drop the Playbar flat on a tabletop in front of a TV or on a shelf below with the 45-degree front baffle angled up and out, in which case the unit has a low 3.5-inch profile. That should fit nicely below most pedestal-mounted TVs, though if it blocks your television's IR remote receiver, there's a built-in IR repeater on the Playbar's back side. Or, you can mount the Playbar to a wall with its front baffle angled up (for below-TV placement) or down (for above-TV placement), in which case it sticks out 3.5 inches off the wall. A sensor automatically tells the unit how it's positioned and adjusts channel orientation and equalization.
The Playbar has nine drivers, with seven on the front baffle. There's a center-channel array in the middle consisting of a 1-inch titanium dome tweeter flanked by a pair of 3-inch aluminum cone woofers. Pairs of matching woofers sit flush to either end, augmented by angled matching tweeters on the end caps that fire 45 degrees out to bounce mid and high frequencies off your room's side walls with the intent of enhancing soundstage width and creating a faux-surround effect. Each driver is powered by its own dedicated Class D switching amplifier, though Sonos won't say how many watts to each or in total.
Sonos describes the Playbar alone as a three-channel soundbar, though it has onboard Dolby Digital/Dolby Digital Plus decoding to utilize the surround channels in a 5.1 bitstream, and it does throw surround information toward the back of the room. But it's not so simple as funneling, say, the left channel information straight into the left side drivers. A digital signal processor (DSP) monitors the signal and directs the sound based on frequency.

All six woofers are involved in reproducing the five primary channels in a soundtrack, and surround channel info is largely radiated toward the side walls. Proprietary phase array technology and the angled tweeters combine to broaden the front soundstage and give some illusion of a surround field. You can build the Playbar out to a full 5.1-channel system by adding the previously released SUB powered subwoofer ($699, Home Theater, October 2012) and a pair of dedicated powered rear surrounds, the compact Play:3 ($299 each, Home Theater, November 2011). These require AC power but are otherwise wireless. With the surrounds in the system, all of the left and right surround channel info in a Dolby Digital 5.1 track is sent to the speakers at the back of the room, and you end up with a three-channel LCR soundbar up front that utilizes processing to direct signals and discrete surrounds in the back.
The Playbar has a solid-feeling, acoustically sealed cabinet formed out of aluminum and high-impact plastic; it weighs in at 11.9 pounds. Though the cabinet has no ports or passive radiators involved in the low frequencies, the Playbar does achieve better than average bass for a standalone soundbar. We skipped our lab tests on this system because its undefeatable processing would prevent meaningful measurements with our standardized tests, but with the unit lying flat on a low table at the base of my projection screen, audio test tones suggest it started contributing noticeable bass at around 60 to 70 hertz, at least in my room.
While this might be suitable for some households and represents a big step up from typical TV speakers, my auditions proved rather quickly that anyone serious about either music or movies ought to budget for the SUB powered subwoofer. It costs as much as the Playbar, but in this case it's worth every one of those 69,900 pennies you'll raid the piggy bank for. This was my first experience with it, and it made me giddy with how low and tight it played and how well it mated with the Playbar. With its circular ported design featuring two opposing racetrack woofers that fire into the center of its glossblack donut cabinet, it was beautiful to look at and easy to place up front. The test tones revealed subjectively meaningful bass starting around 25 to 30 Hz in my room.
The last piece in our puzzle was the optional Play:3 powered speakers I used for dedicated surrounds. Though as a standalone speaker this compact unit won't deliver the authoritative bass of its larger sibling, the Play:5, it was fine here for surround effects (though only with the right content—see below).
Setting up Sonos and exploring the options for the Playbar in the iPad control app was easy. I plugged a Bridge wireless adapter ($49) into my router and ran the Sonos desktop software on my network-attached MacBook. The software took me through the process of adding the other audio components to the system by pressing a couple of their manual control buttons (volume up and mute).
Once all components are introduced, the Sonos control app provides volume, source selection, music library management, and a host of other options. I set up my Playbar to tap into a ripped iTunes-managed library that sits on another networked computer in the house and registered my Pandora and Songza accounts, two of the many streaming services Sonos has now integrated. The software played some electric bass notes to help me determine rough settings for phase and level for the SUB and queried me on the approximate distance to the surrounds from the prime listening seat to set rough delays. Since the Playbar does not come with a remote, the last step was to pick up whatever TV or cable-box stick I planned to use to control volume, point it at the Playbar, and click the volume up and down buttons on cue. In an instant, the unit was programmed to respond to the volume keys on the remote for my Channel Master TV DVR. The most difficult task was pointing Sonos at my iTunes library, but once I properly set up folder sharing on that computer by following the instructions that popped up on the Sonos app, the system found it with a network scan and hooked me right up. Next thing I knew, all my music, including album art, was available for scrolling and selection from the Sonos iPad and iPhone apps.