Sonos Playbar Soundbar Page 2
There are extensive options in the control app for tailoring the Playbar settings, more than I can get into here. But along with the ability to turn the subwoofer or surrounds on or off, you can adjust their levels on the fly—a quite useful feature. There are also bass/treble EQ controls and a loudness contour switch. A dialogue clarity control can be switched in as desired as well as a dynamic compression night mode.
Music to My Ears, Mostly
The Playbar was mighty impressive with both music and movies, though not without some caveats. If there is one place that it disappointed, it was in its playback of surround-sound tracks when the optional external physical surrounds are engaged—but only when the system is fed something other than a discrete Dolby Digital multichannel soundtrack. For most people, that will be all the time. This is complicated but critically important for potential buyers to understand. That's because a combination of design decisions made by Sonos, coupled with some limitations in how today's TVs are made, means that most buyers will probably never hear the Playbar at its full potential and may make purchase of the optional rear surrounds less enticing.
With the intent of simplifying hookup and operation for newbies, Sonos has included only one input connection on the Playbar—a TosLink optical digital audio jack. With no onboard switching, the only recommended connection scheme is to plug the TosLink audio output from your HDTV into the Playbar and use the TV's remote to select among HDMI sources such as your cable box, Blu-ray player, and game console. The unfortunate reality, however, is that most HDTVs won't pass 5.1 Dolby Digital soundtracks from an HDMI source. Instead, the TV usually strips them down to two-channel stereo Dolby Digital, or possibly stereo PCM digital audio. (You can read more about this here in my editorial.) This was what I got from the optical output on the new 2013 model Panasonic ST plasma I used as one of the displays for this review, as confirmed by plugging its output into my AVR.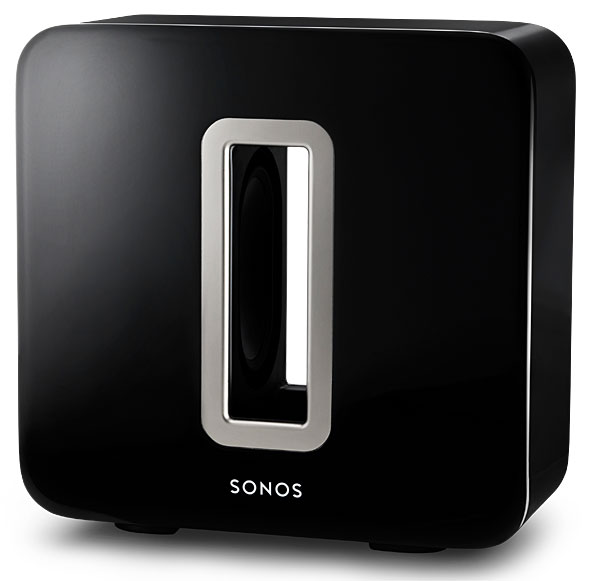 Follow me now: For users with more than one source component, going through the TV is the only practical method of connection. So you will be stuck listening to every discrete surround soundtrack off your disc player or cable box through the Playbar's own undefeatable PCM stereo-to-multichannel processing—which, as you'll read, I found far less than ideal. Fortunately, this isn't too big a concern if you have no rear surrounds in the system. Without the surrounds, the Playbar's processing threw a modest facsimile of a surround field; in a good room with nearby side walls that take advantage of the angled end-cap tweeters, it'll give the impression of side-mounted speakers. But the standalone Playbar's great strength, in my view, was its ability to generate a huge sonic image up front from a box with the dimensions of a 3-foot-wide deck plank.
The soundbar with just the sub, fed stereo PCM via the Panny or directly from a source component, performed very well. I couldn't get enough of Jason Weaver's "I Can't Stand the Pain" from the 1995 Love Ambition album, as played from an Oppo Blu-ray player feeding the Playbar's TosLink input. The solidity of this track's deep, powerful electronic bass and the dynamic transients of the kick drum brought it to life, along with layers of harmonized backup vocals that spread across the front of my room. What sounded like a delicately tapped triangle came from the upper left corner of a surprisingly wide and tall soundstage and floated slightly forward into the space. I generally hungered for a little more front to-back depth on this and most program material—this is a common limitation I've heard with soundbars—but the image was large and engaging, and it easily held up to my 92-inch-diagonal projection screen when I played movies and broadcasts.
Another track, a Telarc-released rendition of the Cincinnati Pops doing Strauss' Thus Also Sprach Zarathustra (the 2001: A Space Odyssey theme), was also a blast to listen to (no pun intended). Although the ultra-low organ note that rides through the opening wasn't much more than a buzz through the SUB, the system nicely delivered the impactful pounding of the tympani, and the blaring of the massed horns was clean and unfatiguing. The Playbar couldn't deliver all the detail and transparency I hear in my reference system or re-create instruments with the same dimensionality, but it took its best shot and never offended—always a good trait in an all-in-one system. With the SUB in, it played loud, too—easily hitting 95-to100-decibel peaks (as measured from 10 feet back) in my 13 x 24-foot room without descending into edgy grit. I was impressed again and again by the Playbar's natural timbre and seemingly balanced response on music as I sampled various other genres—blues (Keb Mo), male and female pop vocalists (James Taylor, Natalie Merchant), jazz (Larry Carlton), classic rock (The Who's Quadrophenia and some of my other beloved '70s anthems). The Playbar's slightly reticent top end had a way of even making less-than-stellar recordings deliciously palatable.
I experimented playing music with the SUB out of the system as well as with the surrounds active. Without the subwoofer, the Playbar lost much of its authority—the deep bass in the Jason Weaver track became a light thump—and the overall character of the system went pretty lean. It also put more stress on the system's small drivers and its amplifiers and placed a lower cap on its dynamic range. Not unlistenable by any means, and probably impressive to a lot of consumers. But if this was in my primary listening venue, I wouldn't want to go without the subwoofer.
As for the rear speakers, I welcomed the way they helped the front image reach subtly further back in the room, but the virtual surround processing for those channels tended to grab a little more meat from the front channels than I preferred, sometimes arbitrarily taking specific elements of the music—mixed voices or a particular instrument—and casting them back in a too obvious fashion. More critically, the rear speakers spat these elements out with noticeable pumping of their volume level that made them subtly warble in and out of the soundfield. There was a lack of coherency and connectedness with the front stage, and the pumping became more audible when I attempted to raise up the surrounds to better mesh them with the front. I could easily hear the seesawing levels when I put my ear next to the speakers. It didn't take long to figure out I was better off leaving the surrounds switched off for music.
For movies, the Playbar plus SUB always offered an engrossing watch; several guests I entertained during my eval were stunned to learn that the soundstage was not coming from the floorstanding speakers sitting dormant on either side of my screen. To its credit, long hours with the system never devolved into listener fatigue, and film scores got noticed thanks to the Playbar's fine music chops. The Playbar strutted its stuff on Across the Universe, a rock opera with a Dolby TrueHD soundtrack based on the trials of draft-age teenagers set against the music of The Beatles in the tumultuous '60s. A cover of "Being for the Benefit of Mr. Kite," with Eddie Izzard as the ringmaster, offered up an articulate singing/speaking vocal against the circus-like musical accompaniment, complete with tuba and pounding bass drum. Ambient effects like audience applause, crickets buzzing in a meadow, and wind blowing through tall grass climbed forward around the edges of the room, and a helicopter flyover in Vietnam reached even further back. I did observe that the Playbar sounded noticeably more open and spacious, and the faux-surround was more effective, when I fed it the disc's Dolby Digital core bitstream versus stereo LPCM from the player. But it was still an excellent experience.
Utilizing the optional surrounds was a little more of a mixed bag. The type of signal I fed the Playbar made an even bigger difference. As long as I gave it a Dolby Digital 5.1 bitstream straight from the source, the Playbar delivered its absolute best musical performance and a spectacular surround experience that was easy to live with and justified this system's $2,000 price point.
I played a number of great soundtracks this way, including Disney's underrated animated feature Meet the Robinsons. The scene in which the young Lewis first flies into the future comprises a great music score (including some choral backup vocals) and a cacophony of sound effects as buildings grow instantly from the ground, soap-bubble transports pop to release their passengers, and the flying space coupe hurtles around the skyscrapers. The discretely mixed rear-channel surround effects were properly routed to the back of the room, and there was the usual solid cohesion of a single space from front to back. The sound was open, detailed, and highly dynamic. But listening to the same selection after having been down-mixed to two-channel PCM and then processed up to multichannel, it sounded comparatively veiled and less detailed, dialogue was noticeably less airy and articulate, and entire elements of the soundtrack virtually disappeared. At one point, when Lewis' flying ship passes through a circular, ringed passageway, the soundtrack adds a series of low-frequency whooshes as he flies by each ring. But in the artificially processed PCM version, they were attenuated to the point of being almost undetectable.
I had similar experiences listening to broadcasts as well. With my DVR plugged straight into the Playbar, the 5.1 Dolby Digital audio for an NCAA semi-finals basketball game sounded clean and open and transported me to the stands. The Playbar/SUB combo did a startlingly realistic job reproducing cues like the drum-like concussion of the ball on the court and the metallic twang of the rim when the ball bounced off on a missed free throw. These effects were retained in the processed PCM version, but the Playbar's rear-channel processing caused the rear surrounds to heave up and down in level on various ambient sounds, destroying the meld with the front soundfield and becoming distracting until I turned them off.
Even for serious enthusiasts or those working with an installer, there's no good workaround for this. You could invest in some sort of TosLink switcher and send your component's bitstream signals straight into the Playbar, but you'll still be stuck listening to processed surrounds on multichannel DTS soundtracks because the Playbar lacks any onboard DTS decoding. Those programs have no way of being heard at all unless they start out as PCM.
What Price Simplicity?
I don't want to make too much of this. Any soundbar review must be taken in the context of its target audience, which in this case is the non-enthusiast who's currently listening to flat-panel TV speakers and probably doesn't have a whole lot of tech know-how. But this is still a customer who cares about sound quality or else wouldn't be investing $700 in a soundbar and up to $2,000 for the complete system.
That's what makes the Playbar's faults so frustrating. It's a fantastic-sounding soundbar that I can absolutely recommend as a Top Pick—ideally with its matching subwoofer, but even alone for rooms where your bass and volume needs are reasonable.
But I'd proceed cautiously and knowingly with purchase of the rear surrounds, at least until Sonos tweaks its stereo-to-multichannel processing (or licenses someone else's) and ideally updates the unit to accommodate at least two digital audio inputs and processing of both Dolby and DTS bitstreams (we've seen that much in $300 soundbars). Of course, you could always buy the Play:3s and if you don't love how they work with the Playbar, assign them to other rooms in your home and make these your first foray into multiroom audio. It's all built in once you install the Playbar. And whether you're Sonos or just one of its customers, that's a beautiful thing.