Sonos Introduces Accessories for Sonos One & Play:1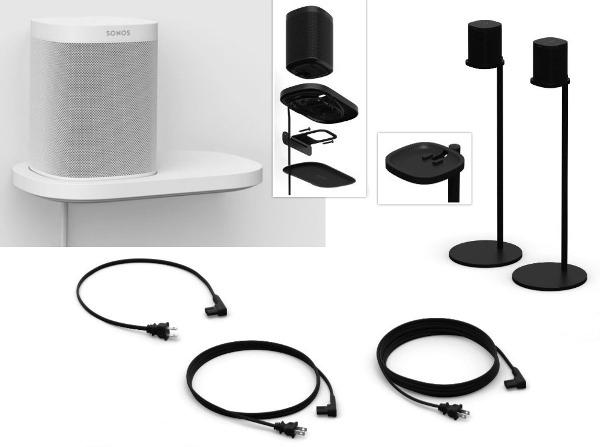 Last week amid the flying drones, robots, and controlled chaos of CES 2019, Sonos quietly introduced new accessories designed to enhance its two of its wireless speaker systems.
The Sonos Shelf ($60), available in black or white, is designed to match the color and aesthetic of the Sonos One and Play:1. The 10 x 6-inch shelf has a depression for seating the speaker and a wraparound on its underside for spooling excess cord.
Also designed to match the Sonos One and Play:1, the Sonos Stand ($250/pair) raises the speaker 33 inches off the floor and keeps unsightly speaker wires out of sight by hiding them in its hollowed-out stem. The stand is built to be wobble-free and has a wraparound on the underside of its base for spooling excess wire. Like the shelf, the platform is fitted to the base of the speaker and has bumpers to keep it secure.
Sonos also introduced different length power cords for the Sonos One and Play:1 speakers. Available in black and white, the cords are offered in standard (6 feet), short (19.7 inches), and long (11.5 feet) lengths at prices ranging between $20 and $30. Sonos plans to eventually make the power cords available for all of its products.
For more information, visit sonos.com.