Some Favorite Musical Moments of 2016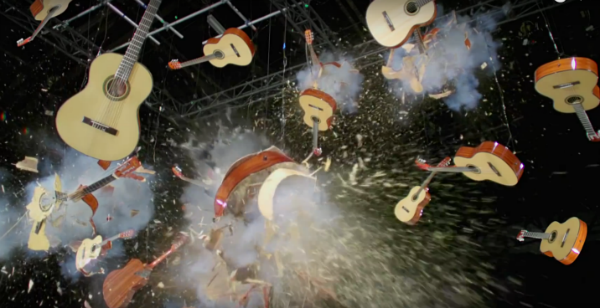 2016 is wrapping up and it was a tough year for music. We lost so many influential musicians: David Bowie, Prince, Glenn Frey, Keith Emerson, and Greg Lake, Leonard Cohen, Leon Russell, Merle Haggard and most recently, George Michael who died on Christmas Day. Throughout the year, though, we've also had some wonderful musical moments that remind us of why we love music. It makes us laugh, it inspires us, it brings us together. Thankfully, most of my favorite musical moments of the year were captured on YouTube videos, so continuing in the spirit of Christmas, I give you my Top 4 Musical Moments of 2016. Enjoy!
1. James Corden's "All I Want For Christmas" Carpool Karaoke
Until a few weeks ago, Adele's appearance in James Corden's car was unbeatable. Hearing her and James belt out some Spice Girls and Nicki Minaj is worth checking out. But, that performance is topped after discovering that James has been holding out on a Christmas surprise for us all season. Can you name all the people who show up in the car for this talent-packed compilation video? The link is here.
2. Star Swain's "The Star Spangled Banner"
After a turbulent political season, it's good to look back to a spontaneous burst of true patriotism. G. Star Swain, an assistant principal from Tallahassee, Florida felt compelled to bust out an amazing rendition of our nation's anthem at the Lincoln Memorial this summer, initially as a dare. Not to be confused with Aretha Franklin's incredibly drawn-out version at the Detroit Lions game on Thanksgiving, Star's performance is straight from the heart, and dang-near perfect. Watch it here.
3. Ok Go "The One Moment"
OK Go is known for their incredibly innovative music videos. The group first garnered attention with a seemingly simple treadmill dance routine and progressed to increasingly complicated videos including a micro-gravity video shot in a Russian jet to provide a weightless look. The group is back in 2016 with perhaps their most ambitious video. OK Go released a video so innovative that it's earned the Smithsonian's Ingenuity Award. Most of the video for '"The One Moment" was shot literally in a moment. A total of 4.2 seconds, to be exact. A series of precisely timed events and sequences were shot with ultra-high-speed cameras and then slowed down so the scenes play back perfectly in time with the music. Because the robotic cameras can't move fast enough to capture the entire sequence, it was shot in 7 sections, all at slightly different speeds to best capture and synchronize with the music. Here's a look at the spreadsheet required by Damian Kulash, lead singer and director of the video to create a frame-by-frame shot list. And for the record, all the guitars destroyed in the video were quality-control rejects from Fender - no real guitars were hurt in the making of this video. Check it out here.
4. Rockin' 1000 "Rebel, Rebel"
Back in 2015, a few musicians from Cesena, Italy wanted to convince Foo Fighters to come and perform in their region of Italy. So, they gathered up 1,000 local musicians to play "Learn to Fly" in a massive, powerful performance. It did indeed get the attention of Dave Grohl, and the band did indeed perform in Cesena, and the Rockin' 1000 performers were all given free tickets. The 1,000+ musicians had become a viral hit, and fans clamoured for more. This summer, the Rockin' 1000 performed a live concert, and their tribute to David Bowie is one of the best performances from the show. The band has swelled to over 1,200 members, and it took over 220 microphones, 700 wireless headsets, and miles and miles of cable to record the band. Wanna join the band? Submit an audition video to the band's website and they'll think about it. Here's the video.
Personally, I can't wait for 2017. We lost so many brilliant musicians in 2016, I just want it to end. What brightened up your 2016? Share with us your favorite moments. Was it Kate McKinnon performing the late Leonard Cohen's "Hallelujah" as Hillary Clinton on SNL? Or can you admit that you loved any of the live performances of musicals including "Grease" and "Rocky Horror"? No matter what brought you happiness in 2016, may your 2017 be full of joyful musical moments.