Sing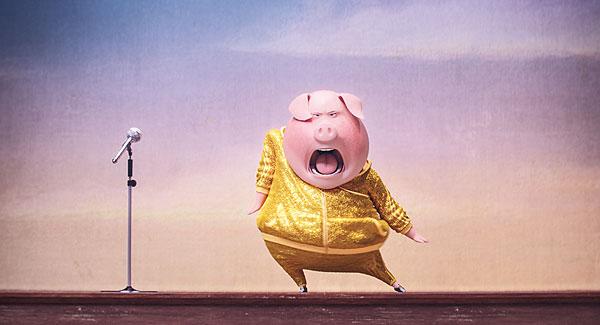 There isn't much of a story here (it makes Trolls seem positively Shakespearean), but the fun is in the music. And there's plenty of it. The finalists are an odd bunch: a mismatched pig duo; a punk rocker porcupine; a honey-voiced, blues-singing gorilla; a talented but obnoxious mouse; and (off and on) a foxy Japanese girl-band. While (mini-spoiler) no one actually wins (much less gets the $100,000), they all pull together and put on a show.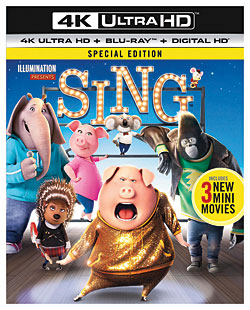 The computer animation here breaks no new ground, but the 1.85:1 transfer is superb. UHD resolution is rarely much of an advance over 1080p on a 65-inch screen (as viewed here), but the detail I saw was still beyond criticism. While UHD's wider color gamut is only subtly evident, the color sparkled, particularly deep reds. And though most of the film is brightly lit throughout, limiting the opportunity for bright highlights to punch through and shadow detail to impress, the UHD's high dynamic range nevertheless makes its presence felt. Overall, the UHD disc is superior to the (also excellent) conventional Blu-ray.
I auditioned the movie in 5.1 Dolby TrueHD, but both the UHD and Blu-ray Discs offer Dolby Atmos. There's not a lot of dynamic action here, but the sound is superb. The songs and the impressive orchestral score are both beautifully recorded, which was one of the reasons I enjoyed the movie far more than I did when I first saw it, with mediocre sound, in a local multiplex (the man in the next seat munching on smelly cheese nachos didn't help!).
I do wish that the identity of the actual singers used in the film were easier to find. The only artist who obviously does both the voice work and sings is Tori Kelly. The best female vocalist on the soundtrack, the sorely underused Jennifer Hudson, is limited to snippets at the beginning and the end.
The extras include too short but good making-of featurettes, three mini-movies, and music videos. One of the latter, "Don't Worry 'Bout a Thing" features Tori Kelly—just in case her performance of the song in the movie as an elephant left you wanting more.
Blu-Ray
Studio: Universal, 2016
Aspect Ratio: 1.85:1
Audio Format: Atmos Dolby TrueHD
Length: 108 mins.
MPAA Rating: PG
Director: Garth Jennings
Starring: Matthew McConaughey, Reese Witherspoon, Seth MacFarlane
In a city of human-like animals (think Zootopia), Buster Moon, an ambitious koala theater owner, has fallen on hard times. He hasn't had a hit in ages, when he suddenly has an inspiration: We'll pack 'em in with a singing contest! When his loopy lizard assistant mislabels the announcement flyers to offer a $100,000 prize, hundreds of hopefuls show up for the auditions.