SI Ships Motorized Version of Short-Throw ALR Screen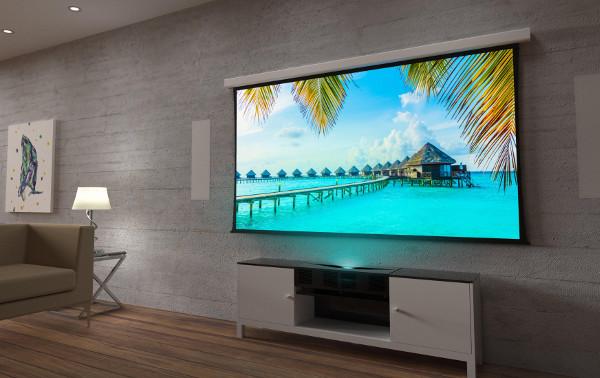 Screen Innovations (SI) has announced that the motorized version of the ambient-light-rejecting Short Throw (ST) screen it previewed at CEDIA Expo will ship in October.
Combining ST material with SI's motorized Solo Pro housing, or cassette, results in a custom, lightweight screen setup for short-throw projectors that SI says can be installed in a matter of minutes. Screen sizes up to 106 inches (diagonal) are available; pricing starts at $4,500.
Further simplifying a setup that brings remote-control convenience to short-throw projection systems, the Solo Pro mechanism has two motor options, neither of which require an electrician: one powered by low-voltage (24 volts), the other by a rechargeable lithium battery.
SI says ST screen material is best suited for ultra-short-throw projection setups where the projector is located directly below the screen at throw ratios as close as 0.1 times the image width; the material is designed to reproduce resolutions up to 8K while rejecting up to 90% of ambient-light in the room.
SI's Chief of Material Technology Tom Nugent said it took close to two years to perfect the motorized system because ST material is "very difficult to work with due to its optical qualities."
The Solo Pro cassette housing is available in 12 colors, including white, beige, two shades of gray, black, blue, green, and red.
For more information visit screeninnovations.com.
Click here for SI's Screen Material Wizard.
Related:
Sony VPL-VZ1000ES Ultra-Short-Throw Projector reviewed with Screen Innovations 5 Series Zero Edge Short Throw (ST) Screen.
Screen Innovations 5 Series Zero Edge Short Throw (ST) Screen used for Al Griffin's review of Sony's VPL-VZ1000ES Ultra-Short-Throw Projector.