Shinola Bookshelf Speaker Review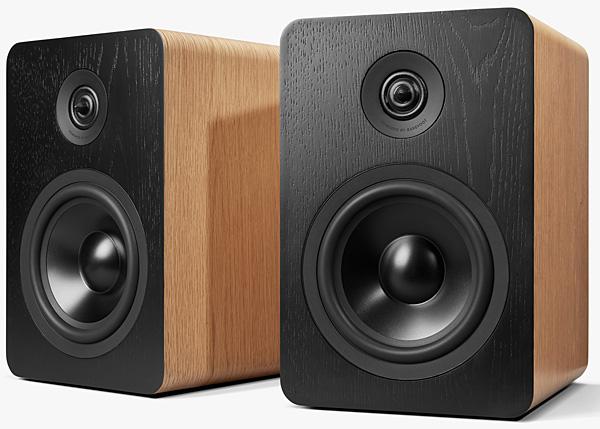 PRICE
$1,500/pair
AT A GLANCE
Plus
Rich, powerful sound
Robust build quality
Easy to set up
Supports Bluetooth wireless streaming
Minus
Glitchy volume control
No Wi-Fi streaming or multiroom capability
No visual feedback
No app or remote control
Expensive
THE VERDICT
The Shinola Bookshelf Speaker delivers powerful sound from a relatively compact speaker of impeccable build quality but lacks key features that would make it much easier to use.
Exquisite—that was the first thought that popped into my head when I cued up one of my go-to test tracks: a 24/96 download of Holly Cole singing "Larger Than Life" from 2007's Holly Cole. Her rich, sultry voice was in the room, accompanied by the gentle underpinnings of an accomplished quartet. Everything sounded just right: the sparkling piano, sumptuous bass, understated brushwork, and tasteful sax fills. With the lights down and my eyes closed, it was easy to imagine sitting close to the stage in a small jazz club.
Okay, I admit to having been skeptical about reviewing speakers from a company specializing in precision-built watches, leather goods, and a smattering of other luxury products, including retro-styled bicycles and a small collection of audio gear. And I wasn't sure what to make of the whimsical name Shinola—borrowed from the long-defunct shoe polish company of "You don't know shit from Shinola" fame. (Readers of a certain age will have no idea what I'm talking about...) An unusual name for an unusual company that prides itself on building its products in the U.S.—specifically in its hometown of Detroit.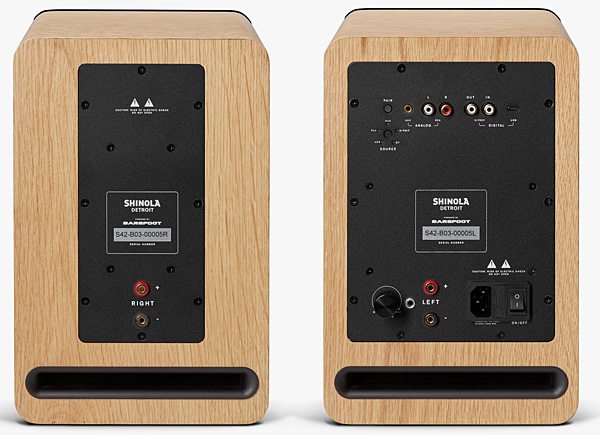 Turns out the Shinola Bookshelf Speaker is the product of a partnership with Barefoot Sound, a Portland, Oregon-based maker of professional studio monitors. Shinola's speaker pairs the same wide-dispersion 1-inch "dual ring radiator" tweeter used in Barefoot's $3,742-a-pair Footprint01 monitor with a custom 6.5-inch alloy-cone woofer in an oak-composite cabinet. The system is powered by a 2 x 100-watt high-efficiency Class D amplifier housed in the left speaker and has a rated frequency response of 48 Hz-22 kHz ±3 dB.
Shinola is Barefoot's first consumer effort and it's an impressive specimen in terms of build quality and fit and finish. All connections and controls are on the back of the left speaker. Along the top are four inputs—a 3.5 mm minijack, stereo RCA, coaxial digital, and Type-C USB—plus a coaxial digital output, a Bluetooth Pair(ing) button, and a small source-selection button surrounded by a ring of tiny LEDs. Near the bottom of the panel is a volume knob, Remote Volume minijack, power switch, power-cord connector, and banana-type connectors for the cable that runs between the speakers.
The only accessory Shinola includes in the box is a USB cable. Remarkably, no remote control is provided, so unless you're streaming over Bluetooth from a mobile device, selecting inputs and adjusting volume is a strictly manual (and inconvenient) affair. When I inquired about the mysterious Remote Volume input, which is not referenced in the owner's manual, the company responded: "We 'future proofed' the speaker by adding this jack, knowing that we were going to develop a solution for source select/volume that would eliminate having to reach behind the speaker," but offered no indication when this might happen or what form it will take.
To set up the Shinola system, you simply link the speakers using the provided cable, plug in your sources, and you're ready to go. In my case, I connected a CD player using the RCA inputs and connected my laptop to the minijack via a Cambridge Audio DACMagic XS portable USB DAC for hi-res listening.
In keeping with my initial impressions, the Shinola Bookshelf Speaker proved to be a capable performer, delivering superb sound quality and solid bass over several weeks while listening to a wide variety of music in different formats—from Bluetooth/aptX and MP3 at 320 kbps (streaming via Qobuz) to CD and FLAC downloads at 24/96. The speaker tells it like it is, revealing the subtle nuances and intricacies of a good recording or the shortcomings of a poor one, and really shines on outstanding material.
I did, however, experience a crazy glitch when the volume became unresponsive after switching sources. It remained stuck at high volume (!) until I turned the speaker off and on a couple of times, which apparently reset the circuit. Shinola's tech support team said they had never heard of this issue and were at a loss to explain it. If it had happened only once or twice, I wouldn't be concerned but it happened four or five times.
The Shinola Bookshelf Speaker is extremely well-built and sounds great, but it's also expensive, lacks the wireless multiroom capability many will expect in a system of this caliber, and is less than user-friendly for anyone who plans to do more than stream via Bluetooth. The eventual addition of remote control capability will be a big plus and may be enough to convince you to take it for a test drive.