Sherwood RD-7503 A/V Receiver
Price
: $440
At A Glance
: Lossless surround at a new low price point • Optional accessories provide Bluetooth and iPod compatibility • Decent performance for the price
Low-Rent Audiophile Model
In A/V receivers, as in so many other things, new technologies start in mid- to high-priced models and work their way down. Once they have fully penetrated all or most of a manufacturer's line, consumers who are on a budget have the same access to, say, lossless surround that more upscale buyers do. Then we at Home Theater uncork bottle after bottle of champagne in wild celebration, peel grapes for one another, run up and down the hallway, and don't get much done for a few days.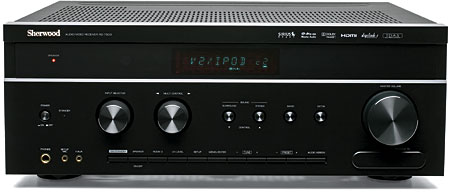 Perhaps the penetration of lossless surround to an entry-level receiver like the Sherwood RD-7503 is a comparatively minor event. After all, there are three ways to get lossless sur- round into a receiver. In two of them, the signal is decoded in the player and sent to the receiver as either a high-resolution PCM signal via HDMI, or as a high-resolution analog signal sent via the 7.1-channel analog interface. The third solution is to transmit the lossless bit- stream of Dolby TrueHD (or DTS-HD Master Audio) directly to the receiver via HDMI and let the receiver perform the decoding.
In practice, the bitstream method doesn't sound any better to me than the PCM route, and you'd have to have pretty fussy ears to be dissatisfied with the analog interface. It should also be noted that the bitstream method limits the ability to mix in audio from commentaries, Bonus View PiP tracks, and other next-gen interactivity on Blu-ray.
So here is a paradox, a budget receiver that handles lossless surround via bitstream. We'll settle for a glass of champagne instead of a whole case, and then we'll get right back to work. (Can we expense it? Just asking.)
Get on Board
The Sherwood RD-7503 ($440) is second from the bottom of Sherwood's receiver line, above the amazingly light-on-the-wallet RD-6504 ($250), which lacks onboard lossless decoding and other features. The RD-7503 is a plain black box (stop the presses) with a white fluorescent display. It does a lot with knobs, which is fine because knobs are cool. The one on the far left handles source selection. Next to it is a multi-control knob that cycles among the surround modes, among other achievements. Of course, the volume knob is the larger one at the far right.
Between the two left knobs and the right one are four buttons. One button switches the receiver into whatever surround mode is selected for that input if it's not already there. Another does the same for stereo. The third activates the various tuners (Sirius, FM, and AM) and cycles among them. The Ext In button activates the 7.1-channel analog interface. You don't need to hit the latter button to get back to other inputs. A simple spin of the left-hand source-select dial will do that.
Since this is a fairly minimalist product, Sherwood limits the front-panel jacks to headphone, setup microphone input, and an auxiliary mini-jack that would probably serve a portable audio device. If you'd prefer that your audio device stream into the receiver wirelessly, there's a Bluetooth port that works with the optional BT-R7 Bluetooth receiver ($60). The RD-7503 also has a back-panel port that accepts the optional DS-10 iPod doc (yes, that's doc without a K, and it's $90).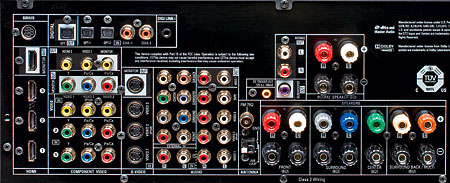 I'm pleased to report that Sherwood will license room correction from newcomer Trinnov for some of its forthcoming higher-end models. Unfortunately, that feature hasn't debuted yet, let alone trickled down to this level. Instead, this budget receiver has a different auto setup routine licensed from Cirrus Logic, here called One Touch Automatic Speaker Setup with supplied microphone. The room equalization is Sherwood Newcastle Automatic Parametric EQ (SNAP), which offers 12 frequency bands of joy.
It takes a critical eye to make sense of budget receivers' power specs. The manual says the RD-7503's rated power in surround mode is 100 watts—but that's into 6 ohms, with low-frequency response claims truncated at 40 hertz instead of the usual 20 Hz, and with just two channels driven. In each case, the idea is to firm up the power specs by giving the receiver an easier load to drive. Check HT Labs Measures for watts per channel with all channels driven.