Sherwood Newcastle R-965 A/V Receiver At A Glance & Ratings
At A Glance: Sherwood Newcastle R-965 A/V Receiver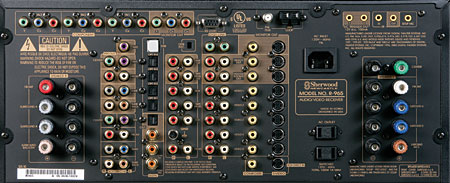 Features
Processing Modes: Dolby: Digital 5.1, EX, Pro Logic IIx, Virtual Speaker; DTS: DTS, ES, 96/24, Neo:6; Other: 12 DSP modes, four-channel stereo, matrix
THX Certification: No
Audio D/A Converter: 24-bit/192-kilohertz
Number of Amp Channels: 7
Power Rating (watts per channel): 120, into 8 ohms, 2 channels driven
Frequency Response: –3 dB from 10 Hz to 100,000 kHz
Dimensions (H x W x D, inches): 7.75 x 17.4 x 17.75
Weight (pounds): 51.8
Price $2,000
Connections
Inputs: Video: component video (3), S-video (6), composite video (6)
Audio: USB (1), coaxial digital (2), optical digital (4), 7.1-channel analog (1), stereo analog (8), phono + ground (1)
Outputs: Video: component (1), S-video (3), composite (3)
Audio: coaxial digital (1), optical digital (1), stereo analog (4), 7.2 preamp (10)
Additional: RS-232 (1), 12-volt trigger (2), IR jack (2)
These listings are based on the manufacturer's stated specs; the HT Labs box below indicates the gear's performance on our test bench. Ratings: Sherwood Newcastle R-965 A/V Receiver
Build Quality: 95
• That gray matte-metal finish gets me every time
• Warning: Heavy construction ahead!
Value: 88
• There's auto setup, and then there's auto setup that really works
• HDMI support is an added-cost option
Features: 92
• Seven-band EQ with adjustable Q and center frequency
• Auto setup, supplied mike
Performance: 95
• Natural midrange
• Clean, unhyped treble
Ergonomics: 90
• Auto setup makes it much easier to set up
• Remote's joypad enter button takes some practice
Overall Rating: 92
Sherwood updates thier top-line R-965 with automatic setup and equalization. Even without EQ, it has a natural sound that should appeal to listeners with high standards. While it lacks HDMI, in every other respect, it's everything a great receiver should be.
General Information
R-965 A/V Receiver, $2,000
Sherwood America
(800) 962-3203
www.sherwoodusa.com
Dealer Locator Code SHR