Samsung UN60JS7000FXZA LCD Ultra HDTV Review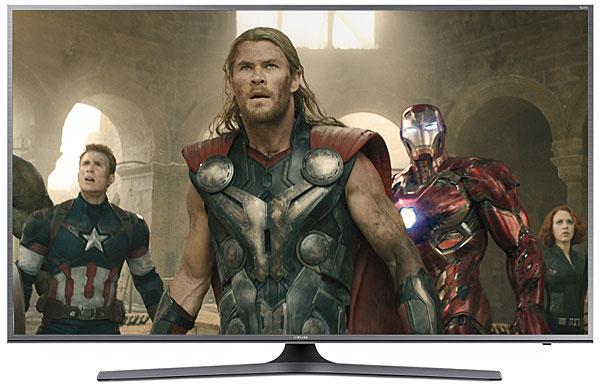 PRICE
$2,600
AT A GLANCE
Plus
Impressive resolution—in both 4K and 1080p
Natural-looking color—even before calibration
Appealing price
Minus
Mediocre blacks
Image fades off-center
THE VERDICT
For a rewarding experience in watching that big game or a favorite movie, Samsung's UN60JS7000 should please all but the fussy video perfectionist prepared to pay a lot more for his or her new Ultra HD set.
Samsung's new 60-inch UN60JS7000FXZA joins the majority of 4K Ultra HDTVs on the market offering 4K as their main UHD calling card. But according to Samsung, it will also respond to the metadata for high dynamic range sources and display it—though not to the same brightness level as will, for example, the company's higher-end sets, including the so-called "SUHD" UN65JS9500FXZA (Sound & Vision, September 2015 and soundandvision.com). The JS7000 is also claimed to respond to the wide color offered in some UHD material, in the same way as other Samsung SUHD sets, but it downconverts any 10-bit color source to 8 bits (which corresponds to fewer gradations of color being available for display).
Such full-featured UHD source material is still in limited supply. Most of it features 4K resolution but, as yet, none of UHD's advanced color or HDR, though this might have changed by the time you see this report. In any case, if you're looking for a solid-performing 4K set today, and at a good price, read on. With its $2,600 list price and discounts online that took that as low as $1,800 as we went to press in early November, there's some real value here.
Tech Talk
The first thing you'll notice about the JS7000 is that it has a flat (not curved) screen. To which many of you will shout: "For that, may we be truly thankful." Sometimes, a lower price can offer benefits.
The Samsung's rear panel has a full complement of connections, including four HDMI (all of them 2.0a) and three USB inputs, as well as both optical digital and analog (miniplug) audio outputs. The set is also HDCP 2.2-capable. But if you're into the (rapidly diminishing) 3D-at-home experience, you won't find that feature on the JS7000 series— though many other new Samsung models still offer it.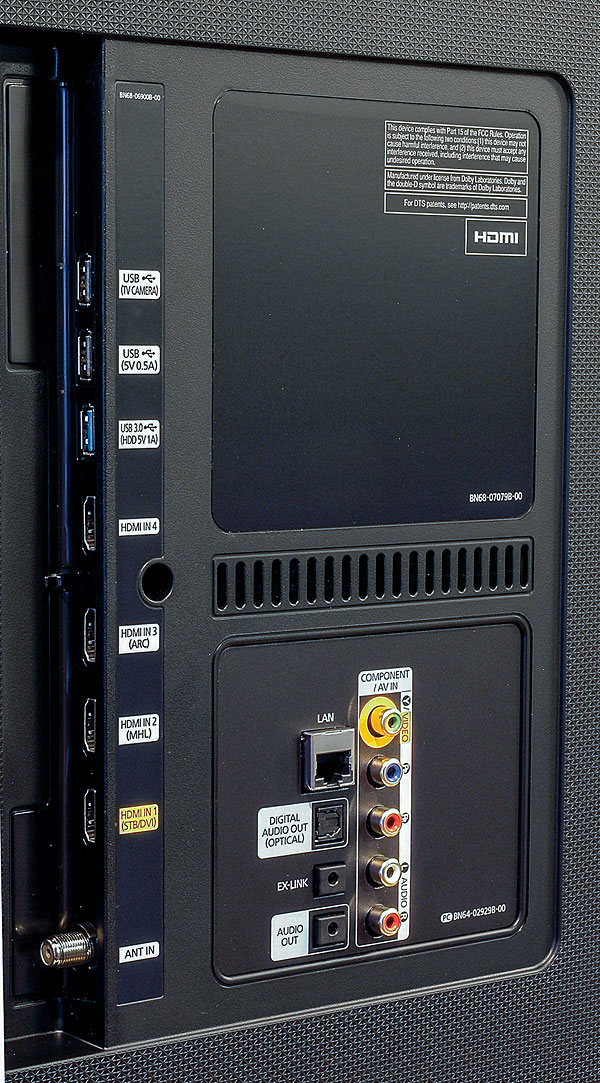 The JS7000's backlighting employs quantum dots, which Samsung calls Nano-Crystals. These microscopic particles emit light of a specific wavelength when energized by a blue LED, the wavelength depending on the size of the dot.
In this case, the light from the Nano-Crystals is either red or green. Combine this with the LED's blue light, and the result is the red, green, and blue needed for a full-color image. It's claimed that this arrangement offers a wider range of color than using only LEDs, and it draws less power, too.
The Nano-Crystals, and the LEDs that energize them, are configured as full-array backlighting behind the LCD screen, rather than the more common edge lighting. Samsung's Website mentions full-array backlighting and (under a different subject) a contrast enhancer with "optimized contrast across multiple zones of the screen." Samsung claims that the set therefore offers a form of local dimming it calls "Precision Dimming." But while I noticed some dynamic dimming across the entire screen whenever the image faded to total black, there was no visible indication that the
set offers local dimming by zones—the gold standard for full-array backlighting. There's no Smart LED control in the JS7000 (Samsung's name for a control that engages or defeats local dimming). Nor is there a Cinema Black control, which on some (admittedly more expensive) Samsung sets darkens the top and bottom of the image to reduce the visibility of black letterbox bars. To our knowledge, the only Samsung UHD sets that include what we would call full-array backlighting with zone dimming are the top-of-the-line JS9500s.
The JS7000 does, however, offer nearly the same range of video adjustments found in Samsung's more upscale sets. These include multiple picture modes (one of them, Sports, can be turned on and off from a dedicated button on the remote), Picture-in-Picture, Color Tone (always set this to Warm2), 2- and 10-point white-balance controls, a full color management system (CMS), and seven fixed gamma settings. There are other controls as well, though of the sort I rarely or never use, such as digital noise filters, Flesh Tone, and Black Tone.
I checked out the operation of the set's Auto Motion Plus (motion blur compensation), but I left it off for all of my measurements and viewing. Its Standard mode is the subtlest in its application of frame interpolation, but it's still clearly As the World Turns-ish to those of us sensitive to the film-into-video look. The Custom mode offers a Judder control (but no separate Blur control, as do many other Samsung sets) plus an LED Clear Motion control. Judder dials up the soap-opera look. LED Clear Motion appears to turn on black- or dark-frame insertion; it doesn't produce a soap-opera look (as long as you leave the Judder control off), but it does reduce the brightness significantly.
Many of the above controls are in the Advanced and Picture Options menus and are accessible only in the Standard and Movie picture modes. I did all of my testing and viewing in the Movie mode, tweaked from its default settings as needed.
Smart Features
As with most sets today, the printed materials provided with the JS7000 are rudimentary. Samsung's more helpful 171-page (!) e-manual is available onscreen or downloadable from Samsung's Website. There are more features here than most owners are likely to use, including Smart Apps, Web browsing, links to most of the most popular streaming/downloading sites (Amazon, Netflix, YouTube, etc.), social networking, and sharing of videos, photos, and music stored on your home network. The set can also be linked wired or wirelessly to mobile devices. I sampled material from YouTube and Amazon (wirelessly) and had no issues, apart from the fact that YouTube's "HD" is marginal HD at best, at least from my Internet provider and at this screen size. Still, I watched the entire Notre Dame/USC game on YouTube (a few days after the live broadcast) with no buffering (and no commercials—the game was about an hour shorter without them!).
Unlike some of Samsung's more upscale models, the JS7000 has only a standard remote; there's no voice or motion activation available here. That's fine with me, and the remote's backlighting helped me find the right buttons in the dark.
Performance in SD and HD
The Samsung performed reasonably well on our standard video tests, which include upconversion (in this case, from 480i, 1080i, and 1080p to 4K). It failed 3:2 SD upconversion and was borderline (with the resolution lines barely visible) on the highest burst of our HD chroma resolution. The set passed a series of native 4K test patterns with no difficulty.
There are several audio modes on the set, and they sound distinctly different. You can choose the one you like best, though all of them offer compressed sound with little bass, dim highs, and only modest volume. But that's typical of most flat-screen sets today, and it's listenable on noncritical material (news, sports, etc.). The set's optical digital output provides full multichannel audio from Dolby Digital sources, but only two channels from DTS soundtracks delivered to its HDMI inputs.
I spent many hours watching the Samsung before I performed a full color calibration. In Movie mode, with some significant tweaks (Backlight 17, Contrast 67, Brightness 45, Color 45, Gamma –2 or –3, and Digital Clean View, Auto Motion Plus, and all noise reduction off, with the other controls in their Off or default positions), it produced excellent results in most respects from native 720p, 1080i, and 1080p sources (the first two primarily from cable, the last from Blu-ray). My two deviations from what might be called technically correct settings were to turn the Dynamic Contrast to Low (giving the picture a subtly more realistic "pop") and the Sharpness to 20 (a barely visible trace of white line enhancement was visible on a sharpness pattern in this setting when viewed inches from the screen). With the upconverted sources, the set's resolution was excellent, and the colors were vibrant and true, with accurate fleshtones.
During my review period, the football season and baseball playoffs were in full swing, so I watched a lot of sports on the Samsung and was always impressed by the result. I was never bothered by LCD motion lag (I'm less sensitive to it than some viewers), though the set's Auto Motion Plus did help reduce blur on native video material where the film-as-video look is irrelevant. I noticed motion blur, with Auto Motion Plus off, mainly on test material specifically produced to show it.