Samsung SP-A900B DLP Projector Page 2
However, in other important respects, the Samsung offers exemplary performance. Its color is essentially flawless, with spot-on color tracking and a nearly perfect HD color gamut. The brightness (or intensities) of green and blue are a little hot by my measurements, but not to a visibly detectable degree. Fleshtones and green foliage, two colors that can look instantly wrong if poorly reproduced, always looked believable on the Samsung—at least within the sometimes wild range of creative options available to filmmakers with today's post-processing techniques.
And you want wild? Try Speed Racer (but only if flashing lights don't give you epileptic seizures). It's a live-action cartoon, and while the fleshtones look human, if a real human approached you looking like this, you'd recommend a good skin specialist. But it sure looks stunning. Baraka, on the other hand, apart from a few scenes, is about as naturalistic as you'll ever see in its use of color. On the Samsung, it jumps off the screen, but always in a believable way.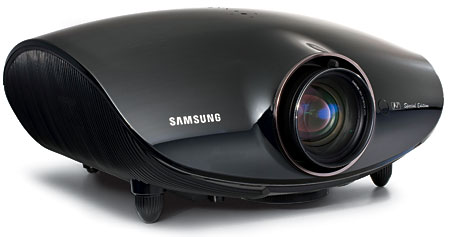 Baraka is also an excellent test for another important characteristic: detail. Detail is the name of this movie, and the Samsung is up to the job in every way. Samsung makes its own projection lenses, and according to Joe Kane, this results in economies that result in better glass than its competitors offer. While I can't say that the SP-A900B runs away with the honors here relative to the best of the other projectors I've seen, it certainly isn't bettered by any of them.
For an even more convincing taste of the Samsung's resolution, check out the new Blu-ray release of Monsters, Inc. Yes, I know, it's not only animated, but also transferred directly from the digital files without passing through film. But as an example of detail unencumbered by source limitations, it's amazing. When you see Sully's fur on the Samsung or realize you can actually read some of the hilarious Harryhausen menu choices, it will blow you away.
Comparisons
The Sony VPL-VW85 that I reviewed last month was still on hand when I was working on this review, and there was no way I could resist a direct comparison. It proved more difficult than I expected, largely because of how the two projectors' gammas differed in the settings that produced the best image quality (an Auto iris setting on the Sony and a Manual setting on the Samsung). At one point, I had to switch to the Auto iris mode on the Samsung and High Brightness mode on both projectors, just to get a subjective brightness match. (The settings that produced the best match differed with the program material!)
In any case, this face-off proved that both projectors had plenty of light output to push a screen considerably larger than mine. The Samsung was easier to calibrate, but the post-calibration color on either was hard to criticize. The Samsung had superior resolution of detail, but it took a lot of looking at the sharpest program material to spot the differences. On the other hand, the Sony clearly had a deeper, darker black level and nearly as good shadow detail. But the Samsung popped a little more in the mid-brightness region.
Both projectors did a good job maintaining resolution when I zoomed them up on my screen to simulate the image on a larger (roughly 102-inch-wide) screen. While I could only view the middle of the image this way (about 60 percent of the total), it's the center of a picture that your eyes use to judge detail, even on a larger screen where the full image is visible.
Conclusions
The Samsung's weaknesses include a black level that's merely average for a DLP home theater projector, video processing well below average, and rainbow artifacts that seem to be unavoidable in color-wheel-driven, single-chip DLP projectors.
The most significant of this triple threat is the projector's video processing. Its processing is easily bettered by at least one $500 Blu-ray player. I don't want to excuse this shortcoming, but it may not be important to you if most of your viewing will be 1080p/24 Blu-ray movies, or (to allow for a single cable run to the projector) you plan to use a good external processor such as those found in virtually all of today's better A/V receivers and surround processors. The latter is a likely scenario in a custom installation.
You'll be hard-pressed to find another projector in this price range that offers a more compelling combination of accurate color, pristine detail, and more than generous brightness that can fill almost any screen of a domestically practical size with a crisp, compelling image. In fact, because of these qualities, the SP-A900B is finding its way into a number of Hollywood post-production and mastering facilities.
The only remaining issue is the price. At $12,999, the Samsung finds itself in a difficult consumer market. There are outstanding projectors in the $8,000-to-$10,000 range—and satisfying ones for even less. That can't be ignored.
However, the price-versus-value trade-off is a very personal consideration, and you owe it to yourself to take a good look at the Samsung SP-A900B before you make the choice. In the qualities that matter most to many viewers, it's superb.