Samsung Launches App to Help the Color Blind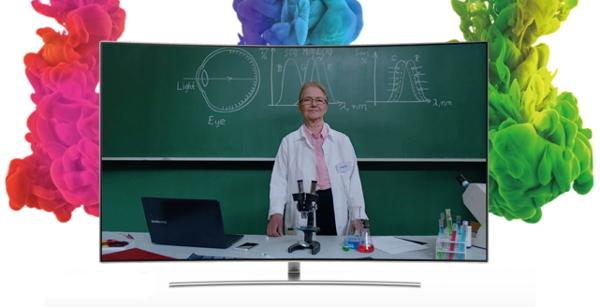 Samsung has launched an app for its
QLED line of TVs
that helps people with Color Vision Deficiency (CVD), commonly known as "color blindness," experience accurate color while watching TV.
Available for download from the Smart TV App store, the SeeColors app helps viewers with CVD identify the type and level of their deficiency and then adjusts the TV's color settings to compensate for their specific deficiency so they can see the full color spectrum.
The "diagnosis" step involves taking an on-screen test developed by Professor Klara Wenzel, who heads up the Department of Mechatronics, Optics and Mechanical Engineering Informatics at the Budapest University of Technology and Economics. The "C-Test" uses color filters and mathematical modeling to assess the severity of the viewer's CVD.
The viewer also has the option of conducting the test on a smartphone, which requires downloading the app through Google Play or the Galaxy App Store. Once the test is complete, s/he connects the phone to the TV, which automatically adjusts color settings based on the diagnosis. The app is compatible with the S6, S6 edge, S6 edge+, S7, S7 edge, and S8.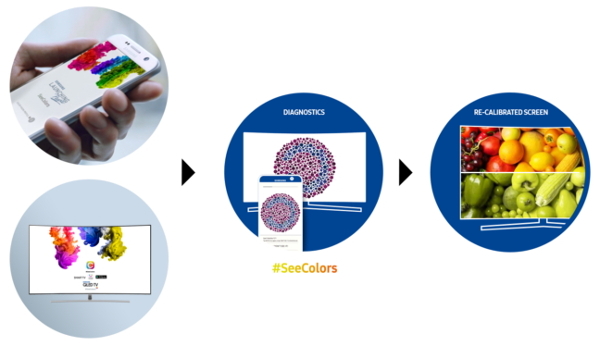 The SeeColors app was created in partnership with Colorlite, a Hungarian company that designs and manufactures eyeglass lenses with a special coating that enhances the color vision of people afflicted with CVD, and is compatible with all Samsung QLED TVs.
An estimated 300-plus million people are afflicted with CVD worldwide but studies have shown that most are unaware of their condition and its impact on quality of life.
"The launch of SeeColors for QLED TV provides users with a way to address one of the world's biggest optical challenges through the latest technologies and visual displays," said Hyeongnam Kim, vice president of Samsung's Visual Display Business.