'QLED' UHDTVs Lead Samsung CES Introductions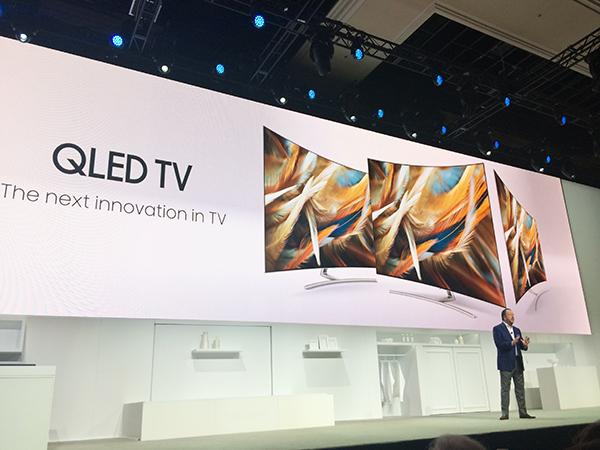 New advanced UHDTVs and UHD Blu-ray players were the most notable product announcements for A/V enthusiasts at Samsung's 2017 CES press conference today.
The brand's new QLED TVs are said to push the state of the art with a new metallic-core quantum dot formulation in the backlight, one that ultimately provides the ability to deliver brighter highlights and an even wider color gamut than Samsung's top-line 2016 models. These TVs are said to display the full DCI-P3 color space with improved accuracy and, critically, across all brightness levels. Thanks to improved efficiency in passing light through the quantum dot crystals, there is no need to throttle back light output to retain color accuracy, allowing the new sets to deliver highlights as bright as 1,500-2000 nits without washing out.
Another key side benefit to the new crystal is that it more evenly passes all three of the color primaries red, green, and blue than its predecessor. This greatly reduces one of the key causes of light drop-off that occurs when the screen is viewed from off-axis. While the new QLED models don't enjoy the extremely wide viewing angles attendent to OLED and plasma TVs, or to the in-plane-switching (IPS) LCD panels employed by LG, demonstrations showed them to have a noticeably wider window than last year's Samsung models while retaining the contrast inherent in the more commonly used vertical alignment (VA) panels used by Samsung and other manufacturers.
Samsung has also hit some new style points on the 2017 top-end models, acheiving an ultra-thin panel offered in both flat and curved versions, and a nearly invisible fiber-optic umbilical cord that connects to the panel to Samsung's late- generation One Connect box. The cable is so thin and transparent that TVs can be hung on a wall and the cord left exposed without the obtrusive appearance of a dangling wire. For stand-mounted sets, both the One-Connect cord and a thin, redesigned power cable can be routed through the set's feet for a completely wireless look.
Additionally, in addressing what the company calls another "consumer pain point," they've made it easier to hang these sets with an integrated, recessed wall mount that easily attaches to a thin wall plate, noticeably simplifying and speeding the process — a feature that surely won't go unnoticed by custom installers who need to mount multiple TVs in new construction projects. Samsung reports that 80% of consumers say they'd like to hang their TV but only 32% do so because of the perceived complexity.
The new flagship is the Q9F series, offered with a flat panel, with the Q8 ad Q7 as step downs in curved and flat versions with similar features. The MU9 step-down line is essentially equivalent in key performance attributes as 2016's well-reviewed KS9800 flagship, with about 1,000 nit peak-white performance on HDR content. The MU7 and MU6 lines are the entry level UHD series. Details on available sizes were not immediately available, and no pricing has been announced.
Samsung's new Qsmart user interface continues to offer 2016 features including auto detection of source components and unified access to all content, but adds an improved moble app that allows TV guide access from your personal device and a new app for sports fans that allows users to enter their favorite teams in order to be alerted when and where they're being broadcast, as well as to curated sports news and highlights.
UHD Blu-ray Players
Noting that some 2 million UHD Blu-ray discs had been sold in the format's truncated 2016 launch year, Samsung execus said they will add two new UHD Blu-ray players in 2017 following the successful introduction last year of the UBD-K8500 (Sound & Vision's Top Pick product of the year). One model will replace the UBD-K8500 with similar features and pricing, but the new step-up UBD-M9500 will feature dual-HDMI ports, built-in Bluetooth, the ability to stream content from the player to a moble device via Samsung's app, and a front panel readout—something missing from the K850. Neither model will offer compatibility with soon-to-emerge Dolby Vision HDR discs, a feature offered by LG's just announced UHD BD player and the recently introduced Oppo Digital player (though the Samsung units do play HDR10, which must appear on all HDR discs as a default).
A new one-piece soundbar was also announced, featuring the ability to reach down to 35 Hz bass notes without a separate subwoofer. The 5-channel bar uses several small, high-excursion woofers said to be kept in near-perfect sync by technology developed by Samsung's west coast audio lab.