Samsung Flaunts Flexibility with Bendable 105" Ultra HD TV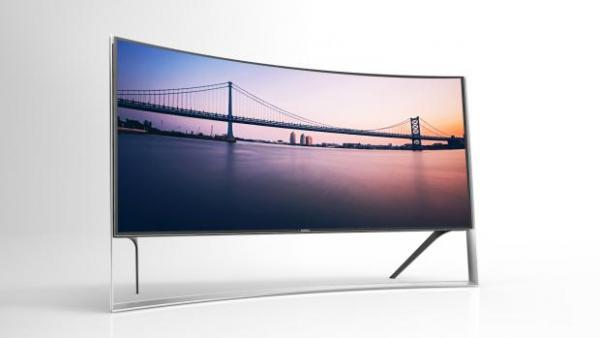 Samsung has a mind-bending new product that's shaping up to be a real breakthrough, just revealed in Berlin at IFA 2014. Sure, Samsung's new focus on curved TVs is exciting. But in addition to a complete lineup of 17 new curved TVs, including one that's 105-inches (debuted at CES 2014), Samsung has announced a revolutionary 105-inch bendable TV. Yup—
bendable
! Stand back Gumby, step aside Elasti-Girl, Samsung's flexing some serious muscle with this bad boy.
The bendable UHD TV prototype features a 21:9 aspect ratio. What do they mean by "bendable"? It seamlessly transitions from completely flat to curved with a curvature of 4200R (the curve of a circle with a radius of 4.2 meters), letting viewers decide which viewing experience is preferable for every situation. How will they ever decide? I can hardly decide what to watch, let alone whether it warrants flat or curved. The new screen features Samsung's Timeless Gallery design. Other features include UHD Dimming and Upscaling for better picture optimization, reduced light diffusion and enhanced contrast.
To complete the picture (pun totally intended), Samsung also announced a curved 8.1 soundbar to match their new lineup of curved TVs. Sadly, these are fixed in the curved shape, no flexibility here.
At this point, the 4K resolution TV is just a prototype, and if ever brought to market will likely retail for a totally outrageous $260,000. By comparison, their non-bending curved 105-inch TV will sell for just over $150,000. Is having a bendable TV something that's of interest to the American market? And at what price? Guess we'll have to wait and see. Having just redesigned my home theater, I have to say that setting it up for one type of TV is hard enough—having to accommodate flat and curved might overload my decorating skills. I have to ask—just because they can make a TV bend, does anyone really need this?