Samsung Announces Availability of New 8K and 4K TVs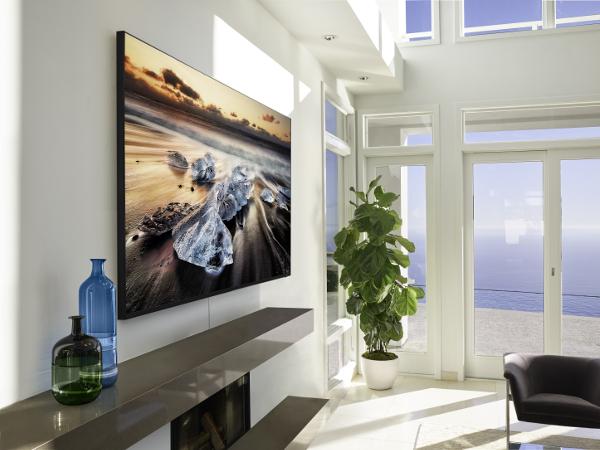 Samsung today announced that its 2019 QLED 8K and 4K TVs in screen sizes ranging from 43 to 85 inches are now available for pre-order or purchase.
Previewed last month at CES 2019, the lineup is hailed as the company's largest QLED launch ever and leads off with four 8K models ranging in price from $5,000 to $15,000.
The Q900 Series 8K QLED models are available in four screen sizes: 65 inches ($5,000), 75 inches ($7,000), 82 inches ($10,000), and 85 inches ($15,000). All are smart TV models, support high dynamic range (HDR) and boast Samsung's AI (artificial-intelligence)-powered 8K Quantum Processor, AI-assisted 8K upscaling, Bixby voice control, and an enhanced version of the ambient mode introduced in 2018, which is designed to help the TV blend into the environment by mimicking the pattern on the wall behind it. In addition to handling video, the 8K Quantum Processor also optimizes audio based on the layout of the room.
Samsung's press announcement mentioned a 98-inch 8K model, which is not listed on the company website and apparently slated for release at a later date.
Four new series of 4K TVs were highlighted in the press announcement but only three appear on the company website: Q90 in 65-, 75-, and 82-inch screen sizes, Q70 in 49-, 55-, 65-, 75-, and 82-inch sizes, and Q60 with 43-, 49-, 55-, 65-, 75-, and 82-inch screen options. The Q80 series, which does not appear online, will be offered in 55-, 65-, 75-, and 82-inch sizes. Pricing was not announced.
As with the 8K models, Samsung's proprietary Quantum Processor is at the heart of the new 4K lineup, which also features AI-based 4K upscaling, high-dynamic range capability, an ambient mode, and voice control via Samsung's Bixby platform plus Amazon Alexa and Google Assistant in the future. Q80 and Q90 models also feature Ultra Viewing Angle technology to "reduce glare and enhance color." Models in the Q70, Q80, and Q90 series also incorporate Samsung's Direct Full Array technology with "concentrated zones of precision-controlled LEDs."
The 2019 lineup offers several lifestyle TVs, including The Frame, which displays artwork when the TV is turned off. Three screen sizes are available: 43 inches ($1,200), 55 inches ($1,800), and 65 inches ($2,500). Samsung says more than 1,000 works of art and interchangeable bezels are available through its Art Store.
Rounding out Samsung's new 4K TV lineup are a number of lower-priced models in the RU8000 Series, which spans 49-, 55-, 65-, 75-, and 82-inch screen sizes; the RU7300 Series, featuring 55- and 65-inch curved-screen models; and the RU7100 Series with 43-, 49-, 55-, 58-, 65-, and 75-inch screens. Pricing was not announced.
All of Samsung's 2019 TVs will for the first time support Apple's AirPlay 2 wireless platform and provide access to iTunes Movies and TV Shows via a new app. Samsung said a firmware update will also bring AirPlay 2 support to its 2018 smart TVs. The 2019 models also feature an improved Universal Guide, which uses a new AI algorithm that "leverages a user's subscription services, favorite content, and TV viewing habits" to deliver custom recommendations about what to watch.
Samsung has also upped its game with a Real Game Enhancer featuring AMD's Radeon Freesync variable refresh rate technology to help prevent tearing and stuttering, Game Motion Plus to reduce motion blur and judder, and an Auto Game Mode that minimizes input lag on compatible devices.
Pointing research from IHS Markit, Samsung noted that more than 2 million TVs with screens 75 inches or larger recorded were sold in 2018, a category that is expected to grow to 3 million units this year and 5.8 million units by 2022.
For more information on Samsung's 2019 TV lineup, visit samsung.com.