Samsung 2023 TVs: First Impressions and Pricing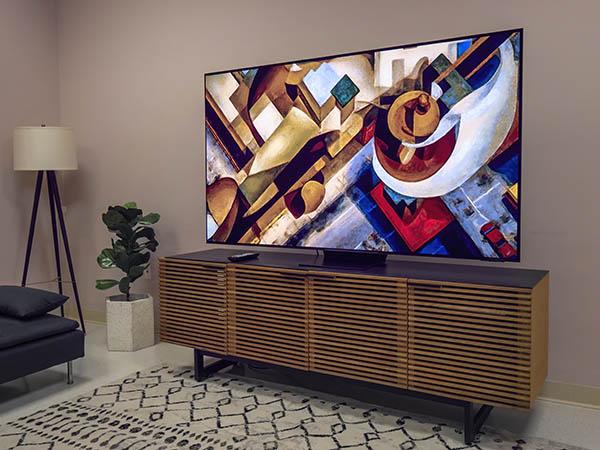 Samsung has recently published comprehensive pricing details for its premium Neo QLED TVs and the 77-inch QD OLED, all of which are available to order now.
Some owners have already received their new TVs and are sharing their initial impressions on YouTube. Additionally, Sound & Vision had the opportunity to test three new models firsthand: the QN900C, the top-of-the-line 8K model, the QN95C, the 4K flagship model, and the S95C, the innovative QD OLED model with impressive picture quality.
Each of these TVs features Samsung's newest and most advanced iteration of its Tizen OS powered Smart Hub, which underwent a major overhaul in 2023 with a focus on organization and ease of use. It is exciting to see that picture modes, color temperature, and other crucial adjustments are now easily accessible through a modern graphical user interface, rather than being hidden away in outdated and cryptic menus.
Key Shared Features
• Quantum Mini LED Technology: Offers both exceptional brightness and a wide viewing angle, making it suitable for use in any room
• Quantum Neural Processor: Capable of instantly upscaling the resolution of content to the highest possible quality, which can be either 4K or 8K
• Low Lag: Top-tier gaming performance. Low input lag with a 0.1 millisecond response time and 144Hz refresh rate
• Gaming Hub: Enables console-free gaming of popular titles from Xbox and other major game streaming partners, without storage limitations or the need for downloads
• Smart Hub: One-stop-shop for a variety of options, including top streaming platforms, Samsung TV Plus, and personalized content recommendations, with choices for entertainment, gaming, and ambient mode
• Slim One Connect: Attachable unit neatly tucks away all cords and cables away from the panel
• Q-Symphony Sound: Effortlessly pair Neo QLED TVs with Samsung Q and S-Series soundbars for enhanced immersive audio
S95C 4K Quantum Dot OLED
Let's begin with the 77-inch S95C, which costs $4,500. This TV is a breakthrough in OLED technology, as it eliminates the additional white pixel used in traditional WOLED screens to achieve high brightness. By utilizing only pure RGB pixels, the QD OLED not only provides the necessary brightness for HDR and viewing in well-lit rooms, but also produces a wider range of colors.
I had the opportunity to test the Q95C and was captivated by the stunning imagery it produces. The picture quality is the best I have seen so far in a consumer TV.
This QD OLED offers 4K resolution, but the remarkably high native contrast emphasizes the details, creating the perception of an image with essentially infinite sharpness. Additionally, the viewing angles are excellent, and the picture processing is available when needed, but does not interfere when it is not.
QN900C 8K Neo QLED
Samsung's QN900C is its flagship 8K model. Despite my initial concerns about examining a 75-inch VA LCD model right after seeing the impressive 77-inch QD OLED, I was not disappointed. Samsung has achieved outstanding picture quality with this TV by addressing the visual flaws commonly associated with FALD (full-array local dimming) LCD technology. Thanks to the implementation of thousands of backlight zones, unsightly clouding or halos are not visible on this screen.
What you will spot in this TV is incredible detail rendition, and when the lights are on, brightness that can overcome pretty much any level of ambient light. And while it is absolutely true that there's very little 8K content out there (as compared to 4K and HD) This is a case where the TVs performance is about more than just pixels; it's clear just by looking at it that Samsung equipped this model with its best picture processing and that the screen itself exhibits excellent uniformity, brightness, and color accuracy.
(video provided by Samsung)
There is an argument to be made that 8K content is rare. And for TV or movies, this is true. And with gaming, it does take state-of-the-art equipment to do 8K justice. However, I disagree with the notion that there is a paucity of 8K content. It's just not the content that people are thinking of. What I love about 8K TVs is how photography and art looks, because by essentially eliminating visible pixels, you can appreciate high resolution scans of art, digital art, as well as high resolution photography, which is abundant. Moreover, art and photography takes advantage of all the picture quality you can throw it. Of course it's a TV for early adopters.
Samsung currently offers the QN900C in two sizes: A 75-inch screen for $6,300 and 65-inch for $4,000.
QN800C 8K Neo QLED
The QN800C, which is a lower-tier 8K model, is available in two sizes: 65 inches and 85 inches. The larger screen size is crucial for viewing 8K details from a distance. The 85-inch version has an MSRP of $6,000, which is actually less expensive than the 75-inch QN900C, but it is not as high-performing. The 65-inch QN800C is priced at $3,500, which is a bit high for a screen that size, but it's a TV would make an amazing PC monitor.
QN95C 4K Neo QLED
My hands-on experience also included the 4K QN95C Neo QLED, which is an excellent TV by all standards. This model is available in three sizes: 65 inches, 75 inches, and 85 inches, with MSRPs of $3,300, $4,200, and $5,800, respectively.
I used the same test footage as I did for the S95C and QN900C on the QN95C, and although it still looked great, it could not quite compete with the 8K or QD OLED models. While on its own it is outstanding, the screen uniformity was not as impressive as that of the 8K TV, and the detail rendition appeared to be one step behind both the other models I reviewed.
However, the QN95C is a very bright TV that can still handle movies and a dark room without distracting FALD artifacts, and it does offer an 85-inch version, which is an advantage over the quantum-dot OLED models at similar price points.
QN90C 4K Neo QLED
The QN90C offers the most extensive range of screen sizes of any model in the Neo QLED lineup. At launch, customers can choose from an 85-inch TV for $4,800, a 75-inch TV for $3,300, a 65-inch TV for $2,800, a 55-inch TV for $2,000, a 50-inch TV for $1,600, and a 43-inch TV for $1,200.
QN85C 4K Neo QLED
The entry-level model for Samsung's premium Neo QLED 4K TVs is still a powerful, feature packed premium TV. It offers four popular sizes: an 85-inch TV for $4,800, a 75-inch TV for $3,300, a 65-inch TV for $2,800, and a 55-inch version priced at $1,500.