Samsung 2013 TV Preview
Samsung's product preview event, held on Wednesday 3/20 at NYC's American Museum of Finance (who knew such a place existed?) was notable on two counts. First, the company announced a price for its 85-inch UN85S9 Ultra HD TV — the cover star of Sound&Vision's April/May print issue. Second, it had another cover star, SI swimsuit model Kate Upton (fully clothed), along with Giants' quarterback Eli Manning on hand to say how much they dig the company's 2013 Smart Hub interface.
The cost for Samsung's UHD TV? Forty grand, which basically means that only people like Kate Upton and Eli Manning will be buying 'em when the set becomes available for pre-order at samsung.com at the end of March.
Along with being pricey, the UN85S9 features a full-array LED backlight along with the company's Micro Dimming Ultimate tech to boost contrast. As you can see from my pic (above), the display floats in a easel-type frame that also holds the set's 2.2-channel, 120-watt audio system. Samsung's press materials say that this delivers an audio experience six times better than what you get with a standard TV. Not sure how they came up with that number (six times as loud?), but it should mean that the TV's built-in audio will suffice. The UN85S9 also supports HEVC content such as the forthcoming 4K-rez Netflix streams we've been hearing rumors about.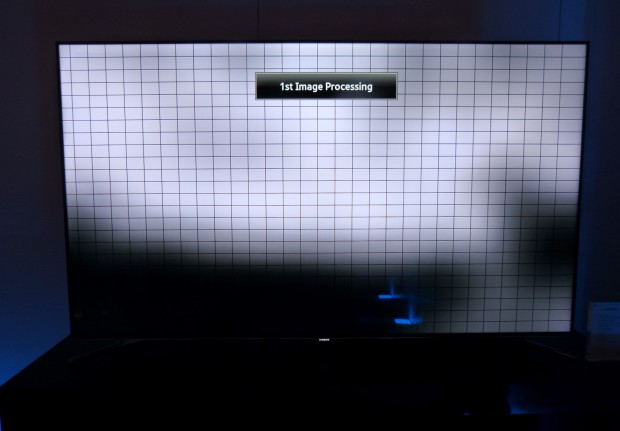 LED Evolution
One demo put on by Samsung showed off the benefits of the Micro Dimming mentioned above, but in this case applied to the company's new edge-lit LED TVs. There are three levels to the tech. Micro Dimming, found in the company's F7100 Series models (46- to 75-inch; $1,599 to $5,999), divides the screen into a grid of zones and enhances contrast in individual zones on a dynamic basis by analyzing picture content. The F7500 Series (46- to 60-inch; $1,899 to $2,699) bumps things up to Micro Dimming Pro, which adds color and detail enhancement. Micro Dimming Ultimate, found in Samsung's top-of-the-line F8000 Series, adds "Precision Black" local dimming of the edge-arrayed LEDs. Samsung says that Micro Dimming Ultimate with Precision Black, the effects of which are shown in the above pic, delivers zone-accurate contrast enhancement while simultaneously doing away with the "halo" artifacts sometimes seen in LCD TVs with a full-array LED backlight.
All LED models will start shipping in the March-May timeframe. Both the F8000 and F7500 Series come with quad-core processors and a Smart Evolution slot, which allows you to upgrade your TV's hardware component on an annual basis. Now that I've mentioned Smart Evolution, I should add that Samsung also announced that its 2013 Smart Evolution Kit for compatible 2012 TVs will arrive in May. The kit costs $299 and includes the Smart Touch remote bundled with the company's 2013 Smart TVs.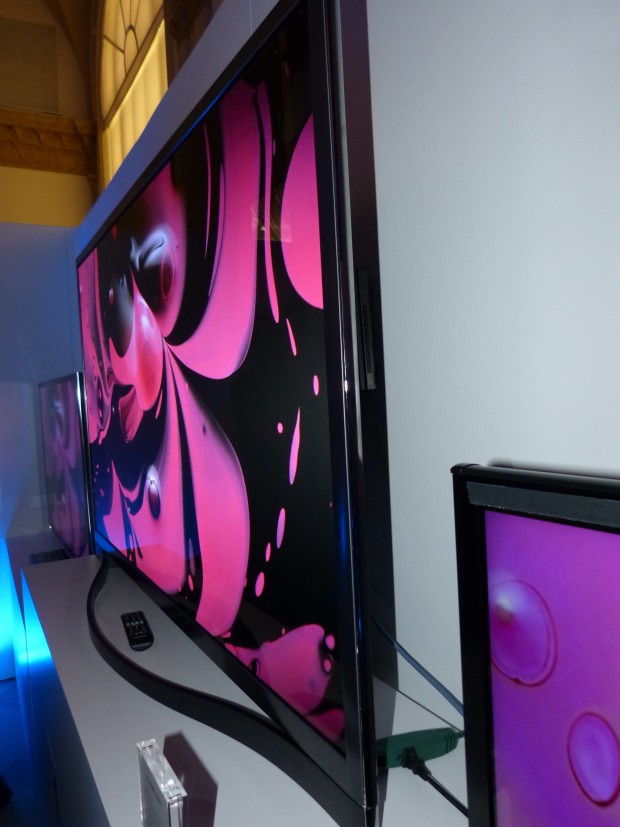 Plasma Persists
Plasma is still very much a concern for Samsung: In 2013, the company plans to release no less than four different plasma lines with screen sizes ranging from 43 to 64 inches. At the top of the heap is the F8500 Series (51- to 64-inch; $2199 to $3699), which, as I noted in my 2013 HDTV Preview, is spec'd to deliver equivalent brightness levels to the company's LED TVs. Samsung pulled this off by making the walls dividing pixels in the display smaller in order to increase the size of the red, green, and blue subpixels. Black depth is also in line for a boost courtesy of a Real Black Pro filter that reduces stray ambient light reflections, and a Black Optimizer control that enables "stretching" of the TV's brightness reproduction beyond the standard 16-235 video range. F8500 Series TVs also sport a quad-core processor and an elegant one-piece design with a curved metal stand (as shown in above pic). Like the LEDs, all Samsung plasmas are expected to hit in March-May.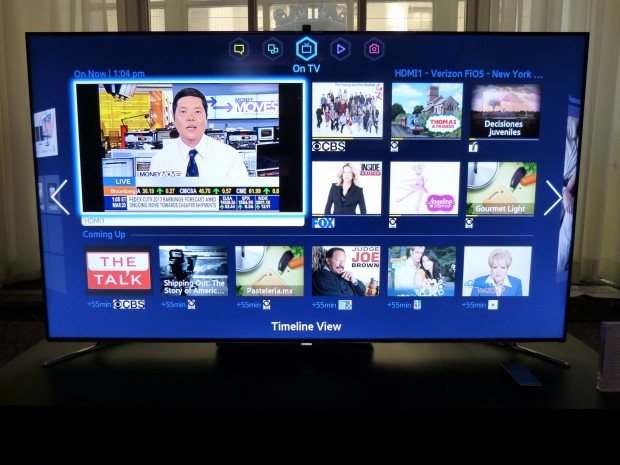 Smart Evolution
Samsung is now on its sixth generation of Smart TVs, and the new Smart Hub interface for 2013 appears to be a huge improvement over previous versions. I now understand why Kate Upton was excited. The UI is divided between five menu panels that you easily switch between by swiping the Smart Touch remote, and an S-Recommendation engine "learns" your viewing habits and displays upcoming programs from broadcast, cable/satellite, and streaming sources in the On TV panel (shown above) that it thinks you'll enjoy. Samsung also announced a few new apps for 2013 Smart TVs, including Fox Now and Univision on-demand video, and Spotify music streaming.
Video To Go
Other new tricks performed by Samsung's newest Smart TVs include Smart View, which lets you "move" content, be it cable/satellite, Blu-ray, or streamed video, being displayed on the TV onto a tablet for portable viewing. It only works with Samsung Galaxy devices for now, though a company rep indicated that other Android as well as iOS devices may be supported in the future. Another interesting feature is Screen Mirroring, which uses a Wi-Fi direct connection to "screen" content from a Samsung mobile device on the TV. You can't use it with copy-protected content like Netflix, etc., though it will work for YouTube and personal videos.