RSL 5.1 Theater Speaker System Page 2
As Repo Men got under way, with Jude Law as a futuristic organ harvester whose blood-spattered job goes awry, the RSL system delivered the goods with as little listening fatigue as I've ever had with any high-resolution speakers delivering a noisy movie. Achieving the right balance between vocal clarity and dynamically challenging effects was a set-and-forget affair, and there were no gross flaws in the speakers' tonal distribution above the sub crossover. However, I did use the outboard volume control to tweak the sub. Although my initial test-tone settings were conservative, the glossy black cube's contribution to male voices was too obvious. I easily fixed this problem by lowering the level with the sub remote.
The medieval war epic Ironclad stars Paul Giamatti (playing against type) as raging English King John, who is trying to wiggle out of the Magna Carta. This movie gave the RSLs a chance to show off their imaging and dynamic prowess with unusual layering and panning effects in action scenes. Ironclad's 13th-century battles were rich in bloodcurdling cries, the clangor of swords on shields, and whizzing/thunking arrows. But these elements rose and fell like tides, sometimes suddenly diminishing to emphasize the sorrowing undercurrent of music, only to rush back in again. The speakers imaged these shifting elements strongly and with complete dynamic confidence. All this activity rioted across a soundfield that was large and un-speaker-bound.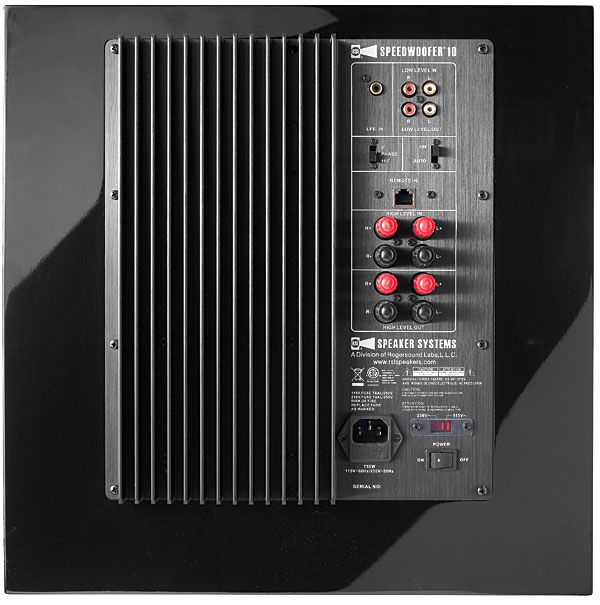 Quentin Tarantino's Jackie Brown is studded with vintage soul music—and Johnny Cash—and the RSLs mined these musical chestnuts for vocal warmth and vividness. One of the things I love about home theater is hearing what a good set of speakers can do for music originally mixed for car radio and then massaged for surround. But the bulk of the soundtrack is devoted to dialogue—in the Tarantino tradition, the film has numerous talky passages—and the CG24 excelled with a combination of intelligibility, naturalness, and freedom from midrange coloration. Eventually, it was Samuel L. Jackson's voice that dominated my attention, perhaps because it was the one that most resembled a musical instrument. The balance of midbass, midrange, and upper midrange through the center speaker I spoke of earlier was at its most exquisite whenever the actor opened his mouth. It held up well off axis when I moved around the sofa. These speakers do not tyrannize the listener with a beamy sweet spot. They are family friendly.
Pastry Chef
Mahler's Symphony No. 2 ("Resurrection") recorded at the Lucerne Festival with Claudio Abbado conducting the Lucerne Festival Orchestra arrived on Blu-ray Disc. This giant, over-the-top Viennese pastry of a work features the Orfeón Donostiarra chorus with vocal soloists Eteri Gvazava and Anna Larsson. The entry of Larsson's contralto provided the highlight of the listening sessions as it floated completely free of the speakers and took on all the tonal, dynamic, and spatial subtleties you'd expect in a great voice operating in a great concert hall with no intermediating electronics. It was hard to believe I was listening to loudspeakers driven by an amplifier. Strings and brass both had well-shaped dynamic envelopes and steady decay. Articulation of bowing could have been stronger—but speakers that pull off that trick often do so at the expense of overall comfort. The RSLs certainly had enough resolution to convey the swooning string vibrato that comes toward the end of the first movement as well as enough rhythmic momentum to reveal the second movement's percolating pizzicato. The decay of the first movement's final bass notes was impressively long and continuous, as though delivered by a good, full-range speaker, as opposed to this monitor-and-sub configuration. And when the last movement brought in pipe organ for its ecstatic finale, the sub kept its cool. The soundfield and objects within it were consistent—they didn't change shape or collapse at moderately high volumes or lose tone color at low volumes.
The Ragged Kingdom CD mates English folk chanteuse June Tabor with the folk-rock group Oysterband for their second partnership (and first in more than two decades). At RSL's request, I did all of my demos of two-channel material in 2.1. And so it was a pair of CG4s—not the now-silent CG24—that handled Tabor's alto. They remained faithful to the precision of her diction and the suppleness of her phrasing, and neither exaggerated or hid her faint huskiness. As a deliberate artistic decision, the band was somewhat compressed and soft focused relative to the vocals, although the resolution of the CG4 kept it from turning to mush. This strategy pushed Tabor forward in the mix, paying double dividends when Oysterband's John Jones joined her for duets, two brightly colored objects against a pastel background.
The system continued to exhibit its sophistication and balance on Keith Jarrett's improvised piano music from the three-LP box simply titled Concerts, which was recorded in Bregenz, Austria, and Munich, Germany. Two CG4s reproduced the instrument's rich harmonic signature in decent proportion, along with its percussive rhythm and the hall's spatial character. However, the midrange was hard and glassy, and I theorized that this might have stemmed from the early-generation digital recording, circa 1982. For an analog reality check, I moved on to the Tokyo segment of Jarrett's 10-LP box set Sun Bear Concerts circa 1978. The hardness vanished, midrange tonality and imaging improved, and Jarrett's left-hand playing became more solid and accurately pitched.
At RSL's urging, I replaced the pair of CG4 monitors with a pair of the CG24 LCRs so the latter could enjoy its own Sun Bear solo demo. This made the soundstage a little more solid in the midbass, although the effect was subtle. The midrange and high frequencies didn't change much—which didn't surprise me, since the CG4 and CG24 sounded very similar when I fed them pink-noise test tones for setup.
All Aboard
The RSL 5.1 Theater Speaker System is the audio equivalent of a high-speed train. It's a premium ride: smooth, pleasurable, hassle free, no annoying pat-downs. I fell in love with it from the first moments I listened to it. While I would have liked to see EQ or some form of standing-wave compensation added to the sub, I wouldn't regard the absence of it as a design flaw, especially now that most A/V receivers offer room correction. Being able to adjust the sub volume remotely, on the fly, at least let me nudge my room's bass hump one way or the other—sub level down for action movies, up for music—which kept annoyances to a minimum.
Under our recently revised ratings system, a product can achieve a five-star performance rating only if it is "reference" quality. This speaker system handily qualifies: Indeed, I used it as my reference system while I reviewed new high-resolution multichannel disc releases from Pink Floyd and King Crimson. It got the best out of everything I used to audition it. Wow, wow, and wow again.