Royole Moon 3D Mobile Theater Review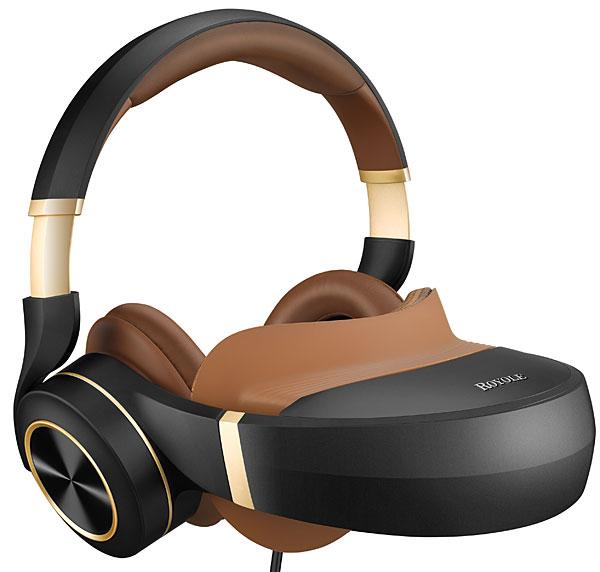 PRICE
$800
AT A GLANCE
Plus
Excellent video and audio quality
Smart ergonomics
Solid build quality
Minus
Potential for viewer fatigue
Battery gets hot
Propensity toward video noise with low-bitrate streams
THE VERDICT
Royole's Moon successfully pulls off a serious home theater experience in a portable, wearable package.
Quick story: Back in the mid '90s, I was the editor of a gadget review magazine. As long as a product was geeky enough and ran on AC or batteries, it was fair game for a test. This led me to bring home a variety of doodads that had nothing to do with audio/video— a self-cleaning litter box, a sports radar gun, et al. One day I walked in with what was claimed to be a "personal air conditioner," basically a black beanbag neck wrap that had an imbedded metal cooling strip; the idea was that applying the band to your neck would keep you chilled in hot weather. When I tried it on for my wife, she walked by dismissively without even pausing. "That's a good look for you," she said.
About a week later, I turned up with one of the first rudimentary attempts at the product we're reviewing here, a pair of virtual home theater glasses. By nature, these are clunky devices that hang on to your face with a big headband. I put them on to show my wife, unable to see her reaction. This time, she paused in front of me and, I can only assume, spied me through raised eyebrows. "That's great, honey," she deadpanned. "Now all you need is that neck thing and you can be a total loser."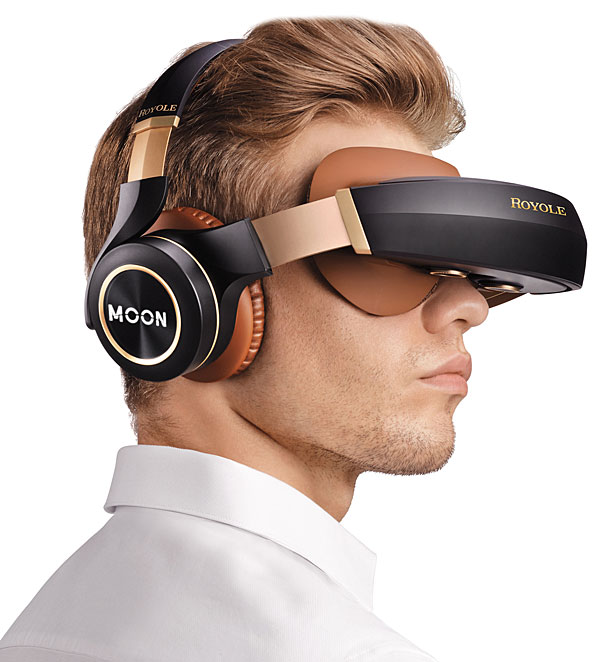 Putting aside the, um, fashion statement you're bound to make wearing something like this, the manufacturer of those glasses—Sony—wasn't wrong in wanting to create a truly immersive, portable home theater experience. But the technology at the time didn't permit the required display resolution, nor were we all carrying mobile smartphones and tablets to serve as video source components. It was a matter of years before the time was right to properly bring the concept to fruition. Now, someone has. I'll spoil the suspense and tell you here that the Royole Moon 3D Mobile Theater is a thoroughly thought-out, wellexecuted piece of kit that was clearly conceived with the videophile and audiophile in mind. And it works.
Royole is likely unknown to our readers, but the firm's website suggests it is as much technological think-tank as traditional manufacturing concern. The company was founded by Stanford engineering grads in 2012 with representation in Fremont, California, Hong Kong, and Shenzhen, China (known today as a worldwide manufacturing hub). Its stated mission is "to improve the way people interact with and perceive the world," and its research is focused primarily on developing "next-generation human-machine interface technologies and products such as advanced flexible displays, flexible sensors, and smart devices." Company firsts include the introduction in 2014 of the world's thinnest full-color AMOLED (active matrix organic light emitting diode) flexible display and a curved car dashboard based on flexible screen and sensor technology that it showed at CES in 2016. Royole has committed a $1.7 billion investment for a flexible display factory in Shenzen to supply screens to the industry. Along with the Moon, which Royole introduced in 2015, the company has one other consumer product called the RoWrite Smart Writing Pad, which digitally captures handwritten drawings and notes from a traditional paper-and-ink tablet.
Portable Projection
Given that it's easy today to board an airplane or commuter train with a pair of headphones and an iPad loaded with a movie or TV episode, you may wonder why anyone would need home theater glasses. It's a matter of perspective, both figuratively and literally. When you wear glasses like this, you are presented with the equivalent of sitting relatively close to a large projection screen, with your peripheral vision essentially filled by the image. Royole suggests that the Moon provides the equal of an 800-inch curved screen (about 66 feet) viewed from about an equal distance away. That's close to standard IMAX territory. The experience is akin to watching my 92-inch projection screen from a fairly tight 10 feet away, if not closer. In other words, the same highly immersive quality we attribute to the front projection/cinema experience is apparent in spades here and is made all the more so by the addition of some good-quality earphones.
The Moon is packed with whizbang technology and thoughtful features. The dual displays are AMOLEDs that deliver 1080p resolution to each eye, via a claimed 3,000 pixels per inch of device size. Since they're OLED, they're said to provide excellent contrast and fast image response time, something that was quickly borne out in my auditions.
The unit plays both 2D and 3D content, automatically detecting the type. It is Wi-Fi capable and includes a browser that lets you connect to your streaming services, and it has an HDMI input for attaching to traditional video source components and game consoles, or to mobile devices via an adapter (not supplied). Alternatively, you can load content directly onto the Moon's 32 gigabytes of internal memory from a hard drive, or via download from one of the video services. For playback of audio, the integrated closed-back headphones use 1.6-inch dynamic polyethylene (mylar) drivers and are assisted by active noise cancelling (undefeatable) whenever the unit is switched on.
Industrial design and build quality are excellent. The headband and earcups, and the visor ring that surrounds your eyes, are well padded and encased in a supple leather-like material. To provide ventilation and prevent fogging, there are air vents in the visor, and its cushion is perforated. Construction is mostly of high-impact molded plastic, but the Moon has a solid feel, and metal parts are used in key areas of stress, such as the click-action sliders that fit the headband and visor to your face. The device comes in three color schemes: black with brown ear- and eyepads (as with my sample), white with black pads, and gold with black pads. The headband folds down to the top of the visor for fitting the Moon into its supplied travel bag. Nitpick: The thin felt bag provides neither any real protection for the Moon nor any place to safely store the battery, charger, or cables in a way that would not potentially bring them into contact with the lenses. That was a disappointment given the obvious requirement and the product's price point.
As alluded to, a supplied battery pack feeds power to the Moon. It's about the same size if a bit thicker and heavier than the average smartphone. There are three connectors. A micro-USB port accepts the supplied wall charger, but it also allows hook-up to a computer for file transfers to the internal memory, or connection to a USB source via a supplied micro USB-to-Type A USB dongle. (The Moon is Android based and allows simple drag-and-drop file transfers from Windows PCs; Mac users require Android file transfer software.) The same dongle can be used to connect a mouse to the Moon to assist navigation of its onscreen user interface and browser (more on that below); this was exceptionally handy for inputting passwords for Wi-Fi and video services. (Bluetooth is on board for connection of a wireless keyboard as well, but not for audio-only streams from mobile devices; a promised firmware update will eventually enable this capability.) A second connector is a micro-HDMI port that takes a standard HDMI cable via a supplied dongle. Finally, a proprietary jack accepts the 4-foot cord from the headset.