Royole Moon 3D Mobile Theater Review Page 2
Royole claims 5 hours of battery life for its power pack. I typically got around 4 hours of continuous use on a single 2-hour charge—still more than enough to get through most feature films. Four tiny LEDs on the battery indicate charge level, and during viewing you get an onscreen warning when you're down to 10 percent power. Note that the battery pack can get very hot to the touch in extended use, something Royole warns about in the manual. It needs ventilation and won't do well in a pocket or enclosed in a carry bag.
The controls are extremely well thought out and simple to use. Besides the large power on/off switch on the battery pack (whose surround glows blue when the Moon is powered up) there are just two mechanical buttons on the visor unit. One is a small 2D/3D button under the visor in case the device fails to automatically recognize your 3D content. At the bottom of the right earcup is a Home button that will take you back to the Moon's sophisticated onscreen user interface.
The home screen you see when you first boot up offers a horizontal row of icons that allow access to things like network and display settings, input selections, stored content, etc. You scroll horizontally through the icons with a forward or backward swipe on the right earcup that's picked up by a touch sensor. Tap once to enter and navigate the submenus with an up/down swipe as needed; tap twice to back your way out; or hit the Home button twice to return to the main menu. After a short learning curve, I was zipping around just fine. You can swipe the same touch sensor for transport control (play/pause, track forward/back) of content played from the internal hard drive.
Volume changes are handled with another circular touch sensor embedded behind a curved recess around the right earcup's perimeter; in the photos, that's the space between the gold inner ring (on the black model) and the earcup's outer edge. My finger found and rode the sensor perfectly every time, and the Moon responded instantly with a circular graphic superimposed over my content that visually tracked the change as volume rose or fell. Very easy, and very cool.
Setup
Engineering a pair of expensive home theater glasses that doesn't instantly generate buyer's remorse the moment you place them on your face takes serious effort across a range of design criteria. Even before you can worry about the video or audio quality, a product like this has to be comfortable and stay firmly in place for long periods of viewing. Then, it needs to allow fine positioning and sharp focus of the eyepieces to minimize the potential for headache or eye fatigue. Beyond this, controls should be accessible and easy to use so the unit is not a burden to operate. If you get those things right, you've got a shot at adding top-notch video and audio to deliver the ultimate in-your-face theater experience.
I'll issue a strong warning to start out here so potential buyers won't be surprised: The Moon headset is fairly heavy—just under 1.5 pounds—and starts out with the potential to be uncomfortable, particularly because the bridge of your nose must help support the glasses. Fortunately, it adjusts to your face with two effective mechanisms. First, the well-padded headband has 1.5 inches of height adjustment on either side and can be swung forward or back nearly 180 degrees, allowing you to find the exact angle to allow your noggin to best support the glasses and take the pressure off your nose. This won't likely be directly atop the crown of your head at the spot a regular headphone band might fall, but more forward toward the forehead. Finding the sweet spot didn't fully eliminate the nose pressure for me but reduced it to where I could go movie-length periods without discomfort that would have encouraged me to abandon viewing. The occasional minor adjustment was all that was needed if the visor started to slip down a bit.
Similarly, a pair of sliders allow fine-tuning of the distance between the front visor and the earcups. Given that these are closed-back, sealed headphones designed to lock out environmental noise, it's critical to position them directly over your pinna and fully isolate the ear. Once adjusted, the headband and earcup sliders work together to keep the Moon firmly in place.
With the Moon comfortably situated on your head, there are two optical tweaks performed with a pair of thumbwheels beneath the visor. Sliding these left or right allows the eyepieces to be independently aligned directly over your pupils. Fine-tuning this "interpupillary" distance eliminates parallax errors that might exhibit as ghosting. After that, you can independently spin the thumbwheels to fine-tune the focus. Thoughtfully, these focus adjustments have a wide enough range to allow most users to skip their prescription eyeglasses.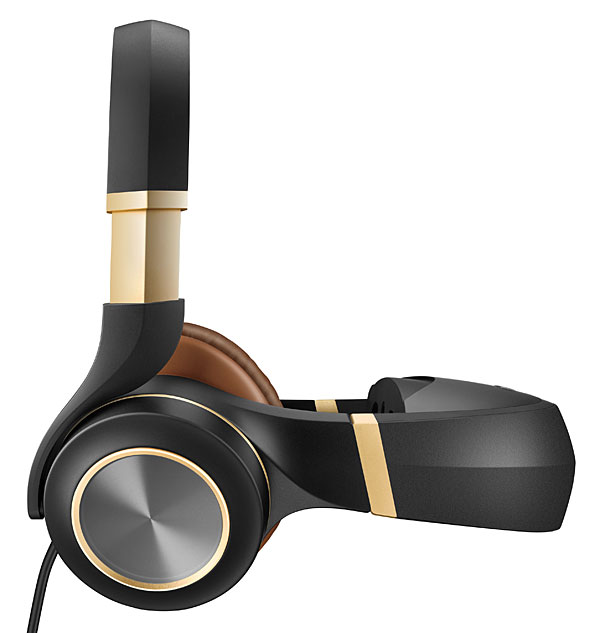 Even with the attention paid by Royole to physical and visual comfort, the company is cognizant of the potential for this or any other virtual glasses to cause fatigue or other side effects. Product literature recommends taking periodic breaks, and the operating system has an option to set onscreen reminders at 1- or 2-hour intervals if desired. I'm sensitive to motion sickness and have been triggered at least mildly by most virtual reality demos I've done, though these involve visuals that track head movements. In this case, the image stays put no matter how you move your head. I was pleased to find that, for me personally, the combination of high resolution and finely tuned optics allowed for hours of pleasant viewing. Though I noticed a touch of eye fatigue at the end of a 2-hour feature, I was so thoroughly engaged in the viewing that I never felt the need to take a break.
Viewing
I watched content on the Moon from sources including movie downloads to my iPad Air 2, 1080p Blu-rays via direct connection to my Oppo player, and streaming content from Netflix via the Moon's built-in browser and my iPad. The iPad viewing required an Apple Lightning-to-HDMI adapter to which I added an HDMI cable and the Moon's supplied micro HDMI-to-HDMI dongle. Apple's adapter is a $40 add-on that needs to be purchased separately. Similarly, a third-party MHL/USB-to-HDMI adapter must be purchased for Android mobile devices.
I began with a pair of flicks downloaded to my iPad from Amazon, xXx: Return of Xander Cage and Jack Reacher: Never Go Back. Putting aside the thin plots and the treasure trove of inane dialogue in Xander Cage, I couldn't have asked for more fast-paced action. The Moon easily lived up to its claim of freedom from image lag; at no time did I see anything even remotely close to trails or other distracting motion artifacts. One Reacher chase scene composed of a lot of fast-cut handheld shots starts out on foot, moves to a car chase, and ends with Reacher (Tom Cruise) and Major Susan Turner (Cobie Smulders) running side by side at full speed across the Washington, D.C. Mall. All the action was rendered crisply, and even the actors' pumping arms as they ran showed minimal smearing. I'm not a gamer, but Royole advertises the Moon as console-ready, and I have no reason to doubt them.
An abundance of natural color and punchy highlights was evident in a viewing of Planet Earth II about mountain wildlife streamed from Netflix off my iPad app. I marveled at the detail in the sandy brown crags of peaks in the Arabian Peninsula, and in close-ups of the Nubian Ibex goats that fearlessly scale the cliffs as rubble falls away beneath their hooves. A meadow in the Rockies showed gray sky behind the distant mountains with some dusty storm clouds brewing, an appropriately natural dark green mat of grass on the floor of the valley, and brighter green highlights along with magenta flowers on the blooming plants in the foreground.