Ronin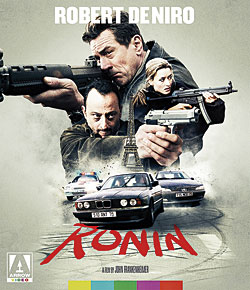 Arrow brings Ronin to Blu-ray via an exclusive new 4K restoration overseen by director of photography Robert Fraisse. The film arrives in an AVC 1080p encodement framed at 2.35:1. It has obviously been cleaned up well while retaining a lot of its original Super 35 film grain structure, which only occasionally tips ever so slightly into the realm of noise in the darker areas of the image. Colors and contrast are good, but shadow detail is the transfer's biggest weakness; there's a lot of black crush, which takes away from overall detail in a film where many scenes take place in the shadows. Lapels, zippers, and stitching on jackets tend to get lost.
Ronin comes to Blu-ray with the original English soundtrack in a 5.1 DTS-HD Master Audio mix. The original stereo mix is also included in LPCM 2.0. The 5.1 is surprisingly robust and well balanced given the vintage of the film. Sound effects spread nicely through the surrounds and across the front channels, and the low end has just enough oomph to underpin the car chases and gunplay. The score has a lot of air and natural dynamic range, but dialogue sounds just a tad anemic and at times shows some hints of clipping.
This release comes stuffed, as is usual from Arrow. The first pressing includes a collector's booklet illustrated by Chris Malbon, featuring writing on the film by critic Travis Crawford. A detailed audio commentary by director Frankenheimer and a new half-hour-long interview with cinematographer Fraisse are on the disc. Other special features include archival featurettes, an alternate ending, a gallery, and reversible sleeve art featuring original and newly commissioned artwork by Jacob Phillips.
Blu-Ray
Studio: Arrow Video, 1998
Aspect Ratio: 2.35:1
Audio Format: DTS-HD Master Audio 5.1
Length: 122 mins.
MPAA RatingL: R
Director: John Frankenheimer
Starring: Robert De Niro, Jean Reno, Natascha McElhone
Ronin is director John Frankenheimer's 1998 crime thriller, with a script co-written by David Mamet (under a pen name) and featuring an all-star cast headlined by Robert De Niro and Jean Reno. This gritty film borrows heavily from classic genre predecessors such as The French Connection, Le Cercle Rouge, and Bullitt. It follows a former U.S. intelligence agent (De Niro) working with a group of mercenaries trying to track down a package being pursued by both Irish and Russian interests. The package is a MacGuffin that allows Frankenheimer to create a thicket of tension, action in the form of extended car chases, and the prerequisite meetings in parked cars or darkened rooms. While the title of the film is a strain (it refers to a master-less samurai), Ronin is certainly one of the better entries in the "grizzled-ex-intelligence/military-as-mercenary" category.