Review: Paradigm Millenia CT Compact Audio System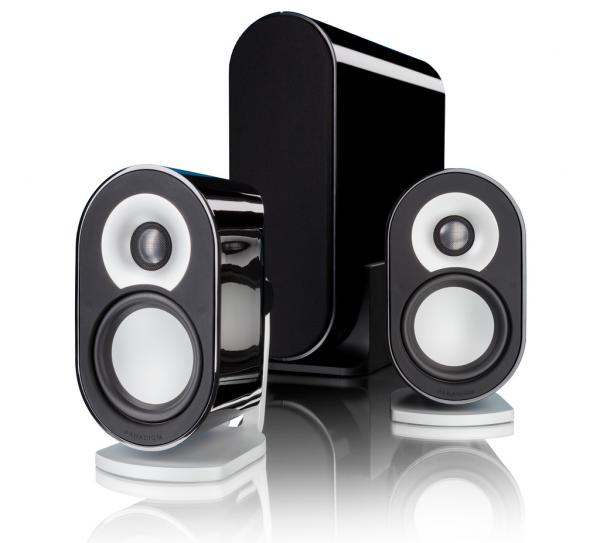 The surest way to future success is to repeat your past successes. Like that line? I made it up. If you think it's a lot of B.S., I present as irrefutable evidence the careers of Andy Warhol and Roy Lichtenstein. Also the Paradigm Millenia CT, a 2.1 speaker system based closely on the MilleniaOne, our 2011 Product of the Year.
The Millenia CT combines two satellite speakers similar to the MilleniaOne with a tall, slim subwoofer that bears a superficial resemblance to the MilleniaSub. The subwoofer incorporates three channels of amplification: two for the sats, one for the sub. A little interface box, sized to fit atop an Apple TV box, provides analog and digital audio connections, and a tiny, five-button remote controls the system.
Paradigm offers the Millenia CT as a soundbar alternative; the "CT" stands for Compact Theater. Obviously, it's also suited for desktop use, and you could even make it your main system if you can tolerate having just two inputs.
Like the MilleniaOne, the satellites in the $699 Millenia CT use a 1-inch tweeter and 4-inch midrange/woofer, both employing Paradigm's S-PAL (satin-anodized pure aluminum) diaphragms. The enclosure is the same shape, although it's made from molded plastic instead of the MilleniaOne's cast aluminum. It's also sealed, whereas the MilleniaOne's enclosure is ported.
The Millenia CT subwoofer differs considerably from the MilleniaSub, though. Instead of the MilleniaSub's dual oval drivers and high-powered Class D amplifier, the CT subwoofer uses a conventional 8-inch woofer in a ported, molded plastic enclosure, powered by an 80-watt amplifier. You can sit it flat, using four supplied conical feet, or place it vertically in the included stand.
Setup
Setting up the Millenia CT couldn't have been much simpler. Every cable you need is included. The speaker cables use tiny block connectors, and a Cat-5 cable connects the controller box to the subwoofer. A level control on the sub lets you adjust the bass to your liking.
The satellites incorporate small stands that allow you to adjust their vertical angle, and you can also wall-mount them. I placed them on stands, close to the wall so they'd get some bass reinforcement. The sub went into my usual "subwoofer sweet spot," the place where a single sub tends to sound best from my usual listening chair. For sources, I used my Samsung Blu-ray Disc player and my iPad touch.
One big downside to the controller box design: Even though I've been calling it the controller box, it has no controls. So if you lose the remote, you have no way to control the system, or even to turn it on. I don't know about you, but I lose remotes often.